How To Use A Functional Resume To Transition Into A New Role
02 Sep, 2020
1:47
Have you ever found a job vacancy where you thought, "this position would be perfect for me!...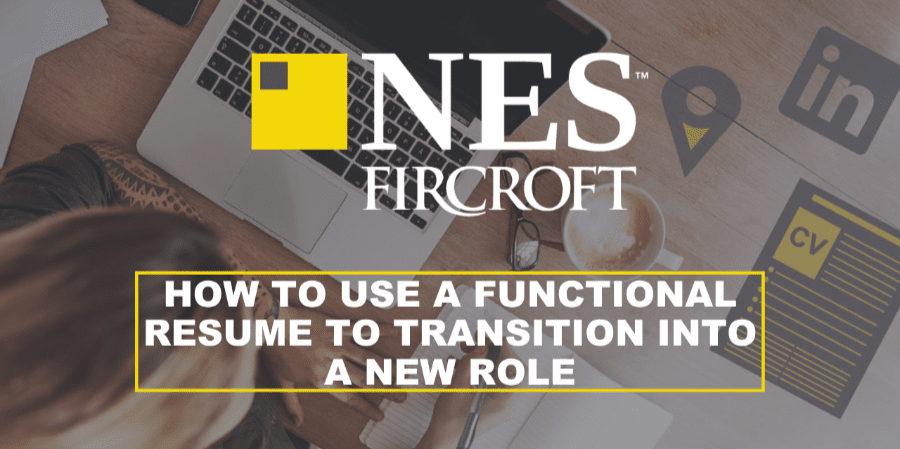 Have you ever found a job vacancy where you thought, "this position would be perfect for me!" Only to
feel deflated when you scroll down the job description because you don't match the exact requirements for the role?
In this video, NES Managing Consultant, Mishu Ullah, takes you through how you can use a functional resume to transition into a new role or sector.
Watch this video now
What is a functional resume?
A functional resume places the focus on your key skills and capabilities rather than your chronological work history. Relevant skill sets to the specific role you're applying for should be emphasized and your transferable skills should be summarised at the top.
Putting a Functional Resume into Practice
To write a functional resume, you should read through the job description for the role you want to apply for and highlight the responsibilities you've done in the past that match the job description.
You should structure your resume like this:
Resume summary - this is the why you are good for this job – keep this short and concise.

Organise by themes - i.e. the transferable skills you have that make you good for the role. For example, your Operations Background or Customer Service Experience. You can then use these sections to talk in detail about your skills and work experience.

Projects - are there any relevant projects in professional, personal, or school that you can list? Don't go into technical detail here if you're transitioning industries. Stick to a high-level overview of hitting budget, achieving cost savings and meeting deadlines.

Employment history - now you can list your employment history – stick with the job titles, company and dates because the details of what you did in each role should have been covered above.
Don't forget to use keywords from the job description. You could also look at current and previous people in this role and their responsibilities on LinkedIn, can you mirror any of these on your resume?
What's Next?
If you're applying for multiple roles, make sure to tailor your resume every time. Keep notes of the positions you've applied for to help you keep track and sell yourself when you get a call from the hiring manager or recruiter.
When you're talking to the hiring manager or recruiter about transitioning to a new role or sector, avoid phrases like: "I haven't done it before but I am a fast learner." This doesn't hold as much weight as "I've done x,y,z before in my previous role at a,b,c which makes me confident that I can get up to speed in this role in no
time. I also have clients and former managers who can attest to my capabilities."
Support from NES Fircroft
NES covers recruitment across many sectors meaning we have supported clients and candidates across several industries for the last forty years in good and challenging times. If you're looking for your next role, browse our job vacancies today.