Meet Our Colleagues – Daria Cąpała From The Polish Life Science Team
29 Mar, 2022
1:45
Ever wondered what it's like to work for NES Fircroft?In this series, our colleagues from ac...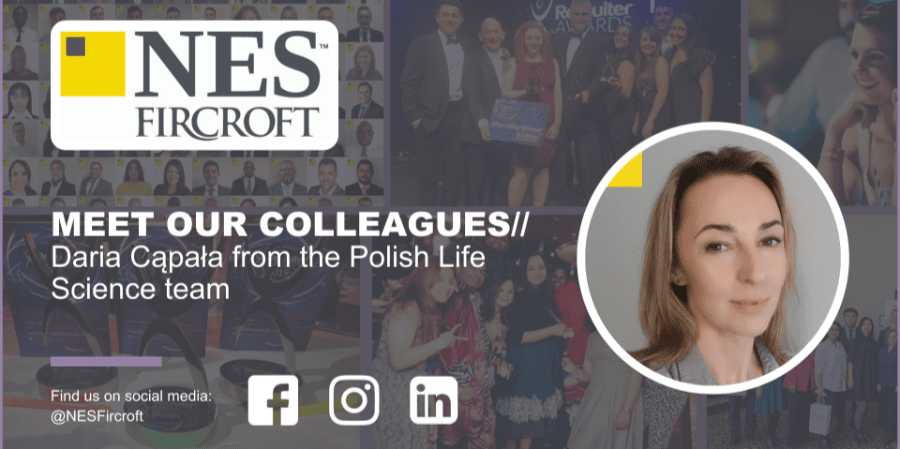 Ever wondered what it's like to work for NES Fircroft?
In this series, our colleagues from across the globe share their experiences working for the world's largest engineering staffing company!
This time we spoke with, Daria Cąpała, Team Leader in our Life Science team in Poland to discuss her career journey with NES.
Daria is originally from the south of Poland but has been living in Warsaw for the last 14 years. She began her recruitment career in the UK and joined the NES Fircroft Life Science division with over 15 years of recruitment experience in various sectors.
She's a keen horse rider, a happy mum and loves psychology and DIY activities.
What are some of your biggest motivators at work?
"What motivates me most is the fact that NES trusted my competence and determination in creating the Life Science Poland team from scratch. I'm also quite ambitious, I put my heart into what I do, and I go the extra mile to make sure I do my best to achieve what's expected.

The last but maybe the most important motivator is my son and the fact that working in the Life Science sector means I can contribute towards a better world for his future.

Another reason is that it's a pleasure to know that I change people's (candidate's) lives by helping them to take the next step in their personal development."
​
How have you grown professionally while at NES Fircroft?
"I became more confident having the support of my supervisors and other Life Science team members. I got to know the pharmaceutical and medical devices markets better, including investments in Poland.

I also know that we never stop learning and each project/client allows me to take another step in my development!"
​
How would you describe the office culture at NES Fircroft?
"All the people working in NES are different which is very nice to see. We respect our differences, and we support each regularly."
​
What are your favourite things about working for NES Fircroft?
"Definitely stability! And the trust I've been given by my supervisors. I also love that NES gives me:

flexibility at work (when i'm in the office the location is great and has easy access)

opportunities to grow and develop in my career,

and a competitive bonus scheme!"
Join NES Fircroft!
Do you want to be part of something big? We're enabling the progression of global healthcare.
In just 10 years we've more than doubled our international office count, tripled our internal headcount, made eight acquisitions and secured a spot on Staffing Industry Analysts' largest engineering recruitment firms. We know what we're doing.
We're currently growing our European Life Science division to further establish our brand as one of the top tier suppliers for the Pharma/Biotech and Devices industries.
Do you want to be part of this growth? Share your LinkedIn profile with us.