Clean Energy Projects Creating Jobs In Canada
16 Mar, 2022
5:02
According to a policy review by the International Energy Agency (IEA), Canada's electri...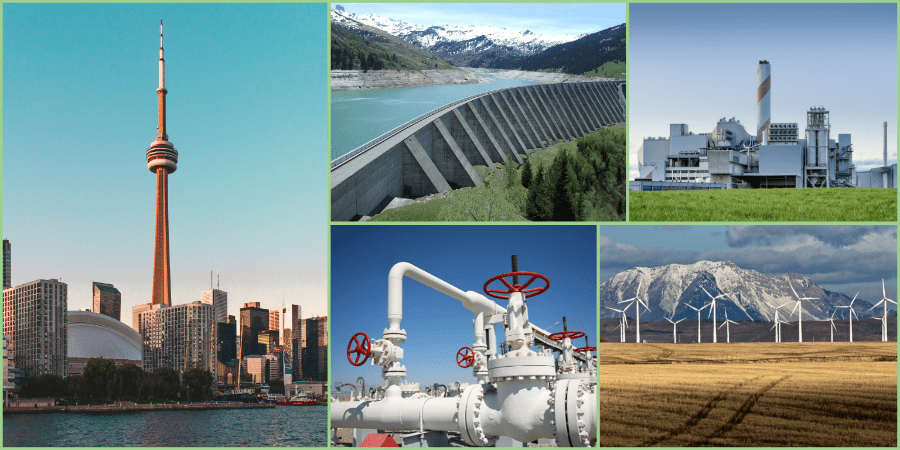 According to a policy review by the International Energy Agency (IEA), Canada's electricity system is one of the cleanest in the world, thanks to its hydroelectric and nuclear generation facilities.
As stated by Fatih Birol, IEA Executive Director,
'Canada's wealth of clean electricity and its innovative spirit can help drive a secure and affordable transformation of its energy system and help realise its ambitious goals.'
Canada has set bold targets, including cutting its greenhouse gas (GHG) emissions by up to 45% by 2030 (based on 2005 levels) and reaching carbon neutrality by 2050. In line with these goals, job opportunities are abundant for engineers looking to contribute to the energy transition.
If you're looking for a new engineering job in Canada's booming energy sector, here are just a few of the clean energy projects you need to be aware of.
​​
Fort Saskatchewan Hydrogen Blending Project
ATCO is getting ready to deliver a blend of natural gas which contains 5% of hydrogen by volume into a section of the Fort Saskatchewan natural gas distribution system. This is expected to happen in autumn 2022 and is the first project of its kind in Alberta.
The project was announced back in July 2020, when a $2.8 million funding announcement from Emission Reductions Alberta's (ERA) Natural Gas Challenge was made. The estimated cost for the project is $6 million.
About 2,000 people in the province will first receive this hydrogen-blended natural gas to fuel their businesses and homes. As burning hydrogen only emits water, the greenhouse gas emissions from blended natural gas usage will be reduced.
ATCO intends to produce the hydrogen for the Fort Saskatchewan project through electrolysis at their nearby Gate 5 facility. The modification works to the existing infrastructure is already underway and should be finished by summer 2022. Inspections of the appliances and piping for the homes and businesses that will be receiving this gas are also underway to ensure that they are working properly.
ATCO expects this project to be a steppingstone for future hydrogen projects in Canada. It will enable the company to demonstrate its abilities within the industry and lay down the foundations for its future energy ambitions.
​
​Garden Plain Wind Project
The Garden Plain Wind Project is a 130MW project located across 14,000 acres of private land in Paintearth County and Special Area No. 2, Alberta, north of Hanna and south of Castor.
The site presents many positive attributes such as good wind conditions, a sustainable environment and proximity to transmission infrastructure. TransAlta has already completed the necessary permitting and regulatory requirements. They also submitted a facilities application to the Alberta Utilities Commission (AUC), looking to receive a permit to construct and a license to operate the facility. This was granted by the AUC in April 2019.
TransAlta also entered a long-term Power Purchase Agreement (PPA) with Pembina Pipeline Corporation for the offtake of 100 MW in May 2021. This agreement is for an 18-year-long term.
The project is predicted to come on stream in the last quarter of 2022 and involves the construction of 26 Siemens Gamesa SG5.0-145 onshore turbines. The estimated cost for the project is $195 million.
According to the Construction Manager at TransAlta, Jeff Nelson, the Garden Plain Wind Project is part of the company's goal to reach net-zero by 2050.
​LNG Canada Project
The LNG Canada Project, operated by LNG Canada, involves the development of an export facility in Kitimat, British Columbia. It's a joint venture between Shell (40%), Petronas (25%), PetroChina (15%), Mitsubishi Corporation (15%), and Korea Gas Corporation (KOGAS, 5%). The project reached Final Investment Decision (FID) on the 1st of October 2018.
The project, which represents the largest energy investment in Canadian history, has an estimated cost of $40 billion. It will export LNG produced by the project's partners in the Montney Formation gas fields near Dawson Creek, also in British Columbia. LNG will be exported to Asian markets.
The project will also involve a combination of renewable energy from BC Hydro and energy-efficient natural gas turbines, meaning it will emit less than half of the GHG emissions compared to the average LNG facility currently operating.
The project will initially consist of two trains that will receive and process natural gas, converting it into LNG. These two processing units will have a capacity of 14 million tonnes per annum (mtpa) and there is potential to expand the project to four trains in the future. Construction for the project has been approved and some of the key elements of the proposed facility include:
The 2 LNG processing units

Storage tanks

LNG loading lines

A rail yard

A water treatment facility

Flare stacks

And workforce accommodation.
The engineering and overall supervision for the construction of the LNG Canada project was awarded to JGC Fluor, a joint venture between the Japanese engineering firm JGC and the US firm Fluor. The project is expected to deliver its first LNG shipment by 2025.
​
​Polaris CCS Project
In July 2021, Shell unveiled plans for a large-scale Carbon Capture and Storage (CCS) project in Alberta. The project could store up to 300 million tonnes of CO2 throughout its lifetime.
The Polaris CCS Project would capture carbon dioxide emissions from the company's Scotford refinery and chemicals plant, then inject it more than 2000 metres underground in the Basal Cambrian Sands, storage wells about 12 kilometres away near Josephburg, Alberta. These wells are already storing CO2 from the Quest CCS facility.
The first phase of the plan would have the project capture and store 750,000 tonnes per year of carbon emissions, which would reduce Shell's direct and indirect GHG emissions from its chemicals plant by up to 30% and its refinery by up to 40%.
In a second expansion phase of the project, Shell would build a CO2 storage hub for Alberta, offering to store the emissions of other companies. Once fully built, the Polaris project could store more than 10 mtpa of carbon dioxide.
As stated by Susannah Pierce, President of Shell Canada,
'Our plans for Scotford are in line with Shell's target to become a net-zero emissions energy business by 2050, in step with society. […] Polaris would also make a significant contribution to Shell's aim to have access to an additional 25 million tonnes a year of CCS capacity by 2035.'
The project is expected to reach FID by 2023 and operations are predicted to start around 2025.
​
​Site C Clean Energy Project
The Site C Clean Energy Project, also referred to as Site C, is a third dam and hydroelectric generation facility located on the Peace River in the north-eastern part of British Columbia.
Once completed the station will provide 1.1GW of capacity and produce about 5,100 GWh (gigawatt hours) of electricity every single year. This represents enough electricity to power nearly half a million homes in British Columbia every year.
Because Site C is the third dam on a single river system, it will be able to take advantage of the water already stored in the Williston Reservoir, thus significantly increasing its efficiency. Site C will generate about 35% of the electricity generated at the W.A.C. Bennett Dam, whilst only covering 5% of the reservoir area.
In December 2014, the project received approval from the provincial government to with construction, which then started in summer 2015 and is expected to end in 2025. The first generators are expected to come online by 2024. Once completed, Site C will be the fourth-largest producer of hydroelectricity in British Columbia.
​
​NES Fircroft and supporting the Clean Energy sector
NES Fircroft is an experienced staffing provider to the Power, Renewable Energy, and Alternative Energy industries, supplying engineers and technical staff across:
We understand that the industry is changing, and the new generation of Energy engineers need to be mobile, innovative, technology-focused and work across the organisation to ensure knowledge is shared and competitive advantage is gained. We provide recruitment solutions for all stages of Power, Renewable and Alternative Energy projects from feasibility studies through to construction, commissioning, operations, and end of life services.
If you have an Energy staffing requirement, get in touch, or search our latest jobs to find your next position.