Notable FPSO Projects In 2023-2027
02 Feb, 2023
4:20
The market for floating production, storage, and offloading (FPSO) vessels will continue to ...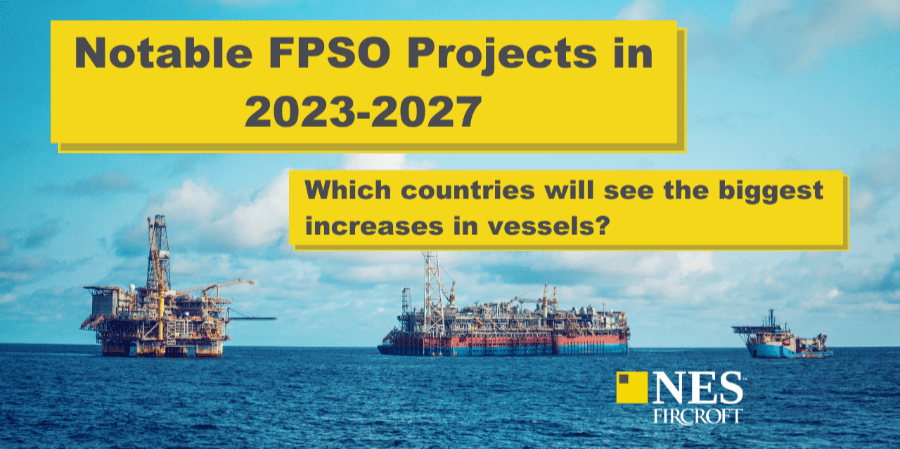 The market for floating production, storage, and offloading (FPSO) vessels will continue to snowball over the next five years, with 66 planned FPSO projects between 2022 and 2027, according to GlobalData's latest report.
Notable FPSO Projects in 2023-2027
• P82, Brazil
• P71, Brazil
• ONE GUYANA, Guyana
• BlackRhino/BlackHawk, Senegal
• Greater Tortue Ahmeyim FLNG, Mauritania and Senegal
• Parque de Baleias, Brazil
• Anita Garibaldi and Anna Nery, Brazil
In our previous 2020 analysis, we noted that the bulk of this growth is in the South American market, which is still the case in 2022 and beyond. While there is a strong focus in Brazil and Guyana, globally, there is a demand for new vessels. Leasing companies and shipyards running close to capacity on production, constructing bigger FPSOs costing billions of dollars.
The global FPSO market was valued at almost $21bn in 2021. It is predicted to grow at a CAGR of 5.83% during the forecast period, reaching $29.5 bn by 2027.
We've highlighted just some of the larger or more notable projects below.
Brazil's Petroleo Brasileiro (Petrobras) to lead the way in global FPSO projects
Petroleo Brasileiro (Petrobras) is leading the way in Brazil's market growth, with 12 planned and announced FPSOs. In second place globally is the UK, with 5 FPSOs in development for the North Sea. Guyana and Nigeria sit in third place with four FPSOs each.
Globally, South America will see the most significant expansion of FPSO projects, with 31 planned, with Africa planning 14 projects and Asia with 10.
P82 FPSO, Brazil
Petrobras has contracted Singapore-based shipbuilder Sembcorp Marine for the engineering, procurement, and construction of the P-82 FPSO (floating, production, storage, and offloading) vessel for US$3.05bn, representing the largest contract between Sembcorp Marine and Petrobras.
P-82 is expected to be delivered and operational in the first half of 2026, where it will have the capacity to produce up to 225,000 bpd, store up to 1.6m barrels, and process 12m cubic meters of LNG per day.
Once complete, the FPSO will be the tenth platform and the largest operating in the Búzios oil field in offshore Brazil's Santos Basin pre-salt area.
P71 FPSO, Brazil
Sembcorp Marine has recently completed development on a large new FPSO to be deployed in the Itaipu field on behalf of Petrobas in Brazil. The finished vessel cost over $525m to build and adapt for its role at Itaipu.
Initially planned for 2023, the project is ahead of schedule and will start producing oil in December 2022. It is expected to yield up to 150,000 barrels per day of oil and 6 million cubic metres of natural gas per day (BPD) for Petrobas, which will remain operational until 2050.
EJA president T Guhan said: "Despite pandemic-related challenges which affected the project over 20 months, EJA successfully delivered the P-71 FPSO on schedule, cementing its status as a premier facility in Brazil capable of taking on full engineering, procurement, construction, and commissioning work for large-scale offshore projects."
ONE GUYANA / Prosperity, Guyana
Dutch FPSO operator SBM Offshore has released a statement that they have signed a Memorandum of Understanding (MOU) with ExxonMobil Guyana to construct an FPSO for their Stabroek Block field off the coast of Guyana. This development follows from a current project to build the ONE GUYUANA FPSO, at the cost of $1.75bn, to be funded by a consortium of 15 international banks.
There is a long-standing partnership between ExxonMobil and SBM to supply FPSOs for their portfolio. The new vessel will be one of at least six at Stabroek Block, with a total production capacity of over 1m bpd. This pace is set to continue; ExxonMobil has made more than 30 discoveries on the block since 2015, with two recent findings in October 2022.
In addition, ExxonMobil is nearing completion of the Prosperity FPSO, also being built by SBM Offshore, which with a capacity of 220,000 bpd.
BlackRhino / BlackHawk / Aspital FPSOs, Senegal
The Sangomar reserves off the coast of Senegal cover a total area of 7,490 sq km and are some of the largest in the world. Australian company Woodside now operates the fields, with the Senegalese national oil company Petrosen owning 18% of the stake.
The Sangomar oil field is Senegal's first offshore oil development, and FPSOs for the projects are to be delivered by Japanese FPSO builder MODEC.
Woodside already operates the FPSO Ocean BlackRhino, having completed a previous drilling campaign in September 2021 before the COVID-19 pandemic delayed new projects scheduled for 2022. A second vessel, Ocean BlackHawk, will operate in the Sangomar fields from 2023. The country is also seeking to start gas production in 2023 with the support of the first FPSOs.
In addition, Woodside has also won contracts to convert the crude oil carrier Aspital to a third FPSO, producing up to 225,000 bpd and 12m cubic meters of gas per day.
Greater Tortue Ahmeyim FLNG, Mauritania and Senegal
In a partnership between Texas-based Kosmos Energy and BP, the first phase of the construction of the FLNG project is now 88% complete, according to a recent quarterly results report. The project involves converting Golar's LNG Gimi to a floating LNG producer at Keppel shipyard in Singapore before the FPSO is constructed in China at COSCO Shipping's Qidong yard.
The FLNG is scheduled for deployment in offshore Mauritania and Senegal in early 2023, with a projected capacity of 2.5 million tonnes per annum (mtpa).
Parque das Baleias, Brazil
Another FPSO planned by Brazil's Petrobras, the Parque das Baleias (Whale Park) FPSO, is scheduled for deployment off the Espirito Santo coast at the oil fields of the same name.
Once in place, the FPSO will operate in 1400m deepwater and process up to 100,000 bpd and 5m cubic meters of natural gas daily. The project is on track to be producing oil by 2024.
Anita Garibaldi and Anna Nery, Brazil
In October 2022, the Anita Garibaldi FPSO set off from the Dalian Shipbuilding Industry Offshore (DSIC) shipyard in China for deployment by Petrobras. It will spend the next four years in the Marlim and Voador fields in the Campos basin as part of the company's $16bn Campos Basin Renewal Plan to revitalise the region. Once deployed in the third quarter of 2023, it will produce up to 80,000 bpd from 43 wells.
Along with another FPSO, Anna Nery, the two FPSOs are part of a project to replace nine older platforms in the region. The Anna Nery will start production in the first quarter of 2023 and will be connected to 75 wells to yield more than 150,000 bpd.
Engineering job opportunities on world-leading FPSO projects
NES Fircroft has been recruiting Oil & Gas professionals for 50 years. We have a wealth of experience supporting energy clients with their workforce needs and have industry-leading assignment support services to help contractors secure their next assignment. View all our Oil & Gas jobs or register your CV with us to secure your next technical role on a major global project.
​