Renewable Energy Predictions For 2023: What Lies Ahead?
24 Jan, 2023
6:22
All the current indicators point to 2023 being a massive year for growth in the renewable en...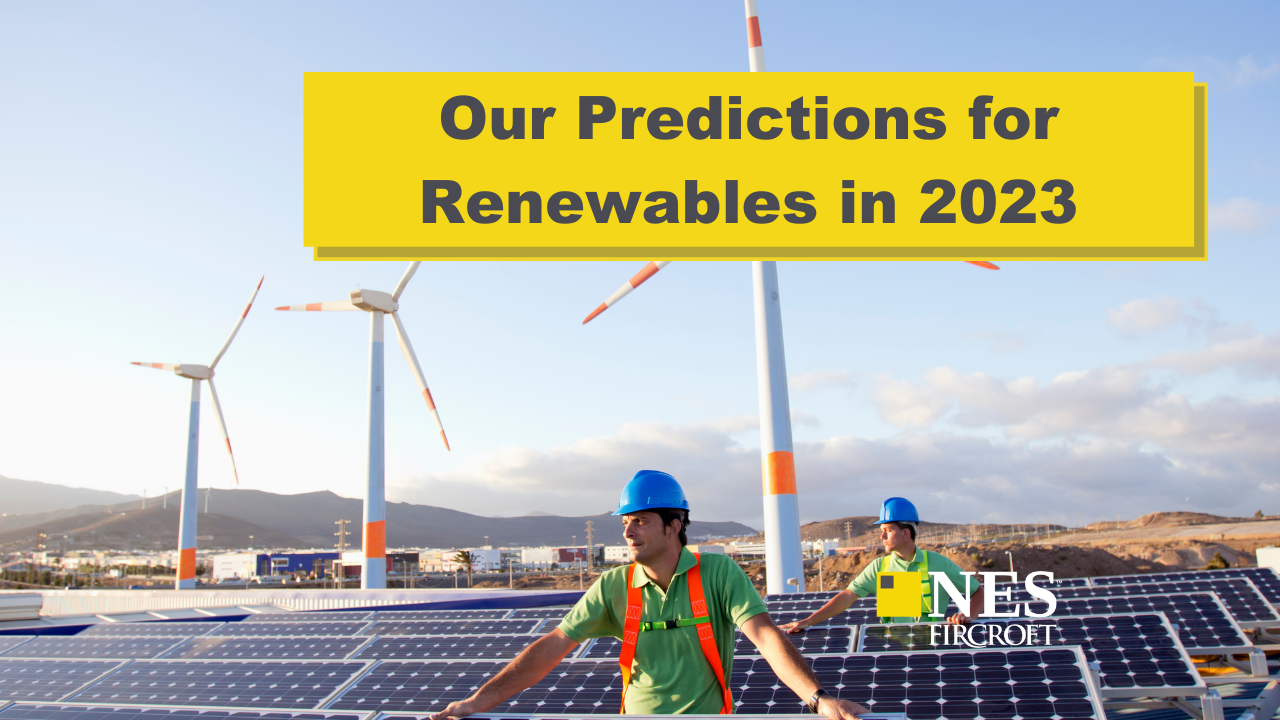 All the current indicators point to 2023 being a massive year for growth in the renewable energy sector. The combination of climate urgency, energy demand, and investment in renewable technologies push the industry forward exponentially.
Wind and solar energy will continue to be the cheapest forms of energy production. Between consumer demand, government policy, and technological improvements, they will continue to outpace traditional fuel sources in terms of growth.
Major energy companies are fully aware of the change in landscape. Even those with a long history in fossil fuel production are now investing heavily in renewable energy to diversify their portfolio and secure future business.
To supplement our broader predictions on renewable energy, here are our predictions for this year.
​
Our Predictions for Renewable Energy in 2023
The United States Inflation Reduction Act will promote increased investment in clean energy in the US

The renewable energy industry will outpace oil and gas as the fastest-growing energy industry.

The next five years will see exponential progress on wind energy, but 2023 will be a slow start due to materials shortages and slow progress on permits.

Investors are looking to take advantage of opportunities in renewable technology research.

Battery Storage technology will be critical in wind and solar energy growth, supporting grid stability and the EV revolution.

The Middle East and China will play a key role in pushing the industry forward.

CCS technology will advance quickly, and the number of new facilities will increase to decarbonise the oil and gas industries in the short term

Battery technology will drive the introduction of new EV's and hybrid vehicles for transport and passenger vehicles.

The geopolitical landscape and global tensions are unlikely to change in 2023, driving the urgency for locally produced, cheap, renewable energy.
United States Inflation Reduction Act will promote increased investment in clean energy in the U.S.
In August 2022, the U.S. House passed the Inflation Reduction Act, which included a $370 billion clause for reducing national emissions and adopting greener technology.
The bill has assigned $161bn as a fiscal stimulus for clean electricity, $100bn to address the affordability of clean technology, $75bn for environment conservation, and $33bn to support clean technology development in the U.S.
The bill's clauses include requirements for EVs and battery components to be produced domestically, with tax credits encouraging local battery and EV production for U.S. vehicle sales.
The broader Act is intended to meet the Democrat's pledge to reduce emissions and drive the energy transition while reducing the country's dependence on overseas technology and imported materials.
It's expected that the introduction of this bill will fuel investment in solar, wind, and battery storage technology and production in the country and is the most substantial support for reducing emissions and transitioning to green energy in recent times for the United States.
​
The renewable energy industry is still growing at a faster rate than any other energy industry
The renewable energy sector has grown substantially over the last couple of years.. A combination of climate pressure, pressure from investors for companies to be more green, traditional energy supply issues, and the ongoing geopolitical effects on energy supplies in Europe have pushed renewable technology forward faster than ever before.
The International Energy Agency (IEA) has reported that total renewable energy growth is set to double worldwide in the next five years, eventually replacing coal as the most significant source of electricity generation. Renewable electricity supply is set to grow by almost 75% across the same period to nearly 2400GW.
The IEA estimate that the share of energy produced globally by renewables will increase from 28% in 2021 to over 38% by 2027.
​
Global electricity generation by technology, 2015, 2021, and 2027 (Source: IEA)
The increased costs of materials, minerals, and production of solar panels, wind turbines, and batteries are likely to be offset by increased investment, global pressure for governments to meet their climate targets, and rapidly growing demand for renewable technology.
​
Onshore and Offshore wind projects will drive future growth, but only some of those projects will be online in 2023
Wind projects will form a large part of the energy mix strategy in 2023. Global wind capacity across the next five years is predicted to double, with nearly 20% of this growth in offshore projects.
However, some challenges will continue to limit the speed at which wind farms can be brought online. Slow or delayed licensing and planning procedures risk pushing projects back towards the middle of the decade. There is still a requirement to install battery storage solutions to support integrating new facilities into existing networks not designed for incremental upgrades.
Towards the end of the next five years, most predictions see China and the United States leading the way with onshore and offshore wind installations accelerating through 2023.
​
Global investment in renewable technology continues at pace
As mentioned previously, huge investment is driving the clean energy revolution. A recent report from BDO Global suggests 2023 will see an investment of over $300bn into the technology behind renewable energy.
This investment and research will fuel advancements in efficient solar panelling, floating solar panel technology (or 'floatovoltaics'), onshore and offshore wind technology, and carbon capture and storage (CCS) technology.
The investment is fuelled partly by the events of 2022 and the fundamental shift by traditional oil and gas companies to move to renewables to protect their market share but also due to the opportunities mentioned above in tax credits, funding, and commercial incentives to invest in renewable technology.
​
Battery storage technology will support new renewable energy projects to provide stable power to the existing network
One of the challenges of solar and wind energy is intermittent production. The grid is not designed for variable supply, where battery storage projects will be needed to support the connection between existing networks and wind and solar energy.
In November 2022, Europe's largest battery storage project, based in Cottingham, UK, was brought into operation, storing 196MWh of power generated from the next two phases of the Dogger Bank offshore wind farm. Harmony Energy, the company responsible for the project, states that it will stabilise and provide up to 3.5GW of energy into the network from the wind farm.
And this project is not alone – new battery storage facilities are being built globally to support the immediate need for renewable energy. Solar energy company Corsica Sole opened a new battery storage facility in Belgium in December 2022.
​
The Middle East and China will continue to push renewables forward
As China moves out of new COVID lockdowns and begins to ramp up production again, its need for energy to fuel this growth will grow alongside it. Part of this is to increase their solar and wind capacity by 2027. They are already leading the world in increasing their renewable energy generation through new solar farms and offshore wind facilities.
The Middle East, traditionally built on the oil and gas industry, is also pushing heavily toward renewables. Companies like Abu Dhabi-based Masdar are gaining global investment for key projects, including the NEOM' Line City' project, Masdar City, and the most recent phases of Mohammed Bin Rashid Al Maktoum Solar Park, already one of the largest solar farms in the world.
With Dubai set to host the COP28 conference, the country is keen to show commitment to innovation in renewable technology, drive this investment, and encourage other countries in the Middle East to follow suit and ensure the region becomes a world leader in the energy transition ecosystem.
​
Carbon Capture and Storage will be critical to decarbonising carbon-based energy in the short-term
2023 will be a big year for carbon capture, transport, and storage as investment and technological improvements push the sector forward. While the world looks to renewables for the future, carbon-based energy will remain essential to bridge the gap in the short term and meet global carbon reduction objectives.
According to a report from the Global CCS Institute in October 2022, there are 196 CCS projects in development, with 61 projects announced in 2022. In Europe, there are currently 71 projects planned or in progress.
​
Existing and Planned CCS projects in Europe (Source: IOGP)
Jarad Daniels, CEO of the Global CCS Institute, made a statement on releasing their recent report;
"The latest, most credible scientific analysis from organizations including the Intergovernmental Panel on Climate Change (IPCC) and the International Energy Agency (IEA), highlights that reaching our climate goals is practically impossible without CCS…Not only is CCS vital for reducing CO2 emissions, but investment in CCS also offers significant economic and social benefits. For example, CCS can help facilitate a just transition in communities reliant on carbon-intensive industries, protecting local jobs from economic dislocation by helping transform emission-intense industries into near-zero industries.
As CCS continues to scale up, we also see savings in cost and efficiency of deployment." Thanks in part to strengthening government policies around the world, CCS is increasingly commercially competitive across the entire value chain, from capture technologies to storage," explained Mr. Daniels. "We anticipate even more strategic partnerships and collaboration driving deployment, particularly through CCS networks."
Demand for domestic EV, and advancements in other forms of EV transport, will fuel battery demand [h2]
The technology behind electric vehicles is advancing rapidly, and the costs to produce these vehicles are decreasing, making them more affordable to consumers. The most significant technological drivers behind this are improvements to the charging network, domestic charging technology, and increased efficiency of batteries in the vehicles themselves. As a result, over 400 new models of EV's from new and existing manufacturers are expected in 2023.
The technology innovation is not limited to passenger vehicles. 2023 is seeing new models of vans, trucks, transport vehicles, and even planes and boats at least becoming hybrid as battery technology improves engine power and range.
​
Are you ready to be part of the future of the renewable energy industry?
The next five years will be a period of massive growth for the renewables industry, with global projects across wind and solar energy and its supporting sectors seeking new talent to meet demand.
NES Fircroft's expert recruitment teams recruit engineering and technical professionals for global roles with some of the biggest names in renewable energy. You can view all our open vacancies or register your CV with us today for free to ensure that you're first in line for future jobs in this expanding industry. 
​
​