Sustainable Aviation Fuel: What Do You Need To Know?
09 Feb, 2022
3:52
Currently, the aviation industry represents about 2-3% of global man-made carbon emissi...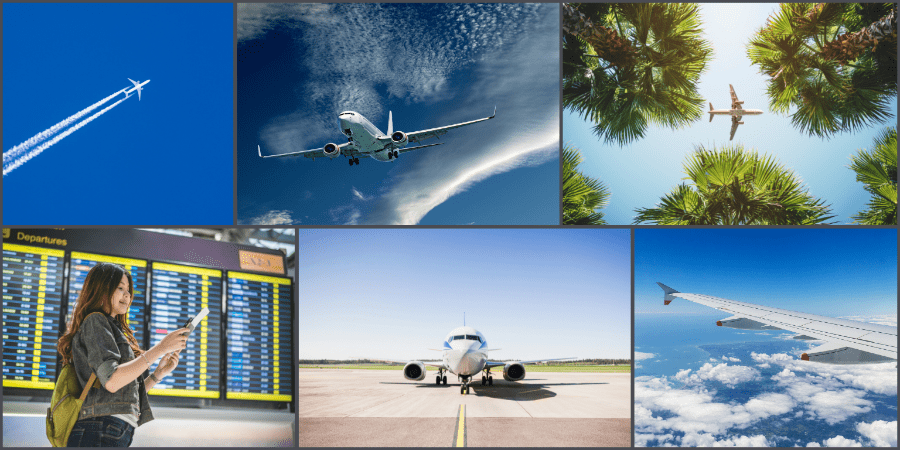 Currently, the aviation industry represents about 2-3% of global man-made carbon emissions, and the industry's greenhouse gas (GHG) emissions are rising rapidly. The aviation industry is set to have doubled to 8 billion passengers by 2050, meaning there is an urgent need to find more sustainable ways to travel by air.
Sustainable Aviation Fuel (SAF) is seen by many within the industry as one of the key solutions to mitigating aviation's GHG emissions and its impact on our planet. But what exactly is SAF, what are its benefits, and its limitations? Here's everything you need to know.
​
What is Sustainable Aviation Fuel?
Sustainable Aviation Fuel is a cleaner substitute for traditional fossil jet fuels. It has a chemistry that is very close to traditional fossil jet fuel. However, it's produced from sustainable, renewable, or waste-derived feedstocks rather than being refined from petroleum. SAF can be produced using resources such as:
Agricultural waste

Algae

Corn

Dedicated energy crops

Cellulosic waste, forestry residue and other woody biomass

Municipal solid wastes

Waste oils and other oils, fats, and greases

Wet wastes (such as manures and wastewater treatment sludge)
​
How is SAF used?
The first use of SAF within the industry was in 2008, and since 2016, there have been more than 370,000 flights using it. According to the International Air Transport Association (IATA), more than 45 different airlines have experience working with SAF and about 14 billion litres of SAF are in forward purchase agreements. KLM operated the first commercial flight using SAF in 2011 and in 2016, BP became the first company to start the commercial supply of SAF using an existing hydrant fuel system at Oslo Airport in Norway.
As mentioned above, traditional petroleum-based jet fuel and Sustainable Aviation Fuel have very similar chemical and physical characteristics. This means that the two can safely be blended. Therefore, SAFs are referred to as 'drop-in fuels,' as they can be used without having to make any technical changes to existing machinery.
Currently, SAFs must be blended with traditional jet fuels up to 50%. The reason for this is that some of the components in traditional jet fuel, such as sulphur, make it possible for seals to expand in engines, thus avoiding any leaks. Nevertheless, some newer engine models do not have this problem and 100% Sustainable Aviation Fuels performance tests have been conducted with some new aircrafts.
Quality tests on the blended fuels are completed just like they would for conventional jet fuel. Once passed, these blends are then re-certified as Jet A or Jet A-1 (the most common jet fuels used in aviation). This means that any aircraft that is certified for using the current specification of jet fuel can use Sustainable Aviation Fuel.
​
What are the benefits of Sustainable Aviation Fuels?
Alternative energy technologies for the aviation industry, such as electricity and hydrogen, are still in their infancy. Switching to these on a large scale is not set to happen anytime soon, so the industry is going to have to rely on liquid fuels for the foreseeable future. This means SAFs are currently the only viable alternative to petroleum jet fuels for reducing the industry's carbon footprint.
As stated by BP,
'A return flight between London and San Francisco has a carbon footprint per economy ticket of nearly 1 tonne of CO2e. With the aviation industry expected to double to over 8 billion passengers by 2050, it is essential that we act to reduce aviation's carbon emissions.'
One of the key benefits of SAFs is that they don't require any modifications of current equipment so they can be used with existing infrastructure and aircrafts. As well as this, compared to conventional fuels, Sustainable Aviation Fuel can provide a reduction of up to 80% in carbon emissions over its lifecycle.
Sustainable Aviation Fuel also burns a lot more cleanly. At present, more than 99% of airline emissions and about 50% of airport emissions are linked to the combustion of jet fuel. On top of reducing CO2 emissions, SAF can reduce direct emissions of Particulate Matter (PM) by up to 90% and Sulphur (SOX) by 100% compared to traditional jet fuel. Using SAFs means that air quality can be drastically improved in areas with high flight concentrations.
​
What are the current limitations of SAF?
Currently, SAF penetration within the aviation fuel market is very low, at about 0.1%. This is primarily due to how expensive it is to produce compared to traditional jet fuels.
The relatively high price of SAF can be attributed to a range of factors including:
the availability of sustainable feedstocks

the ongoing development of new production methods and technologies

industry regulations and incentives
For SAF to be scaled up to a global market, there needs to be substantial investment in the technology. Consequently, many within the field have called on governments to support companies in developing the necessary feedstocks and refining systems. Companies are constantly finding more efficient ways of producing Sustainable Aviation Fuel, which will also bring its price down.
Once the industry has reached a point where it's no longer having to compete with traditional jet fuel prices, due to an economy of scale, then SAF will truly be able to become a norm within the market.
​
NES Fircroft supports Sustainable Aviation Fuel growth
'The Sustainable Aviation Fuel sector is an exciting one to be in right now. We've seen so many energy companies pivot towards it as a sustainable fuel source, enabling people and goods to move around the world. As the aviation industry continues to grow, we expect to see more and more SAF projects creating opportunities for businesses and candidates alike. It's a very exciting field and one which NES Fircroft actively supports in its growth.'

Christian Lillie, Business Development Manager at NES Fircroft
Our recruiters source candidates for some of the biggest energy projects across the world, with jobs available across various industry verticals. We support projects driving carbon neutral initiatives worldwide. We are accredited as an ISO 14001 EMS business and strive to minimise the environmental impact of our business year on year.
Through tailored workforce solutions, we'll help energy clients to staff their projects, and through demonstrable experience (we're proud to look after over 12,500 contractors), our discipline-specific recruiters will help support contractors on their assignments, and help candidates prepare for the job market.