Top Wind Energy Jobs In 2021
30 Jun, 2021
3:35
​Over the last decade, Wind Energy has become an increasingly popular addition to the global...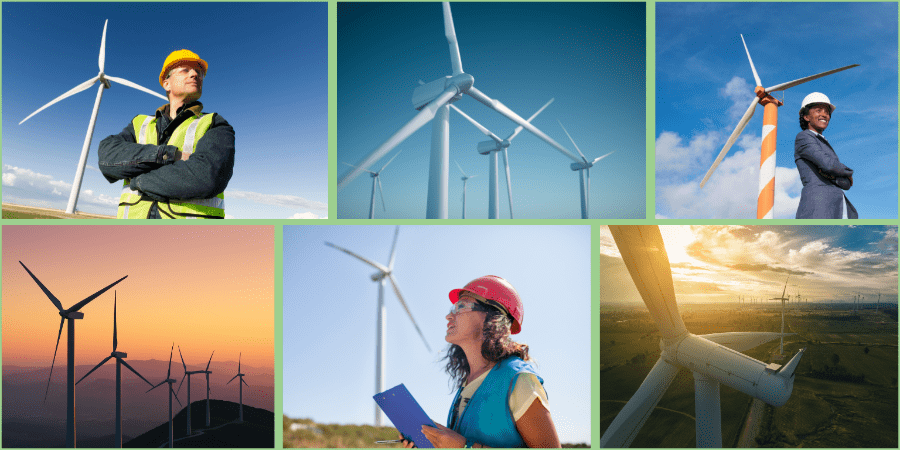 ​Over the last decade, Wind Energy has become an increasingly popular addition to the global energy mix. Governments and energy companies around the world are investing in onshore and offshore wind to reach net-zero targets meaning that wind capacity has more than quadrupled in recent years. These investments create ample opportunities for skilled technical personnel looking to either enhance their career or find their first job opportunity in Wind Energy.
So, if you're interested in joining the wind power industry, then here are some of the top wind energy jobs in 2021.

Wind Turbine Technician
A Wind Turbine Technician maintains wind turbine equipment to make sure it runs smoothly. This will involve testing, problem-solving and repairing electrical and mechanical components as well as monitoring daily performance. Wind Turbine Technicians can work both offshore and onshore.
Whilst some Turbine Technicians might be involved in new-build projects, most of the time the role involves maintenance, troubleshooting and repairs of existing turbines.
Responsibilities of a Wind Turbine Technician include:
Carrying out repair works

Conducting routine inspections of turbine systems

Detecting faults in the turbines' systems, such as electrical, hydraulic, and mechanical

Following and implementing health and safety guidance and procedures

Producing reports and keeping the site manager up to date on maintenance progress, inspections, and necessary repairs

Supervising more junior team members and the work of other maintenance staff
​Renewable Energy Engineer
A Renewable Energy Engineer within the wind industry is responsible for finding more efficient and innovative ways of producing energy. They can be involved at all stages of the process, from research and development, design and initial testing of new equipment and technologies through to testing and improvement of existing processes.
Responsibilities of a Renewable Energy Engineer include:
Carrying out site inspections and producing reports

Checking site and land conditions for the installation of turbines

Designing and building new wind technologies

Designing and selecting equipment and materials

Finding suppliers and negotiating tariffs

Finding ways to connect new power generation structures to existing systems and grids

Liaising with other engineers and contractors

Preparing schedules, cost estimates and feasibility studies
Electrical Engineer
An Electrical Engineer within the wind industry will oversee the design, development and maintenance of electrical systems used to generate wind energy. This will involve expert maths and computer skills.
Electrical Engineers will focus on quality, reliability, economy, sustainability, and safety from initial project phases such as research, design and development, through to testing, handover, maintenance, and decommissioning of turbines.
As an Electrical Engineer your responsibilities could involve:
Conducting tests on equipment and visiting sites

Designing products, equipment, and systems

Liaising with other engineering teams, clients, and contractors

Reading design specifications and technical drawings

Recording, analysing and interpreting test data

Troubleshooting and maintaining equipment

Working according to national and international regulations and standards
Environmental Consultant
An Environmental Consultant will provide advice and detailed technical assessments for their clients – their aim is to minimise, mitigate, avoid, or eliminate environmental damage on a project.
This will generally involve working for a consultancy firm that will assign you to a range of different government or commercial contracts, touching upon different environmental issues. In the case of the wind industry, this might involve evaluating the impact of wind energy projects on the environments they might affect.
Environmental Consultants will generally be responsible for:
Advising on the best course of action

Conducting field surveys and collecting data about levels of contamination or pollution within an area of interest

Conducting research and interpreting data

Determining the suitability of a new project and what impact it might have on the environment

Producing reports and sharing findings with other engineering teams and upper management

Providing support and advice when it comes to relevant legislation and regulations
Wind Energy Analyst
Wind Energy Analysts test and analyse different types of wind technologies to evaluate how effective they are and to find ways of improving energy generation. They'll also be responsible for assessing weather patterns to determine the best locations for a wind farm. This'll involve travelling to sites to evaluate conditions.
They'll have to review technical information related to the wind turbines as well as the construction process to make sure that the equipment functions optimally.
Once they've decided where a wind farm should be built and determined its construction requirements, they'll be responsible for projecting how much electricity will be generated from that farm. Once the farm has been built, Wind Energy Analysts will then monitor how the farm is performing and, if necessary, find ways of improving energy production levels.
Project Manager
Project Managers are responsible for overseeing and planning projects to make sure that they run on time and within budget. They'll plan and allocate resources, prepare budgets, monitor progress and keep higher management and stakeholders informed about the project's development.
As a Project Manager, you'll be managing people and resources whilst working under tight deadlines. You'll also be responsible for making sure that the project is conducted safely and for identifying any potential risks.
The responsibilities of a Project Manager will generally include:
Carrying out planning

Following standard processes

Identifying and managing risks

Implementing any necessary changes throughout the different project stages

Managing personnel and motivating them

Reporting progress to senior management

Selecting personnel for the project team
NES Fircroft is supporting the Renewable Energy industry
NES Fircroft is highly experienced when it comes to providing staff to the Renewable Energy industry, supplying technical personnel and engineers across a range of Renewables sectors such as Solar PV/Solar Thermal, Biomass, Geothermal, Offshore and Onshore Wind, Hydroelectric, and Natural Gas.
We offer recruitment solutions through the different Renewables project stages, from feasibility studies through to construction, operations, and decommissioning.
If you're looking for personnel to join your team, get in touch with us today! Looking for your next role within Renewables? Check out our latest Renewable Energy opportunities.