Exploring the Future of Renewable Energy Jobs in the UK
31 Mar, 2023
2:28
The UK has always been an attractive market for the renewables sector to flourish, with el...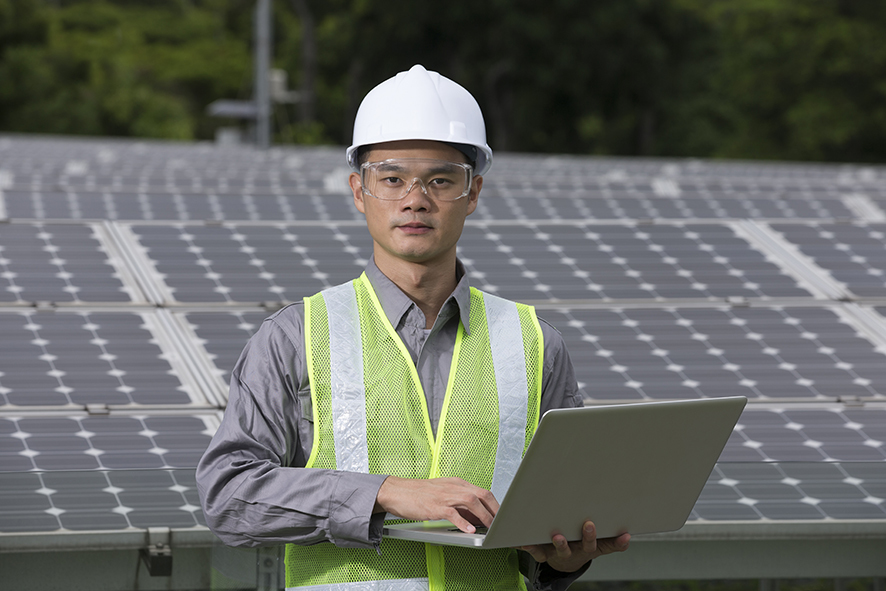 The UK has always been an attractive market for the renewables sector to flourish, with electricity generated by wind energy increasing by 715% between 2009 and 2020. We now have the most extensively installed wind base in the world, attracting massive levels of capital investment, and clean, renewable energy is predicted to outstrip fossil fuel energy by 2030. With the future of the renewable industry looking bright, we wanted to explore the future of renewable energy jobs in the UK.
In this article, we look at how many renewable job opportunities are in the UK and what makes working in this sector so attractive. We will also look at our own insight into women in renewables and how to attract talent within the space. But let's begin with an important question, how does renewable energy create jobs in the UK?
How does renewable energy create jobs in the UK?
With the future developments of the UK renewable energy sector looking promising, with increased investment into renewable projects backed by the government, with these projects come job opportunities.
For example, in March 2023, the UK government announced a £205 million budget to help generate enough renewable electricity to power 12 million homes across Britain. In addition, the financial backing will see £170 million towards renewable technology developments, including offshore wind energy projects and £10 million for emerging tidal stream technology innovation. This significant investment is set to bring with it a plethora of green jobs - but more on this later.
Speaking on this topic, the Minister of State for Energy Security and Net Zero Graham Stuart said:
"Our flagship Contracts for Difference scheme is already delivering clean, homegrown energy as well as growing a green economy with green jobs."
Major projects like Hornsea 3 off the coast of Norfolk, which, once completed, will become the largest wind farm in the world, can potentially power 3 million homes in the UK. In addition, this groundbreaking offshore wind farm will generate up to 5,000 jobs in its construction phase and another 1,200 permanent positions in the supply chain for the long operational phase.

How many jobs does renewable energy create in the UK?
Such investment and focus could create thousands of highly skilled, well-paid energy jobs up and down the country and reinvigorate coastal communities. Moreover, the government certainly seems to see renewable energy as a sector where British industry can flourish in a post-Brexit economy. Indeed, it has promised a green power "revolution" which could create upwards of 480,000 jobs in renewable energy in the UK by 2030 - as stated by the government's Green Jobs Delivery Group.
Renewable energy jobs in the UK are growing four times faster than the entire UK employment market. Unsurprisingly, Scotland, which is at the forefront of the onshore and offshore wind market, accounts for the most significant proportion of green energy jobs in 2022, at 3.3%, an increase from the 1.7% recorded the year prior. Additionally, the PwC's annual green jobs barometer revealed that green jobs in the UK trebled in 2021, reaching 336,000.
What's the attraction of jobs in renewable energy?
There are many reasons why renewable energy jobs attract thousands of candidates every year, from the idea of playing a leading role and being at the forefront of a groundbreaking industry to the flexible working opportunities, career progression and the chance to make a positive impact on the planet.
Jobs in renewable energy are particularly attractive for graduate engineering candidates looking to get their foot in the door of the fast-changing and challenging nature of the sector and senior professionals looking to take the next step in their renewables career.
We've highlighted three core reasons below to explain why renewable energy jobs are so attractive.
1. Career Progression
As discussed, jobs in renewable energy are on the rise, with increased investment and developments in the industry creating continuous opportunities. Moreover, organisations within the space continue to outline career pathways and progression opportunities for new and existing talent as part of their retention strategies.

Additionally, companies are investing more in training and development programmes since the PwC revealed in 2022 that the UK's energy transition would see a potential skills gap of 200,000 skilled workers by 2030. With workers retiring or leaving the industry due to a lack of upskilling or upskilling, the future of renewable energy jobs will likely see more career progression and development opportunities.

2. Work on groundbreaking projects
Another aspect of renewable energy jobs that makes a career in this space so attractive is the chance to work on groundbreaking projects. For example, clean energy is a diverse sector consisting of various technologies in constant evolution, such as solar PV, onshore and offshore wind and energy storage, providing professionals with the chance to be involved in some of the most diverse and innovative engineering projects around the globe.

Moreover, it is highly fulfilling and significantly rewarding when you can say you contributed to some of the UK's and the world's most groundbreaking projects, such as the Hornsea 3 project. Check out our infographic on the most impressive global wind farms to see the scope of work you could be involved in.
3. A chance to positively impact the planet
One final but arguably most significant reason why jobs in renewable energy are so attractive is the chance it provides for talent to positively impact the planet. For example, you could be involved in discovering innovative ways to store clean energy, coming up with new solutions to cut down the use of fossil fuels, to making renewable energy accessible and more affordable for millions of people.
Talent within this space can take immense pride in knowing they're making a positive difference in the lives of so many people and the planet as a whole. So ultimately, it's unsurprising why renewable energy jobs are widely sought-after.
Women and the future of renewable energy jobs

For the renewables industry to truly prosper, energy workers with the relevant skillsets and experience will need to be mobilised to the right worksite locations, and talent pools, particularly in booming sectors such as wind and solar, will need to be quickly established.
An NES Global Talent study found that female engineers could be one potential talent pool the industry could tap into. The study of 1,200 female professionals showed that of women with jobs in renewables, 63% are less than five years into their careers.
Female respondents stated that they were attracted to the renewables industry due to its modern approach and environmental conscience.
The survey also showed that 19% of the UK's respondents worked in clean energy, compared with an international average of 10%. Such data is encouraging and may indicate that the UK is ahead of the curve when it comes to hiring female talent.
Claire Perry, former minister for energy and clean growth, certainly believes so when she stated that the government's sector deal had set a target of 33% of jobs in the renewables sector filled by women by 2030.
How to attract renewable energy talent?
Consider the language you use to attract people to your organisation, your interview style and the selection process. Is this too "standardised", and does it funnel only one personality type through?
Could you accommodate flexible working? If yes, then say so
Does the role really require a degree qualification, or does the right experience add the same value?
Is direct experience in your renewables industry beneficial, or does it just contribute to groupthink? To add to this, the PwC reported that 90% of energy sector roles are transferable across sectors
Expanding your perspective could expand your talent choices.
NES Global Talent will help you on your renewables adventure
If you are currently looking to recruit candidates for your renewables projects, NES can help you to access the skillsets you need to build a viable talent pool. Alternatively, if you are looking for or are looking for the latest jobs in renewable energy, we can connect you with the best roles on the market.
Discover more about our work in the renewables industry, or get in touch to see how we can support you today.