The Best Paying Jobs In Renewable Energy
23 Mar, 2022
3:50
There is a common misconception that working within renewable energy means enginee...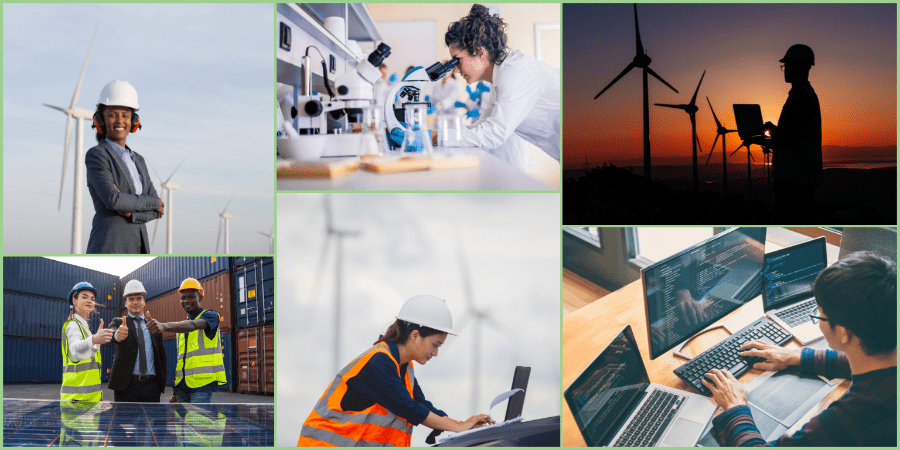 There is a common misconception that working within renewable energy means engineers will face lower salaries than if they were to work within traditional energy.
However, this is simply not the case - according to insights from our recent Energy Transition Outlook report, of the nearly 6,000 respondents who have transitioned from traditional energy into renewables, more than 75% said their salary was, in fact, higher or about the same.
If you're considering a career within renewables, or are thinking about transitioning into this industry, here are some of the top-paying jobs within the sector.
​
Civil Engineer
Civil Engineers are responsible for designing and supervising the construction and maintenance of projects. Within the Renewable Energy sectors, this could include anything from large-scale wind farms and Concentrated Solar Power projects to Hydropower complexes and bioenergy facilities.
Within these projects, Civil Engineers could be responsible for making sure that the right foundations are laid, that there are access roads, or that there are appropriate crane paths. They'll also ensure that the location and materials used for a project are appropriate, testing things such as local environmental conditions, soil, concrete, and other building materials.
They also ensure that appropriate environmental measures are put in place. Throughout their work, they'll make sure that relevant regional and industry rules and guidelines are followed whilst keeping an eye on construction costs.
​
Geoscientist
Geoscientists generally study the physical aspects of a given area, analysing its composition and structure to determine whether a site might be propitious for a Renewable Energy project or not.
For example, with wind energy projects, whether that be offshore or onshore, Geoscientists will assess the conditions of the ground where foundations could be laid. They will carry out field studies, visiting the location to collect samples and conduct surveys.
They'll also analyse samples taken on location in a lab, create geologic maps and charts, and prepare reports. They'll then present their findings to other interested departments, senior management, clients, and other stakeholders.
​
Renewable Energy Engineer
Renewable Energy Engineers work on the production of renewable and sustainable energies. They could be researching and developing new equipment and machinery, developing, or improving production processes, or working on the construction of new renewable energy facilities.
Their role will also be to assess and minimise the environmental impact of whatever they're working on. They'll also carry out routine inspections on-site and test equipment, reporting their findings and suggesting improvements to increase the efficiency of a given project or type of machinery.
Throughout the scope of their work, they will need to be aware of relevant local, regional, national, and international rules and regulations.
​
Materials Engineer
Materials Engineers work specifically on a range of materials to improve their performance. They also create new materials to help advance technologies and products.
For example, within the field of Renewable Energy, they could be working on improving the materials that compose the blades of wind turbines, or they could be studying the materials used for photovoltaic panels.
Materials Engineers need a thorough understanding of behaviours and properties of the various materials they're working with, such as ceramics, polymers, plastics, and industrial minerals. Their goal is to make products and materials stronger or more durable, whilst keeping costs as efficient as possible.
As part of their day-to-day activities, they may be:
Developing, changing, and testing materials

Conducting inspections and diagnosing faults

Advising on any necessary changes to a material or product

Liaising with suppliers and other engineering teams
​
Construction Manager
Construction Managers are responsible for ensuring that the construction of a project is conducted safely and within a given budget and timeframe.
They manage the practical side of a project throughout its different building stages, often working with other disciplines such as surveyors, architects, and other construction-related professionals to ensure that the planning and delivery of their project runs smoothly.
Construction managers will also supervise and direct different tasks on the construction site and make sure that contractors and other workers are collaborating effectively according to an agreed plan.
​
Economist
The role of Economists within the Renewable Energy sector is to research topics related to the supply and use of renewable energy globally.
Their research will not only involve the economics of global supply and demand, but also subjects that revolve around it such as regional market conditions, climate change, the environmental impacts of specific projects and industries, sustainability, politics, and wider sector trends.
Economists within the renewables sector might be working for private companies but they could also be working alongside governments, advising them on things such as new laws, policies, and collaborations with industry bodies and private businesses.
Economists might also work for research institutions and academic organisations involved in the renewables sector.
​
Software Developer
Software Developers work to identify, design, install and test software systems. This could be internal programmes that help a company be more efficient, software that is used within machinery, or software that is then sold onto other companies.
Within the field of renewable energy, Software Developers could be creating software for a whole range of applications, from ensuring offshore wind turbines function effectively to making sure that energy is moving through the grid optimally and supplying areas where it's needed.
Once the software has been developed and is ready to be used, Developers will ensure that it's installed correctly. They also conduct routine testing, maintenance, and updating of existing software.
Because new technologies are always being invented, Software Developers need to stay up to date with the latest development, as well as any rules and regulations that might impact their work.
​
NES Fircroft and supporting the Renewable Energy Industry
NES Fircroft has been supporting the Renewable Energies sector for more than 20 years. We actively partner with our clients, offering a wealth of knowledge, a global network of talent, and in-depth local market understanding. We can deliver complete renewables workforce solutions.
Because we are present on some of the most exciting Renewable Energy projects globally, we have plenty of renewable job opportunities for engineers looking to enhance their careers in energy.
Our dedicated renewable energy recruitment teams keenly understand the challenges facing the industry and can mine our extensive global database to build you the talent pool you need for the future.