Fuelling the Future: The Top Investments within Energy Transition
19 May, 2023
5 Minutes
In the ever-changing energy landscape, the shift from traditional fossil-based energy produc...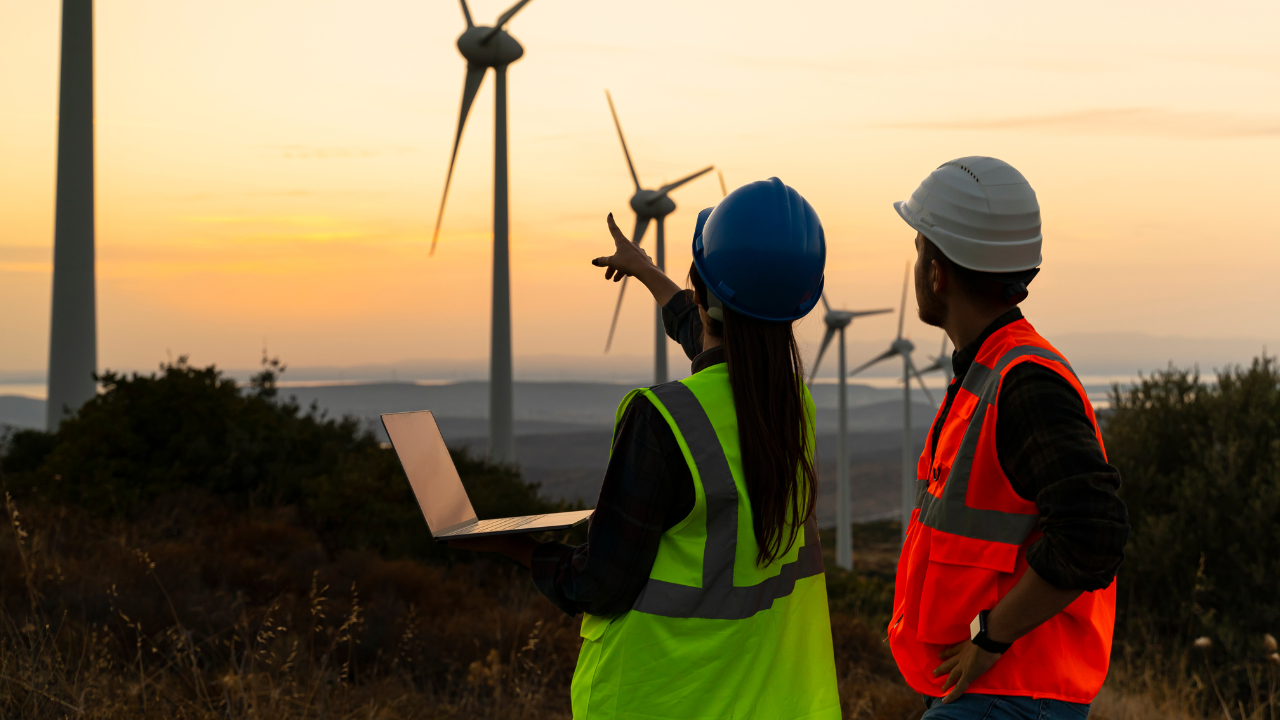 In the ever-changing energy landscape, the shift from traditional fossil-based energy production to renewables is more prevalent than ever. As 2023 continues to be a big year for growth within this sector, we look at some of the biggest investors into energy transition across the globe.
What is Energy Transition and Why is it Happening?
Energy transition is the global energy sector's transition from non-renewable fossil-based energy production such as coal, oil and gas, to more sustainable renewable methods, such as wind and solar.
The energy transition aims to reduce energy-related carbon emissions and combat climate change by increasing the amount of renewable sources in the energy mix, and looking at ways to help traditional energy sources become carbon neutral.
Global investments into energy transition technologies are up 70% from before the pandemic in 2019, despite numerous challenges. The success of the energy transition relies on investment at a great pace and scale to achieve the looming net zero targets.

Countries Leading the Energy Transition
In 2022, global investments in energy transition technologies such as renewable energy, energy efficiency, energy storage, hydrogen and carbon capture reached $1.3 trillion.
China holds the lead for clean energy investments and has done so for approximately a decade. The country spent $546 billion in 2022 on investments that included solar and wind energy, electric vehicles, and batteries. The industrial giant is also keen to tackle the emissions caused by industrial clusters, according to a recent analysis from market research firm, BloombergNEF.
Industrial clusters account for 15% to 20% of global carbon emissions, making them a strong target for reductions. These clusters, where multiple industrial sites operate within close proximity, are hotspots for carbon emissions. The country aims to power industrial clusters with only green and renewable power.
The European union followed second to China with $180 billion in 2022, and US showed promise with its investments into energy transition reaching $141 billion.

The Journey to Net Zero
Despite countries across the globe setting targets and investing billions of dollars we still have a long way to go to prevent climate change. Emissions need to be reduced by 45% by 2030 and reach net zero by 2050. In simple terms, net zero means cutting greenhouse gas emissions to as close to zero as possible.
The current pace of investment is not enough to put the world on track to meet climate goals so now more than ever, companies are looking to invest into renewable energy and take steps closer to becoming carbon neutral.
As the source of around three-quarters of greenhouse gas emissions, according to climatewatchdata.org, the energy sector has a large part to play in preventing the worst effects of climate change.

Challenges of Energy Transition
Phasing out fossil fuels is more difficult than ever. With concerns around renewable energy security, fossil fuel investments are on the rise despite the push to reduce carbon emissions. Subsidies play a big role in this, with the UK government investing £20 billion more in support to fossil fuel producers than those of renewables since 2015.
More also needs to be invested into less mature renewable energy technologies beyond electricity such as heating, cooling, and transportation. Solar and wind attract the most investment, leaving other technologies needed in the energy transition to fall behind.
Which companies are investing the most in the Energy Transition?
Although there are many challenges in the global effort to reach net-zero. There are companies spurring on the energy transition and setting the standard of what is possible with enough investment into renewable technologies.
NextEra Energy Inc. is a Florida-based energy company generating more wind and solar energy than any other company in the world. The company is one of the largest renewable energy producers, with a current generating capacity of approximately 30,000 megawatts. One of their goals is to install 30 million new solar panels in the US by 2030.
Iberdrola is a Spanish based company operating in over 40 countries and is one of the world's largest producers of wind power globally. The company say they are 20 years ahead of the energy transition and has pledged €47 billion for 2023 – 2025 to drive the energy transition. Originally focussing heavily on hydroelectric dams and onshore wind farms, the company has more recently delved into green hydrogen and electric vehicle chargers.
Orsted A/S is a Danish renewable energy company specialising in offshore wind power. The company switched from an oil and gas giant to the world's largest developer of specialising in offshore wind power. The company switched from an oil and gas giant to the world's largest developer of offshore wind power, with a total capacity of over 7.5 gigawatts installed and under construction. Orsted A/S have high ambitions to be carbon neutral by 2025.
The Future of Renewables
Over 100 countries have committed or are considering the net zero target by 2050. Achieving the net zero goal on a global scale is expected to cost around $125 trillion in climate investment and while we're still a while away there is hope that with large-scale investment it could be achievable.
Now more than ever, the demand for skilled engineers working in the renewable sector is high. Companies require engineers to research, design and construct the future of renewable energy through the climate crisis.
With carbon emission goals at the forefront of the energy transition, the demand is sure to increase over the coming years for skilled workers who can research and develop new technologies that will result in cleaner ways to supply energy.
NES Fircroft's expert recruitment teams source engineering and technical professionals for global roles with some of the biggest names in energy. You can view all our open vacancies or register your CV with us today for free to ensure that you're first in line for future jobs in this expanding industry.