Life Science Quality And Compliance Trends In 2022
12 Jan, 2022
4:01
The Life Science industry has faced many challenges over recent years. With new re...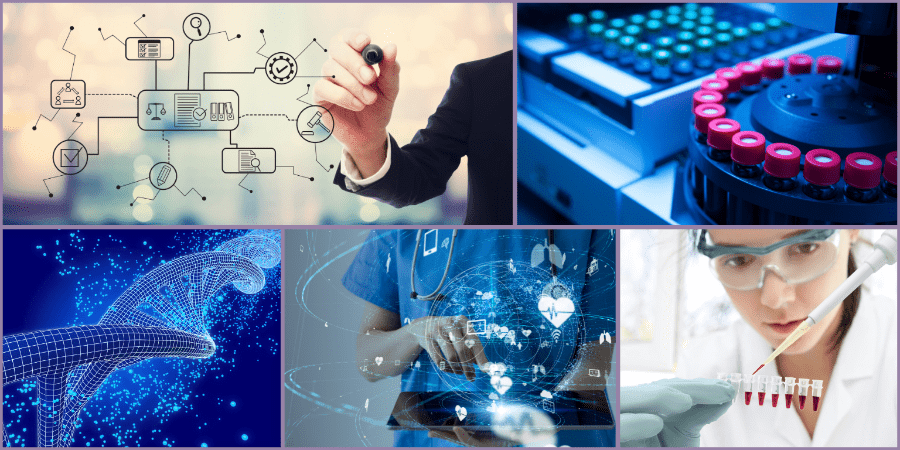 The Life Science industry has faced many challenges over recent years. With new regulations being put into place, continuous technological advancements, intense price pressures, and a global pandemic, companies have had to adapt and find new ways of managing their quality and compliance processes to remain safe and compliant, and this isn't set to change any time soon.
So what are the key quality and compliance trends within the Life Science sector to look out for in 2022?
​Connected Technology: Keeping businesses going
With the advent of the COVID-19 pandemic, many companies have had to adapt to a new way of working very quickly. Many countries have installed working-from-home policies which have led to an unprecedented reliance on business-wide connected systems and software.
Life Science companies that were previously reliant on paper-based or hybrid quality management systems have had to adapt to an increasingly and irrevocably digital world.
With a workforce that is working remotely rather than in offices, companies have been forced to develop new processes to remain connected and ensure quality and compliance standards are upheld throughout the company and its value chain.
As highlighted in a MasterControl Quality Management trends brief,
Global pharmaceutical compounding company Fagron is a prime example. The company processes the common steroid dexamethasone, which has proven to be effective in fighting the novel coronavirus in seriously ill patients. Having a single, accessible quality system helps the company maintain maximum productivity while ensuring quality throughout the product's life cycle.
Cloud adoption, agile ecosystems and connected platforms all combine to ensure that information isn't lost through ineffective communication across departments and teams. This has enabled many Life Science companies to avoid missing issues that could have a dramatic effect, delaying projects, damaging their reputation, or even costing lives.
This trend is only going to keep growing in 2022 as more and more companies invest in the infrastructure necessary to survive in a world where many workers will be working from home the majority of the time and have to communicate effectively.
Adopting a data-driven mindset
Data management is a key part of quality and compliance activities. Having access to relevant data throughout a company is vital to ensuring transparency and identifying any issues that have happened or that are likely to. Not only that, but colleagues throughout a company are also generating their own data and sharing it every single working day. They need to be able to exchange it and make decisions fast.
The rate of mergers and acquisitions that have been taking place within the Life Science industry, along with new quality software and IT systems being introduced all the time, have also led to many challenges. Companies merging and/or adopting different systems throughout the company make it more difficult to adopt comprehensive and uniform quality and compliance strategies.
Because upgrading or consolidating existing IT systems is extremely expensive and complex, many quality teams have historically relied on workflows and processes provided by off-the-shelf software, without considering whether these really fit the company's needs and evolving industry requirements and regulations.
Nevertheless, there has been a growing movement within the Life Science industry, especially in recent years, towards a much more rigorous use of eQMS (electronic Quality Management Systems) which can pool together data from an entire company and make it accessible to staff wherever they are.
Managers are increasingly adopting data-driven platforms. They are no longer having to spend unnecessary time using legacy quality management systems, working through unstructured data (most often stored in different locations), and double-checking spreadsheets and documents, something which often led to quality deficiencies being spotted too late and delayed delivery timelines.
Now, using data-driven, platform-enabled quality models, companies are better able to gain reliable insights and make informed decisions. This trend will only accelerate in the years to come as more and more Life Science companies see the potential benefits of adopting a data-driven mindset and remodel their businesses accordingly.
Automation of Quality and Compliance Processes
Automation has been a key part of how quality and compliance have evolved over the past few years. Through robotics and cognitive automation (R&CA), quality and compliance teams avoid the need to do repetitive and time-intensive tasks such as processing volumes of data on product quality and distribution, product labelling, and record maintenance.
R&CA involves two different yet related technologies: robotic process automation (RPA) and robotic cognitive automation (RCA).
RPA tools are systems that are based on a set of rules. They simulate human behaviour to automate parts of processes that are repeatable. Once written and tested, RPA algorithms don't change and function predictably. Processes that are repetitive and high-volume, with set steps and systems are generally well suited for robotic process automation.
RCA adds an extra layer of complexity, as it adds cognitive capabilities to RPA through the introduction of Machine Learning tools. Robotic cognitive automation tools can process and interpret unstructured data, draw conclusions from it, and engage in predictive reasoning. Not only that but RCA can also evolve over time as it encounters more data and learns from it. Quality and compliance teams that invest enough time in training these tools can get to a point where RCA solutions can conduct many of the same tasks as a human.
For example, one way in which R&CA has been applied is in training for employees. Many Quality and Compliance teams have used automation to enhance their training and Learning Management Systems, automating assignments, detecting gaps, and then working alongside affected personnel to remedy these gaps.
Another way automation has been applied is to detect high-risk abnormalities in imagery through large-scale interpretation and processing of clinical trial data. Automation makes it possible to identify patterns and anything that deviates from them a lot more quickly, making it possible to solve any issues a lot more quickly, avoid delays, and potentially even save lives.
Enterprises are reaping the benefits of adopting automation, and it is set to expand through the Life Science industry in 2022 as companies reevaluate how they can incorporate the technology in their business models.
NES Fircroft and supporting the Life Sciences industry
If you have a staffing requirement, contact us today or search our latest pharmaceutical and life science jobs to find your next position.