The Best Paying Jobs In The Chemical Industry
16 May, 2022
3:48
The chemical industry employs hundreds of thousands of people all around the world...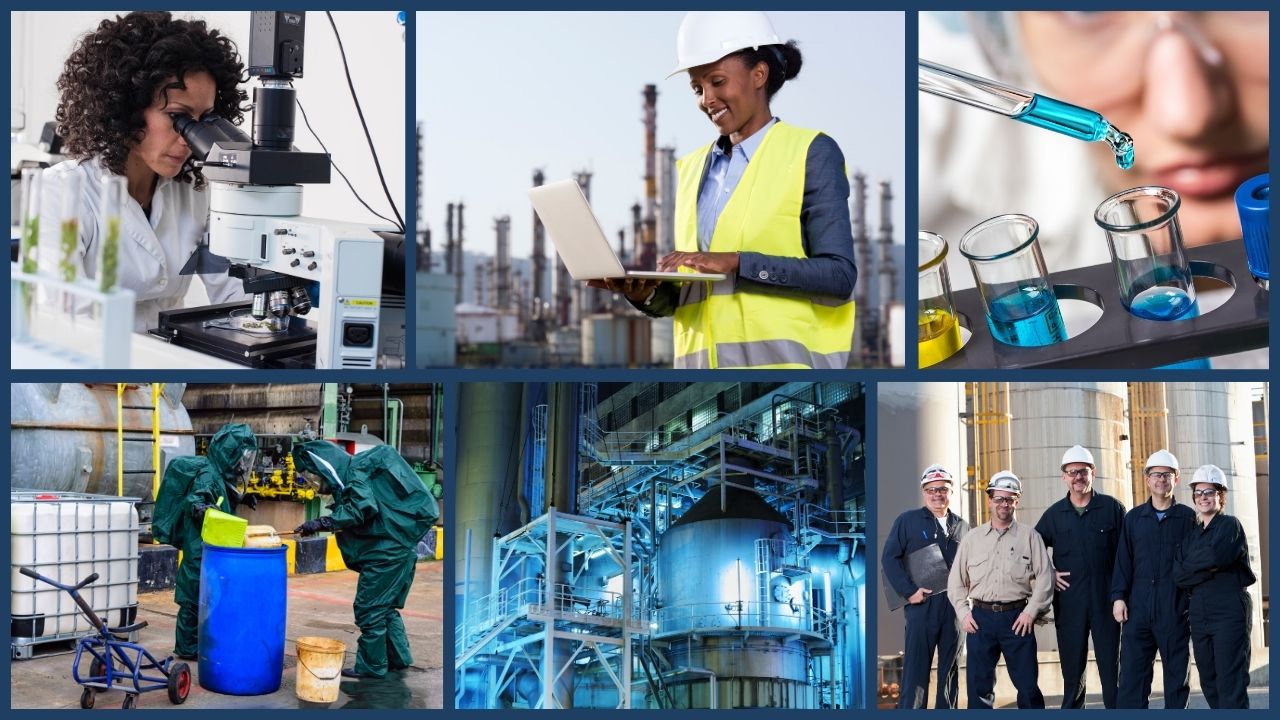 The chemical industry employs hundreds of thousands of people all around the world. Because of factors such as globalisation, growing populations, and global warming, the industry has evolved significantly over the past few decades, and it is now more dynamic than ever.
A career within the chemical industry is an exciting one, with high levels of responsibility, access to the latest technological advancements in your field, and the potential for high financial income.
So, which are the best paying jobs within the chemical industry?

Analytical Chemist
An Analytical Chemist uses different methods to assess the composition of various materials and substances. Their aim is to identify and understand the substances and how they behave depending on different conditions and environments.
Within the chemical industry, Analytical Chemists could be involved in the development of new chemicals, materials, and substances. They would study the physical and chemical properties of different chemicals and compounds to determine the stability or quality of a product.
The responsibilities of an Analytical Chemist could include:
Preparing and analysing samples
Using different analysis techniques and instruments such as ion chromatography, gas chromatography (GC), high-performance liquid chromatography (HPLC), electrochromatography, liquid chromatography-mass spectrometry (LC-MS) and spectroscopy (infrared and ultraviolet, amongst others)
Preparing reports and presenting results to other relevant teams and management
Developing new analytical techniques
Analytical Chemists need to have excellent attention to detail, technical skills and theoretical understanding of the substances they are working with. They also need to stay up to date with the latest scientific trends and discoveries, as well as any health and safety regulations.
Chemical Engineer or Chemical Process Engineer
A Chemical Engineer, Chemical Process Engineer, or Process Engineer is responsible for the physical, chemical, and biochemical processes and equipment used to create viable products from raw materials.
Within the Chemical Industry, they improve or develop new manufacturing processes or equipment used to develop products, keeping in mind timescales, costs, efficiency, and quality. This role necessitates an in-depth knowledge of the chemical and physical properties of the chemical they're working with as well as how they interact.
They will work closely alongside process and analytical chemists, as well as other engineering departments and upper management to ensure that processes are running as smoothly and efficiently as possible.
Chemical Engineers will also oversee the construction of new equipment or chemical plants, run tests, and prepare reports, presenting these to upper management and other relevant teams.
Environmental Consultant
Environmental Consultants will provide advice to their clients on matters concerning the environment and how a client's projects could affect it. The ultimate goal will be to negate or minimise the environmental impact of the client's project.
They conduct field surveys and tests to assess the environmental conditions of a given site, then analysing the results and feeding back their findings, advising on further actions.
They will have to be aware of all relevant regional, state, and international regulations regarding a range of environmental issues, advising their clients so that they remain compliant.
Environmental consultants can specialise in a range of areas such as:
Climate change and emissions
Environmental management systems
Flood risk and environmental impact assessment
Recycling and waste management
Renewable energy opportunities
Water, land, and air contamination
Geochemist
Geochemists have knowledge of both inorganic and physical chemistry which they use to study the distribution and quantity of chemical substances in minerals and rocks.
They also examine how these chemicals integrate the soil and water systems and move around within a given environment.
Within the chemical industry, Geochemists might examine things such as how a plant would affect the land or geology in a given area, how to improve water quality, or how to clear up toxic waste sites.
To do this, they conduct field visits and take samples which they will then analyse in a lab using techniques such as gas chromatography, carbon and isotope data, viscosity, and solvent extraction.
They map out specific geochemical areas for research and analysis and feed their findings back to other departments, which will then inform the development of a project.
Hazardous Chemical Management Chemist
Hazardous Chemical Management Chemists work as part of a team responsible for detecting and identifying chemical pollutants in the soil, water, and air.
They aim to prevent or reduce pollution within an area and work towards remediating any problems caused by hazardous waste. They then develop strategies to handle or store this dangerous waste.
They share many of the same skills that Analytical Chemists have and will work alongside other scientists – such as geochemists, toxicologists, and biologists – to determine the composition of samples and how to dispose of any chemical waste safely.
The role of the Hazardous Chemical Management Chemists is also to track the hazardous materials as they move through the environment. They create models to determine the chemical fate of materials, evaluate bioavailability, and predict the chances of success of different environmental remediation scenarios.
Materials Engineer
Materials Engineers work on a range of materials to improve their performance. They also create new materials to help advance technologies and products.
Materials Engineers need a thorough understanding of the behaviours and properties of the various materials they're working with, such as ceramics, polymers, plastics, and industrial minerals. Their goal is to make products and materials stronger or more durable, whilst keeping costs as efficient as possible.
As part of their day-to-day activities, they may be:
Advising on any necessary changes to a material or product
Conducting inspections and diagnosing faults
Developing, changing, and testing materials
Liaising with suppliers and other engineering teams
NES Fircroft and supporting the Chemical Sector
NES Fircroft has more than two decades of experience within the Process, Chemical and Petrochemical sectors, sourcing and managing experts for a complete range of contract and permanent placements.
Working with global manufacturers of speciality chemicals, bulk chemicals, fine chemicals and oil refining, our knowledge of process development and project execution with our specialist understanding of regulations such as COMAH regulations and the Seveso III directive help us to find the best candidates for our clients' projects.
If you have a staffing requirement, get in touch or search our chemical jobs to find your next position.