5 World Record Breaking FPSO Vessels
22 Apr, 2020
5:29
Floating production, storage and offloading (FPSO) vessels are now a key part of the ultra-d...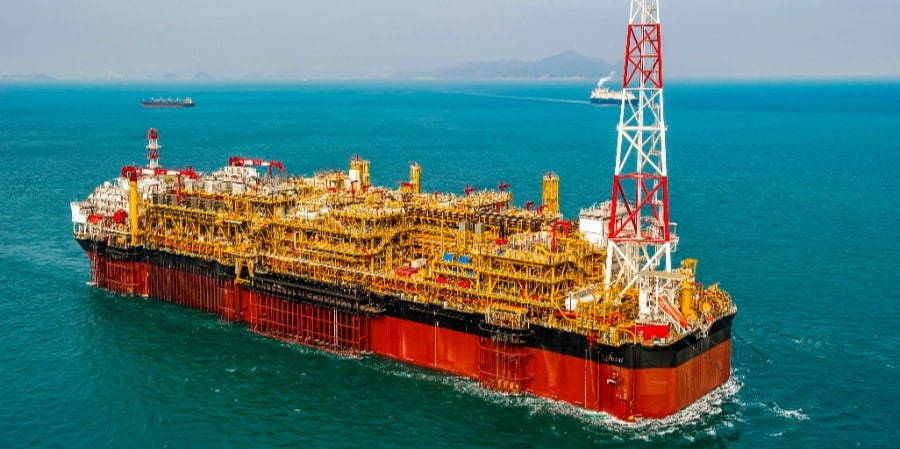 Floating production, storage and offloading (FPSO) vessels are now a key part of the ultra-deep offshore Oil & Gas industry. With many benefits to operating from FPSOs, demand has increased dramatically in recent years, and with it comes an arms race for bigger, more advanced facilities.
So which vessels are taking the lead? Which are operating in the most difficult areas. Which are built to do what no other facility can? We looked at some of the biggest and best to highlight the world record holding FPSOs currently in operation.



Deepest water depth: Turritella
Operator: Shell
Located in the Stones field in the US Gulf of Mexico, Shell's Turritella FPSO operates in a water depth of 2,900 meters (9,500 feet). Not only is it the deepest FPSO, but it's actually the world's deepest Oil & Gas production unit of any kind.
The Turritella was designed specifically for the Stones field, which had been discovered in 2005 and which Shell announced plans to develop in May 2013. The Stones field covers eight blocks of the lower tertiary geologic trend to reservoirs around 7,077 metres (26,500 feet) below sea level and 5,181 metres (17,000 feet) below the mud line. It's thought to hold more than two billion barrels of oil equivalent in place.
SBM Offshore were selected to construct the FPSO in their Singapore Shipyard. This was the first FPSO for both companies to be installed in the Gulf of Mexico.
The construction was ambitious. In addition to installing and operation subsea infrastructure at depths beyond any other project, the FPSO also had to cope with the severe weather conditions of the Gulf of Mexico - an area known for violent storms and hurricanes.
The vessel was equipped with the world's largest disconnectable buoy (Buoyant Turret Mooring) which would allow it to sail away in the event of oncoming hurricanes and later re-connect to quickly resume production. It was the first vessel to use Steel Lazy Wave Risers in combination with a disconnectable buoy - an innovation that absorbs the motion of the FPSO through large waves and boosts production performance at extreme depths.
It also pioneered the use of an In-line Mooring Connector (ILMC) which allowed it to re-adjust each mooring line tension without affecting any installed device - an innovation now seen in many other vessels.
The Turritella arrived in the Gulf of Mexico in January 2016 where it began operations from two tied back subsea production wells. Six further production wells were later added as well as a multi-phase system to pump oil and gas from the seabed to the FPSO, increasing recoverable volumes and production rates.
At its peak the Turritella is capable of producing 50,000 barrels of oil equivalent per day.
Largest hull oil storage capacity: Egina
Operator: Total
With a capacity of 2.3 million barrels of oil, Total's Egina FPSO holds the record for the largest floating production, storage and offloading vessel by capacity.
It's based in the Egina field, 130km off the coast of Nigeria in water depths of 1,600 metres. The field was discovered in December 2003 and spans an area of around 500 square miles. It's estimated to hold 550 million barrels of oil equivalent. Approval for development was granted in 2016 and Total began production from the Egina FPSO in December 2018.
The colossal vessel measures 330 metres in length, by 60 metres wide and weighs almost 220,000 metric tons. Connected to 44 subsea wells, it can produce up to 208,000 barrels of oil per day.
The FPSO is equipped with a 100m high flareboom and an integrated oil offloading terminal. The topside modules have a gross dry weight of 47,500 tonnes, and feature accommodation capacity for 200 individuals.
Samsung Heavy Industries were contracted to build the vessel, along with local contractors in a specially built shipyard in Nigeria. Six of the 18 modules were built and integrated locally and mark the first time such a complex project was executed in Africa.
It's connected to a subsea production system including risers, 52km of oil and water injection flowlines, 12 flexible jumpers, 20km of gas export pipelines, 80km of umbilicals and subsea manifolds.
The vessel is continuing to operate and is responsible for almost 10% of Nigeria's total oil production.
Highest Name Plate Oil Throughput: Glen Lyon
Operator: BP
With a production of 320 million barrels of oil per day, BP's Glen Lyon set the record for nameplate oil throughput, as well as being the world's largest harsh water floating production, storage and offloading vessel.
The Glen Lyon was purpose built for the Quad 204 project - a redevelopment by BP of the Schiehallion and adjacent Loyal fields in the North Sea, approximately 175km west of the Shetland Islands. The fields had already produced nearly 400 million barrels of oil in 15 years of production, starting in 1998. But the original Schiehallion FPSO required replacing and technological advances proved there was more to be gained from the fields.
BP's Quad 204 project sought to extend the field's life beyond 2035, ramping up production to 130,000 barrels per day and unlocking a further estimated 450 million barrels.
The Glen Lyon was built to handle BP's target capacity at the Hyundai Heavy Industries shipyard in Ulsan, South Korea. Without it's own propulsion, tugs were needed to tow it first to Norway (a journey of 15,300 nautical miles) then 386 nautical miles further to its placement in the North Sea.
The vessel is 270 metres long by 52 metres wide and weighs 100,000 tonnes. It has a storage capacity of 800,00 barrels of oil and accommodation for up to 140 people. It was built for a harsh water environment with superior seakeeping and long-term processing capabilities. It's anchored to the seabed via a turret mooring system, with 20 mooring lines running almost a mile long, allowing the vessel to rotate and position head to the prevailing environment.
In addition to the FPSO, the Quad 204 project introduced some exceptionally complex engineering requirements. 73 subsea structures were fabricated by Rosyth-based Babcock, while Technip FMC were contracted to supply flexible risers and offshore installation, Aker Subsea provided subsea control systems and Amec Foster Wheeler delivered hook-up and commissioning support. Up to 20 new wells were also planned as part of the redevelopment.
Highest Name Plate Gas Throughput: Skarv
Operator: Aker BP
Another of the world's largest floating facilities, Aker BP's Skarv FPSO is one of the biggest offshore gas processing plants and has a name plate gas throughput of 670 MMSCF per day.
The Skarv field was discovered in 1998 in the northern part of the Norwegian Sea, approximately 50km south of the Arctic Circle. In 2008 construction started on the purpose-built FPSO vessel that would produce gas from subsea wells. Like the Glen Lyon, the Skarv is a harsh water vessel and it operates in water depths of 350-450 metres.
Suppliers for the construction came from across 5 continents. The primary build took place in Korea, with a 49,000 tonne hull measuring 295m long and 51m wide. An 18,000 tonne production module was also constructed, with a capacity to produce 85,000 bpd, 19 million sm3/d. The FPSO has a storage capacity of 875,000 barrels.
The 7,500 tonne turret was built in Singapore and measures 77.4 metres high with a diameter of 17.8 metres. In addition, the flare tower stands 154.6m above the hull base. In total, construction took 23 million man-hours.
Operations began in the Skarv field in 2012, where the FPSO was tied to 12 initial production wells, 4 initial gas injection wells and 5 subsea templates with 122km of subsea pipelines. It's intended to continue producing for 25 years.
Longest serving FPSO: Arco Ardjuna
Operator: Pertamina
The Arco Ardjuna FPSO was built at a time long before FPSOs were as common as they are today. Constructed in 1973, this 47 year old vessel continues to operate in the Java Sea.
The Arco Ardjuna was developed to operate the Ardjuna oil field located in the West Java Sea, approximately 95km from Jakarta. Initially it was operated by ARCO, who later became BP West Java. Pertamina Hulu Energi became the operator of the field in 2009.
Operated by Indonesian state owned Oil & Gas company Pertamina, the Arco Ardjuna was developed to operate the Ardjuna Oil Field located in the West Java Sea, approximately 95km from Jakarta. The area covers 8,300 square kilometres, where 314 producing wells operate.
Built to operate the field, the Arco Ardjuna was constructed at the MHI Nagasaki Shipyard & Engine Works in Japan. The 53,734 tonne ship was one of the largest vessels in the world at the time of construction.
Despite its age the vessel is still in use today, having been recently connected to pipelines tied to Pertamina's KLB Pavilion in the YY oil and gas field offshore Indonesia.
Work on world-leading projects
NES Fircroft has been recruiting engineering and technical professionals for the offshore Oil & Gas industry since 1970. Register with us today to keep up with the latest opportunities and secure your next job on an ambitious project.