Top Chemical Companies In The APAC Region
18 Aug, 2021
4:14
In 2020, the chemical industry contributed 3.3 trillion USD to global Gross Domestic Product...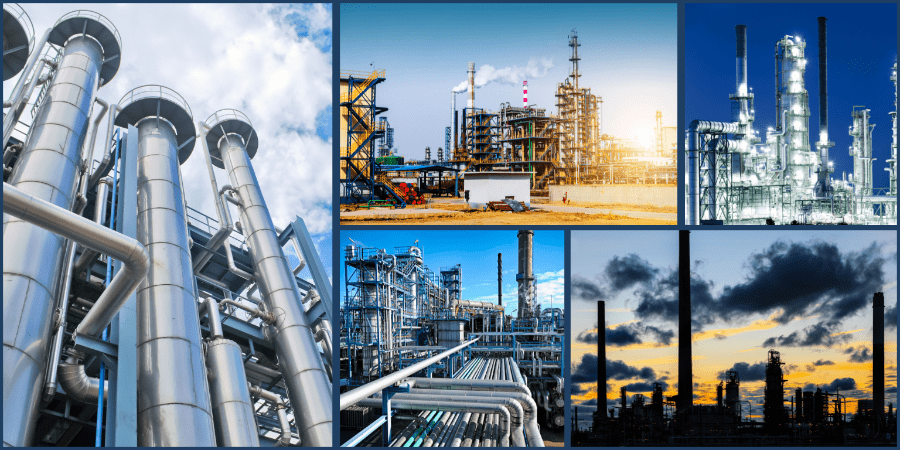 In 2020, the chemical industry contributed 3.3 trillion USD to global Gross Domestic Product (GDP) and the APAC region has been a significant contributor to this astonishing figure. The region is responsible for 45% of global chemical manufacturing, 7% of global GDP, and more than 69% of global jobs in the chemical industry.
But who are the chemical companies contributing to the industry's success in Asia-Pacific?

Formosa Plastics
Formosa Plastics Corporation, founded in 1954, is a chemical company based in Taiwan. Their main products are polyvinyl chloride (PVC) resins and other intermediate plastic products. They built their first PVC manufacturing site in Kaohsiung and production began in 1957.
In 2019, Chemical & Engineering News ranked Formosa Plastics as the sixth largest chemical company in the world by sales in 2018, with 36.9 billion USD. According to Forbes, as of May 2021, the company had a market capitalisation of 24.5 billion USD.
In 2005, Formosa Plastics became the biggest producer of PVC resins in Taiwan. If one takes into consideration Formosa Plastic's American operations, the company's total PVC resin capacity is 2.83 million metric tons per year. This is the second highest worldwide after Shin-Etsu Chemical.
LG Chem
LG Chem, sometimes referred to as LG Chemical, is the largest chemical company in Korea. Founded in 1947 and headquartered in Seoul, South Korea, LG Chem was ranked the tenth largest chemical company in the world in 2017 by sales.
LG Chem currently has 8 production facilities in South Korea and 29 business locations across 15 different countries. Their three main areas of focus are basic materials and chemicals, information technology and electronics materials, and energy solutions.
They produce and supply petrochemicals ranging from basic distillates to speciality polymers as well as raw materials and liquids. They also manufacture display and optical films, printed circuit materials, toners, and polarizers. Within energy, LG Chem developed and began mass production of Korea's first-ever lithium-ion batteries back in 1999. In 2011, they became the world's third-largest producer of lithium-ion batteries, reaching a production capacity of 1 billion cells.
Mitsubishi Chemical Holdings
Mitsubishi Chemical Holdings is a Japanese chemical company, headquartered in Tokyo, that was formed in 2005 from the merging of Mitsubishi Chemical Corporation and Mitsubishi Pharma Corporation. They produce optical films, information and electronics materials, acetyls, high-performance films, and other chemical products, and have nearly 70,000 employees in more than 40 different countries.
Mitsubishi Chemical Holdings operate a wide range of businesses around the world which they have grouped under three categories: industrial materials, healthcare, and performance products.
As of the end of 2020, most of their sales were domestic (57.1%) and the rest were overseas (42.0%), whilst their consolidated sales revenue reached 3,580 billion Japanese Yen (nearly 32.7 billion USD).
Reliance Industries
Reliance Industries is an Indian multinational conglomerate with headquarters in Mumbai, India. The company has a whole range of operations within different sectors such as petrochemicals, energy, natural gas, textiles, mass media, telecommunications, and retail. It's also one of the most profitable companies in India and the biggest company in the country (from a revenue point of view), having overtaken the government-controlled Indian Oil Corporation.
Reliance Industries is also one of the biggest employers in India (coming in eighth position), with nearly 195,000 employees. In September 2020, the company became the first in India to cross 200 billion USD in market capitalisation. Not only that, but it's also India's largest exporter, accounting for eight per cent of the country's total merchandise exports.
They manufacture and supply a whole range of petrochemicals, including polymers, polyesters, fibre intermediates, aromatics, elastomers, and advanced materials. Furthermore, Reliance Industries are the world's largest integrated producer of polyester fibre and yarn, second largest of paraxylene, among the top ten for purified terephthalic acid, mono-ethylene glycol and polypropylene, and have the world's largest Refinery Off-Gas Cracker (ROGC) complex of 1.5 MMTPA ethylene capacity at Jamnagar in Gujarat, India.
Sinopec
China Petroleum & Chemical Corporation, or Sinopec, is a Chinese company based in Beijing and established in 2000. The parent organisation, Sinopec Group, is the largest oil refining, gas, and petrochemical conglomerate in the world.
It's currently the largest oil and petrochemical products supplier and the second-largest oil and gas producer in China. It's also the largest refining company and the third-largest chemical company globally. In 2019, Sinopec Group was ranked second on Fortune's Global 500 list.
Within chemicals, Sinopec's business includes the production and sale of petrochemicals, chemical fibres, chemical fertilizers, and other chemical products. The company also produces ethanol and several biofuels such as biodiesel and green jet fuel, from waste vegetable oil.
According to Forbes, as of May 2021, Sinopec's market capitalisation was 82.6 billion USD, their sales reached 271.1 billion USD, and they reached a workforce of nearly 385,000 employees.
Toray Industries
Toray Industries is a Japanese multinational headquartered in Tokyo. They specialise in industrial products within organic synthetic chemistry, polymer chemistry, and biochemistry.
Although they started manufacturing fibres, textiles, plastics, and chemicals, they have gone on to diversify into biotechnology, pharmaceuticals, electronics, IT, composite materials and more. Since its origins in 1926, the company has grown to become the world's biggest producer of carbon fibre and the largest producer of synthetic fibre in Japan. Toray's carbon fibre is used for a lot of the exterior components of Boeing 787 airliners.
As of March 2021, they have reached a paid-in capital of 147,873 million Japanese yen (equivalent to 1.35 billion USD), operate in 29 different countries, and have a total workforce of over 46,000 people.
Currently, Toray is focussing most of its research and development resources within the fields of organic synthetic chemistry, polymer chemistry, biotechnology, and nanotechnology.
Sumitomo Chemical
Sumitomo Chemical, founded in 1913, is a Japanese chemical manufacturer headquartered in Tokyo. When they were first established, Sumitomo manufactured fertilisers from sulphur dioxide emitted from the smelting operations at the Besshi copper mine in Niihama, to solve environmental issues caused by the emissions.
Since then, they have grown to function under five different business sectors: Petrochemicals & Plastics, Energy & Functional Materials, IT-related Chemicals, Health & Crop Sciences, and Pharmaceuticals. Their products are destined for a whole range of industries including automotive, home appliances, IT, energy, agriculture, industrial chemicals, pharmaceuticals, and more.
In March 2021, they reached a capital of 89,699 million yen (equivalent to 821 million USD) and a total workforce of nearly 35,000 people.
NES Fircroft and supporting the Chemical industry
NES Fircroft has been supporting engineers, candidates, and technical clients across many industries throughout the past 50 years. We understand how important it is to find the right mix of forward-thinking mindset, technical knowledge, and behavioural excellence in the recruitment process.
Our chemical recruitment team will deliver technical resources to your business, sourcing key hires that fit seamlessly into your company, whether you're an operator or a start-up. If you're looking for your next technical chemical job, you can register on our website or search for available roles.