Top Jobs In The Chemical Industry In 2021
09 Jun, 2021
3:18
The Chemical industry is an exciting one to be in. It's a very broad industry and ...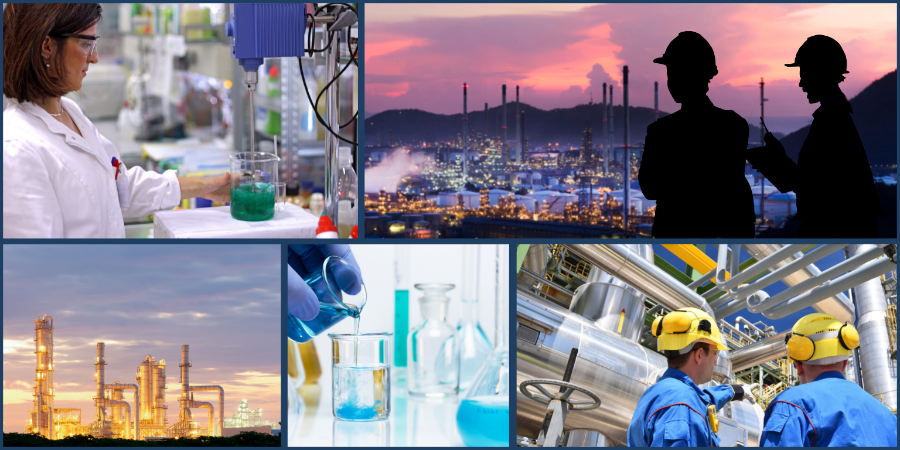 The Chemical industry is an exciting one to be in. It's a very broad industry and there are many different roles and sub-sectors you could go into, from food and additives to petrochemicals, fine chemicals, and metal refining.
If you're interested in entering the chemical industry, or are looking for your next role within chemicals, here are some of the top jobs in the sector in 2021.
Control and Instrument Engineer
A Control and Instrument, Controls and Instrumentation, or C&I Engineer focusses on managing highly technical equipment used to monitor and control machines within a chemical plant or other processing or manufacturing facility. Sometimes the responsibilities of control and instrumentation engineers will be split, so that a facility will have both Instrument Engineers and Control Engineers.
C&I Engineers generally take charge of designing, developing, installing, maintaining, and managing relevant equipment, systems, and processes. The ultimate aim of a Control and Instrument Engineer is to make sure that the plant and its equipment works as effectively and safely as possible.
As a C&I Engineer, you will need to have a good understanding of a range of disciplines which could include:
Advanced Process Control (APC)

Distributed Control Systems (DCS)

Programmable Logic Controllers (PLC)

Supervisory Control And Data Acquisition (SCADA)
Automation Engineer
Automation Engineers use technology to improve, streamline and automate manufacturing processes. They oversee the design, planning, installation, implementation, management and maintenance of the automation technology used within their manufacturing or processing facility.
The role of an Automation Engineer will sometimes overlap with that of a Control and Instrument Engineer. Automation systems involve three different elements:
Measurement: This involves all the sensors (a type of instrument) that take measurements which are then sent to the control.
Control: The control is where actions for a process are decided. Once a decision has been made, the information is sent to the actuators. Within chemical plant automation or industrial and process automation, which are extremely complex, there needs to be a device such as a PLC.
Actuators: The actuators perform the actions dictated by the control. These can be all kinds of machinery such as valves, pumps, rotors, heaters, or pistons.
The Automation Engineer will oversee setting up and maintaining the automation (measurement, control, actuators) for manufacturing processes so that they run smoothly, efficiently, and are streamlined.
Production or Operations Manager
A Production or Operations Manager is responsible for planning, coordinating and controlling a manufacturing process with the ultimate goal of manufacturing the product on budget and in time.
This involves ensuring the safety, cost-efficiency, quality, and timeliness of the production processes. As part of this role, you will most likely oversee a range of production processes as well as the people working on these. A large part of this role involves managing resources and people.
Responsibilities of an Operations/Production Manager involve things such as
Creating production schedules,

Ensuring health and safety guidelines are respected,

Implementing quality control programmes,

Monitoring productivity,

Reviewing worker performance and attending to any training needs,

Selecting equipment and making sure it's maintained,

Setting up quality standards,

And more…
Chemical or Process Engineer
A Process or Chemical Engineer oversees the chemical and physical processes, systems and machinery involved in transforming raw materials into products. They're responsible for developing industrial processes, plants, and equipment.
A Chemical or Process Engineer will have a range of responsibilities such as
Assessing safety and environmental issues,

Collecting necessary data for the improvement of processes,

Designing new processes,

Ensuring compliance with health and safety legislation

Overseeing the construction of new plants,

Purchasing and installing equipment,

Supervising plant operations,

Testing existing and new processes,

And more…
Analytical Chemist
An Analytical Chemist is responsible for evaluating the chemical nature and structure of chemical substances and products. An understanding of how different substances react in different conditions is crucial. They'll analyse a range of samples using different techniques such as spectroscopy, electro-chromatography, and high-performance liquid chromatography.
Analytical Chemists need to possess a range of skills to do their job effectively, including excellent IT skills, expert technical knowledge, interpersonal, teamworking, analytical and problem-solving skills.
Responsibilities most often include:
Collecting and evaluating data in accordance with strict guidelines on documentation when recording data

Designing new analytical methods

Liaising with other internal teams and with external clients

Preparing product licence documentation

Reporting and presenting scientific results

Using different tools, techniques and software to do research and analyses

Validating equipment and methods
Research Scientist
Research Scientists supervise the design, process, and analysis of data from controlled lab-based trials, investigations, and experiments.
The role of a Research Scientist is predominantly lab-based. They will oversee the planning and conducting of experiments, collect and analyse data, collect samples, write reports, present results, ensure quality standards are respected, and more…
Within the Chemical industry, Research Scientists research chemical compounds. This research then informs the creation or improvement of processes and products.
NES Fircroft and the Chemical Industry

NES Fircroft has been supporting engineers, candidates, and technical clients across many industries throughout the past 50 years. We understand how important it is to find the right mix of forward-thinking mindset, technical knowledge, and behavioural excellence in the recruitment process.
Our chemical recruitment team will deliver technical resources to your business, sourcing key hires that fit seamlessly into your company, whether you're an operator or a start-up. If you're looking for your next technical chemical job, you can register on our website or search for available roles.