Top Pharmaceutical Jobs In 2021
17 Sep, 2021
4:12
The Pharmaceutical industry employs over 70,000 people in the UK alone, making it one of the...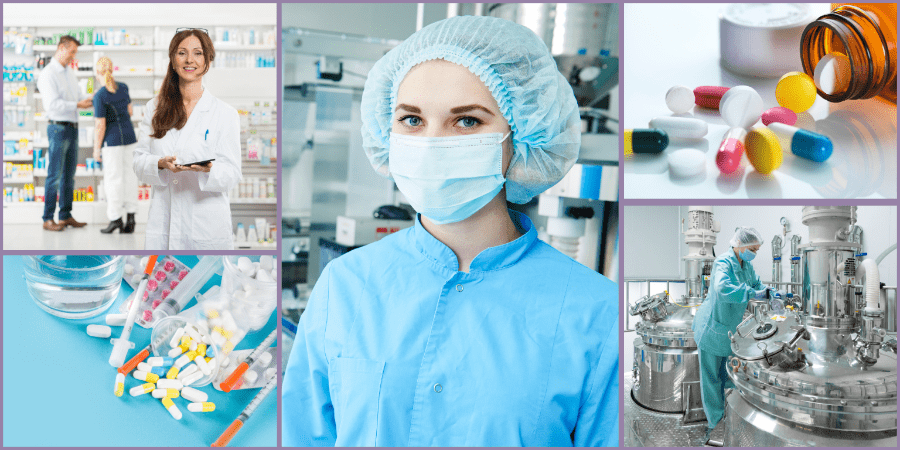 The Pharmaceutical industry employs over 70,000 people in the UK alone, making it one of the world's major employers. In 2020, global pharmaceutical revenue reached 1.27 trillion USD and it's expected that market value will reach 1.7 trillion USD in 2025 at a CAGR (Compound Annual Growth Rate) of 8%.
Not only is the sector thriving, but it's also an extremely rewarding space to work in. It involves an advantageous salary, a stimulating environment where discoveries are made every day, and, of course, with many diseases still without a cure, it gives you the opportunity to make a positive difference in people's lives. These benefits give great potential for long-term employment and career progression making the sector very attractive.
If you're looking to enter the sector or perhaps make a career change, here are the top pharmaceutical jobs that are improving health globally.
​
Research Scientist
Research Scientists within the pharmaceutical industry will most often be employed by a higher education institution, government department or commercial enterprise. Within this, there's a whole range of subsectors in which a Research Scientist could be working, such as:
biochemistry

biology

biomedical sciences

botany

microbiology

neurosciences

oncology

pharmacology

physiology

zoology
Research Scientists will primarily be involved in designing, planning, and conducting experiments, then analysing results. This could be done with the end goal of developing new products, commercial applications, or processes, or to further scientific research within a given field.
Whilst you might be carrying out research and experiments on your own, you will generally be part of a wider team, sharing your findings and any other relevant information with your colleagues, sometimes through research publications or at conferences, either on a national or international level.
A Research Scientist will be a good problem solver, methodical and able to analyse and process complex data. They will have excellent time management and organisational skills, being able to work independently and as part of a team. Their written and spoken communication will also be excellent.
Chemical Engineer
The role of a Chemical Engineer is to turn raw materials into a range of products. This will involve transforming the physical, biochemical, or chemical state of a substance into a new substance. A Chemical Engineer will need to have an in-depth understanding of the properties of the materials they are working with as well as relevant processes. They will also have to bear in mind all the costs and health and safety procedures involved in their work.
The responsibilities of a Chemical Engineer will generally include:
Communicating with other departments such as finance, HR, or mechanical engineering

Conducting research and developing new processes as well as working on improving existing ones

Designing and planning the layout of equipment used within chemical processes

Finding solutions to any problem that might arise throughout the production process

Making sure that processes and equipment follow regulations, are compliant, and follow health and safety measures

Setting up safety procedures to be implemented when working with dangerous chemicals

Testing and measuring the performance of production processes
A Chemical Engineer will have to be a very good problem solver, with a creative mind and the ability to come up with solutions to complex challenges. They will have great analytical skills as well as communication and organisational skills. They will also be open to new ideas and trying out new technologies to constantly improve processes and implement new ones.
Regulatory Affairs Specialist
A Regulatory Affairs Specialist ensures the appropriate licencing, marketing, and legal compliance of pharmaceutical products to safeguard their efficacy and safety. They form the vital link between a company, its products, and regulatory authorities.
Using their profound knowledge of business, scientific, and legal issues, they will make sure that products designed, produced, or sold by different companies follow relevant rules and regulations.
Within pharmaceuticals, it can sometimes take over a decade to commercialise a product. Regulatory Affairs Specialists will assist throughout the process. As well as making sure that a company complies with the regulations within a region where they wish to distribute their products, they will also have to remain up to date with new regulations, guidelines, and developments within their field, both on a national and international scale.
They will also be responsible for preparing submissions for new product licences and licence renewals, which requires excellent communication skills. They will be working under tight timelines and will have to keep track of when to renew approvals and when to start procedures, meaning time management and organisation are vital for the role.
Clinical Data Manager
A Clinical Data Manager is responsible for collecting data from a range of different research projects and pharmaceutical trials. They will work as part of a team to ensure that data is collected, managed, and reported securely, accurately, and clearly.
They will be responsible for creating reports, data charts, statistical comparisons, and other material, in partnership with the research team. This is a very collaborative role that might entail regular meetings and travel.
Clinical Data Managers play an important role in the success (or failure) of clinical trials. They will evaluate the effectiveness and safety of a given pharmaceutical product to support marketing claims and regulatory submissions. They will manage all the aspects of clinical data management and sharing. They will also be responsible for making the decisions when it comes to what data to collect and which tools to use to do so, in line with the clinical trial protocol.
Quality Manager
A Quality Manager's role is to ensure that the products or a company are legally compliant, fit for purpose, and meet client needs. This will entail coordinating the different tasks necessary to meet quality standards set for a given product. The quality standards will have to be consistent and meet both internal and external expectations.
A Quality Manager will monitor and advise on the performance of the quality management system used by the company, generating data and reporting on performance, which will be measured up against set standards.
Responsibilities of a Quality Manager will generally include:
Developing and implementing quality procedures, guidelines, and standards

Ensure manufacturing processes meet national and international standards and legislation

Review customer requirements and work towards meeting them

Set health and safety guidelines

Set up and maintain documentation and controls procedures

Work alongside others within the Quality team and train and support more junior members of the team
NES Fircroft and supporting the Life Sciences industry
NES Fircroft has been working within the Life Science industry for over 20 years, recruiting highly skilled professionals with the pharmaceutical, biotechnology, and medical devices industries. Our dedicated Life Science teams can support you with both permanent and contract staffing requirements across Quality, Clinical, Regulatory/Compliance, and Engineering disciplines.
If you have a staffing requirement, contact us today! Or search our latest pharmaceutical and life science jobs to find your next position.