What is it like to work at a petrochemical refinery?
10 May, 2023
11:25
Petrochemical engineering is a booming industry, breaking down oil and petroleum into compo...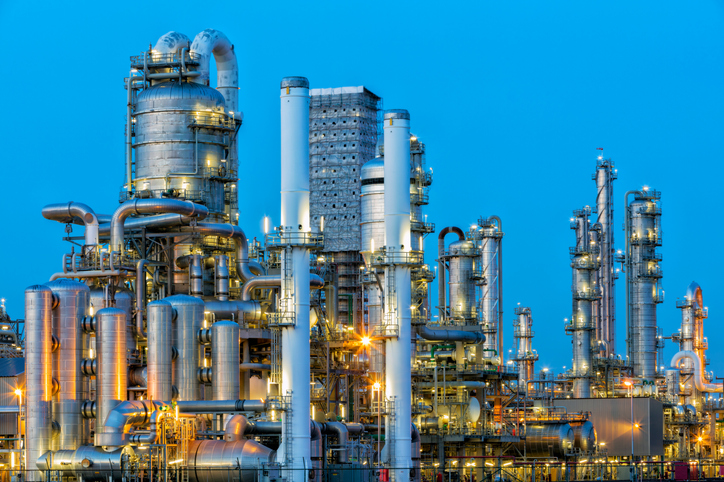 Petrochemical engineering is a booming industry, breaking down oil and petroleum into component chemicals to transform them into new products. The global petrochemicals market is set to grow at a CAGR of 6.6% between 2023 and 2028. This is driven by increased demand in the construction and automotive sectors and overall increased demand in consumer plastics and rubber.
Working in a petrochemical refinery can be a challenging yet rewarding experience. It's a job that demands high skill and expertise and a commitment to safety and environmental responsibility. From operating complex machinery to quickly troubleshooting problems, refinery workers must be able to handle a wide range of tasks with precision and care. But for those who are up to the challenge, a career in the petrochemical industry can offer a sense of fulfilment and purpose that few other professions can match. In this article, we'll take a closer look at what it's like to work in a petrochemical refinery, exploring the day-to-day tasks, the challenges and rewards of the job, and the skills and qualities essential for success in this dynamic and exciting field.
Types of roles available at a refinery
There are a wide variety of technical and non-technical jobs at petrochemical refineries.
Chemical engineers typically work with the chemical processing side of the refinery, including product quality, while Process Engineers are responsible for the technical side of reactors, including temperature and pressure management. Engineers will work with process design, product development, research, environmental engineering, logistics, and much more; in fact, there are so many roles that engineers have lots of flexibility to work in different areas within the same company throughout their career.
Operators work alongside engineers and are typically focused on equipment operation, maintenance, and repair. They are responsible for testing equipment and following routine safety checks. They will also operate the plant's control room,
Of course, many refineries have non-engineering jobs such as janitorial, catering, security, administrative, HR and IT; these jobs don't require engineering experience but will still require training to work safely on site.
Education and Training for refinery work
The requirements will vary between roles, companies, and countries.
For some entry-level operator roles, some companies may offer an induction and training period, which will include technical and academic education, whereas others will expect this training to have been completed through a recognised training provider or technical college. These will typically be hands-on maintenance and non-technical roles but can be a great entry point into the industry and an opportunity to continue study. Many operators also offer graduate development programmes and apprenticeships to support new entrants into the industry.
The minimum requirement for engineering roles is a bachelor's degree, and sometimes a masters degree in petroleum engineering, due to the complexity and specialisation involved in the field. Qualifications are often available from specialist technical colleges and universities, and some major employers have recommended institutions for new entrants to consider.
Additional qualifications and certifications are recommended for certain roles, including welding, I&E technicians, electricians, or specialist plant equipment operators. Additional licences, such as driving licences, and plant licences (like mobile working platforms or heavy plant), can also be useful.
With advancing technology, ever-evolving rules on decarbonisation, and regulatory changes, engineers are also expected to maintain their knowledge through regular reading and training courses.
The skills that are important for refinery work include but are not limited to;
- Mathematical and scientific skills
- Good team working as well as the ability to work independently
- Good attention to detail and focus
- Mechanical skills
- An understanding of health and safety regulations
What does an average day look like at a refinery?
A typical day in the life of a petroleum engineer in a petrochemical refinery can vary depending on the specific role and responsibilities of the engineer. However, there are some common tasks and activities that most petroleum engineers will carry out on a daily basis.
One of the most important tasks for a petroleum engineer is to monitor the production of oil and gas. This involves analysing data from sensors and other equipment to ensure that operations are running smoothly and efficiently. Petroleum engineers may also need to troubleshoot and resolve any issues that arise during production.
Another key activity for a petroleum engineer is to work with other professionals to optimize production processes and procedures. This can involve developing new drilling and production techniques and identifying areas for improvement in existing processes.
In addition to these tasks, petroleum engineers may also be involved in environmental monitoring and compliance, as well as safety audits and inspections. They may also be responsible for managing budgets and overseeing the work of other professionals.
Advantages to working at a petroleum refinery
Remuneration – Petroleum engineering is a challenging and specialised job that commands a high salary. The median yearly income for a petroleum engineer is $83,490, according to Indeed.com. This figure can vary depending on factors such as the location; engineers employed in California and Colorado in the US can make 18% more than the average US industry salary. Those with a higher-level degree in the field can expect to earn 42% more than the median wage.
High Employability – The petroleum industry continues to grow with demand. The U.S. Bureau of Labor Statistics (BLS) forecasts an 8% expansion in the number of petroleum engineers from 2020 to 2030, with more than 2,000 employment opportunities annually. As business look towards decarbonisation and expanding their portfolios, there are opportunities for engineers to diversify their skills into CCS and other supporting industries as well.
Opportunity to work with cutting-edge technology – The industry needs to balance the demands of growth in demand with decarbonisation and climate action to ensure a transition away from fossil fuels and into sustainable business practices. This means significant investment is taking place in the industry, and engineers are working with the latest technology in cleaner petroleum refinement. Working in petroleum engineering is extremely exciting for people with a passion for science and technology, where research meets practical application..
Travel – Petroleum engineers are in demand all over the world, so there are opportunities to work almost anywhere. Refineries, unlike rigs, tend to be closer to major population areas and are less remote, which means a better opportunity for work-life balance. Petroleum engineers can gain experience worldwide, seeing the world while improving their skills and experience.
Shift work – Engineers will typically work in shift patterns. These patterns can mean long and unsociable working hours when 'on' but offer a lot of freedom in between shifts beyond the normal nine-to-five. For many engineers, this can mean better quality time with family and opportunities for additional travel and holidays.
Challenges in petroleum engineering
High requirements for entry – Engineering can be a difficult subject to study, as it includes coursework in a variety of sciences and mathematics. Students who aim to be petroleum engineers should be prepared to take classes in physics, biology, thermodynamics and geology. Furthermore, many employers may prefer that the applicant has a postgraduate degree in petroleum engineering, which requires further education or training. Certain tasks or responsibilities can also require certifications and licences, which can be expensive to obtain.
Health risks – A petroleum refinery is carefully controlled with a very strict level of health and safety regulations and risk management processes. Engineers are, after all, working with feedstocks and products that are hazardous to health. Engineers need high levels of focus and concentration to prevent injuries.
Long hours in remote work – As mentioned previously, the shift patterns at refineries are often quite long. While this means longer periods of rest between working shifts, it can also be physically and mentally exhausting over long periods of time. Additionally, engineers may need to move home or travel to sites where work is available, which means longer periods of time away from home.
Continued training – as mentioned, there are requirements in some countries for petroleum engineers to undergo a number of hours continued education or CE. This is to ensure engineer's knowledge stays up to date and relevant.
Keeping Safe
Safety is a critical part of working on a petrochemical refinery when dealing with feedstocks that are both toxic and acidic.
The safety procedures on a petrochemical site can be split into two concepts, Process safety and Occupational safety.
Process Safety is a series of regulations and processes that are designed to protect people, the plant, and the planet. Process safety regulations typically involve rules around process control systems (PCS), which monitor machinery and plant and are used to prevent injuries or damage to equipment and prevent spillage. The systems do not control the plant processes but are designed as safety systems in case of failure.
Occupational Safety focuses more on the individual and protecting the workforce. These are a series of regulations that govern PPE, site safety, and ensuring employers and employees take all reasonable steps to ensure safety at work.
Grow your petrochemical career with NES Fircroft
The petrochemicals industry is set to grow globally for the foreseeable future, as demands for energy and products continues to rise. With it, there are growing opportunities for new entrants to gain valuable qualifications and start a rewarding career and for existing engineers to continue to grow their skills, salaries, and experiences worldwide.
Our engineers value our ability to help shape their careers through experience garnered over 50 years of oil and gas recruitment. We have placed tens of thousands of engineering contractors on energy assignments in all 4 corners of the globe – read our expert advice on how to prepare your CV to maximise your appeal to the top oil and gas companies. We recruit for a variety of different roles in different regions, including UK oil and gas jobs.
The oil and gas contractors we work with rest assured that our partnerships with top energy operators means they have access to exciting opportunities across the world, re-assigning with us time and time again to advance their engineering careers. Our experienced recruiters can help you - find the contact details for the relevant office or register your CV on our site to apply for oil and gas jobs.