10 Wind Power Projects Creating Jobs In Asia
11 Nov, 2020
9:39
As one of the world's fastest growing power markets, Southeast Asia is a prime position to l...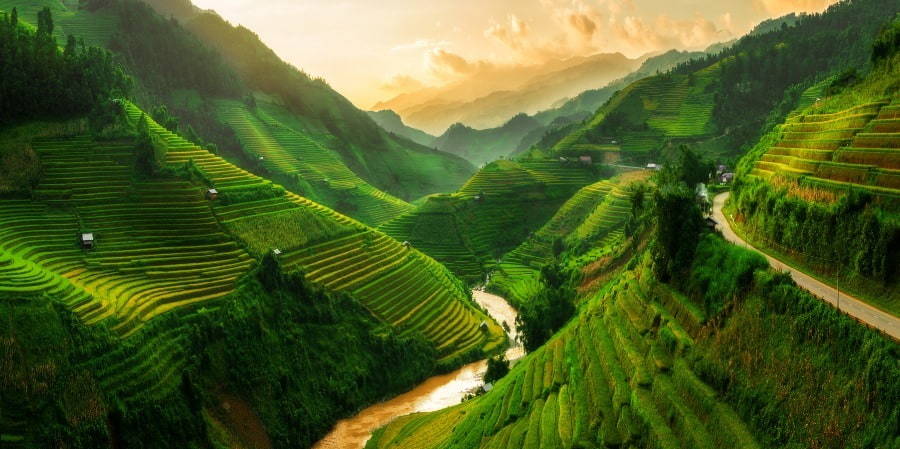 As one of the world's fastest growing power markets, Southeast Asia is a prime position to look for future renewable energy job creation.
According to data from Wood Mackenzie the demand for power in Southeast Asia will continue to grow at a rate of 8% until 2030, requiring around $14 billion in investments. Though the Covid-19 pandemic has slowed investment growth in the last few months, there are signs that it is beginning to recover as governments implement incentives to boost their economies while positioning their energy mix to be more self-sufficient and less reliant on imports of fossil fuels. With costs of renewable energy at an all-time low, large scale investments now will pay off in long-term, low cost power as well as allowing them to reduce their national carbon emissions.
A major renewable energy sector that has previously gone underrepresented in Southeast Asian countries is wind power, but that could be about to change. Wood Mackenzie claim that up to 8.9GW of new wind power capacity will be added to the Southeast Asian market by 2029. Much of this will be led by Vietnam, whose investments in wind will account for 66% of the new capacity, but there is a lot of development going on in many countries across the region.
With investment coming in thousands of onshore and offshore wind energy jobs are set to be created. These are 10 of the biggest projects currently planned that will be generating jobs over the next few years:

Thang Long Offshore Wind Park
Location: Vietnam
Cost: $12 billion
Vietnam's rapid growth in demand for electricity - averaging an increase of 10% every year over the past five years - means that the nation is dependent on massive new infrastructure. According to the Electricity of Vietnam around $150 billion in capital investments for generation and grid upgrades is required. In the current climate, and with the island nation's natural resources (3,000km of coastline and consistent wind averages of 5.5 to 7.3 metres per second), renewable energy is a prime target. Surprisingly Vietnam does not get much of its own energy from renewable sources currently - but that is set to change with multiple major investments planned.
Thang Long is the largest of the wind power investments going to Vietnam, at an estimated cost of approximately $12 billion. Set up by Enterprize Energy, the project was first announced in December 2018. Plans included construction of a 2,000 square km wind farm located 20km off the Ke Ga cape in the Binh Thuan province.
Six phases of construction are planned with the intention to deliver a total capacity of 3.4GW. The first 5 phases will each involve the installation of 64 turbines with a combined target capacity of 600MW. Mitsubishi Vestas Offshore Wind (a JV of Vestas wind systems and Mitsubishi Heavy Industries) has been contracted to supply the 9.5MW turbines, with PetroVietnam supplying the jacket foundations to sit in water depths of 20 to 45 metres.
The final phase will total 400MW of capacity.
A Memorandum of Understanding (MOU) was signed between Enterprize Energy and Vietsovpetro and PVC-MS for the project's EPCI work scope, covering design, fabrication, transportation and installation of the turbine and substation foundations, the offshore transformer station and the installation of the subsea cables. Subject to governmental approval, construction is planned for early 2021 and is expected to last until 2026.

La Gan Offshore Wind Farm
Location: Vietnam
Cost: $9.8 billion
Binh Thuan Province is looking to be a significant area of interest for those with interests in wind energy jobs in Vietnam. Copenhagen Infrastructure Partners, with Novasia Energy and Asia Petro are also looking to launch a high-cost offshore wind venture in the near future.
The proposed La Gan wind farm will have a 3.5 GW capacity with five stages of development. The first phase will be the largest, with an estimated 1,000MW of capacity, and is hoped to be constructed and online by 2024. The following 600MW phases will be added in the five years after, for a project completion date of 2029.
So far this project is still in its early stages, with an MOU signed between Copenhagen Infrastructure Partners and the Binh Thuan People's Committee for the development in July this year. Financial close is currently being sought, but things are looking positive for progression, however, with the project already included in the Power Development Plan of Vietnam.

Formosa 4 Offshore Wind Farm
Location: Taiwan
Cost: $5.5 billion
Taiwan is on a path to a greener energy future over the coming years, with the nation determined to end their reliance on fossil fuels and nuclear power. Earlier this year the government committed to generating 20% of Taiwan's electricity through renewable energy, in line with their Four Year Wind Power Promotion Plan and Two Year Solar PV Promotion Plan. The country has set a law requiring all enterprises that establish a consumption contract of over 5MW with the Taiwan Power Country to have 10% of their electricity coming from renewable energy within five years - and they don't intend to stop the green energy growth there:
"After we hit the target in 2025, there will be an additional 1GW of capacity developed every year until 2035 in our offshore wind fields. Investments of NT$1 trillion as well as 20,000 new jobs are to be expected," said Chen Chung-hsien, director of the Electricity Division of Taiwan's Bureau of Energy (BOE).
These 20,000 jobs will be spread between wind and solar power projects, with solar already a major industry in Taiwan. But wind is growing fast with big investments on the way. The largest upcoming project by capex value is the Formosa 4 offshore wind farm, located off the Miaoli County.
As its name suggests, this is the fourth major wind farm to be developed in Miaoli County by the operator Swancor Renewable - the first having come online as the country's first (and currently only) offshore wind farm in 2019, with Formosa 2 still under construction and Formosa 3 also in the planning. Formosa 4, however, is set to be the biggest of them all, with a planned capacity of 4.4GW and a capex cost of approximately $5.5 billion.
The farm is set to include both floating and fixed foundation turbines, though this is dependent on site conditions over the designated area, approximately 18-20km off the coast. The project was only announced in September, with a proposal submitted to the EPA, so details are fairly sparse, though it is expected to be completed by 2025.
"We will go into this project with our experience from developing Formosa 1 and Formosa 2," commented Lucas Lin, Swancor Renewable's CEO, adding that the projects size will allow it to supply electricity for 4.5 million families.
"Through the development of the Formosa 4 project, we hope to develop a strong local supply chain and reach our goal of becoming a regional leader in renewable energy,"

Yunlin Offshore Wind Farm
Location: Taiwan
Cost: $3 billion
Situated in Taiwan Strait off the coast of Yunlin county, the Yunlin Offshore Wind Farm project will have a total installed capacity of 640MW, featuring 80 turbines each with capacity in the range of 8MW. The project is being pursued by WPD Offshore GmbH in collaboration with Wind Power Co Ltd and Starwind Offshore GmbH.
The turbines which will be situated in a water depth of 25m around 7.2km from Taiwan's coast, will be supplied by Siemens Gamesa which confirmed in early June 2019 that it had signed a supply agreement with the project developers.
Manufacture of the Yunlin Offshore Wind Farm has been ongoing since last year, with many of the turbines now being installed onsite. This activity will continue through the next year, with the project eyeing a completion date of December 2021.

Gunkul Wind Farm
Location: Myanmar
Cost: $2 billion
Myanmar has one of the lowest rate of electrification in Southeast Asia, with around 65% of the population reported to not be connected to the national grid. However, this is targeted to change, with the country targeted 100% electrification by 2030. This will be greatly helped by the availability of low cost renewable energy and the suitability of the country's natural conditions. Currently over half of Myanmar's electricity comes from hydropower, with 41% from natural gas. But the Department of Renewable Energy and Hydropower Plants has announced its intention to prioritise the development of solar and wind energy.
Gunkul Engineering Public and Zea & Associates hope to capitalise on these priorities, with plans announced in 2019 for the development of wind farms in the Tanintharyi, Mon, Kayin, Shan and Kayah regions. The combined farms will have a total installed capacity of 2,000MW.
Gunkul signed an MOU with the Myanmar Ministry of Electric Power to develop the projects in 2019, though little is currently known about the progression of the plans. Currently it is thought that the project is anticipated to start up in 2024, though this may be pushed back further if there are more delays with the plans.

Monsoon Onshore Wind Power Project
Location: Lao People's Democratic Republic
Cost: $1.5 billion
Situated in southern Laos stretching across the Sekong and Attapeu provinces, the Monsoon Onshore Wind Power project will, on completion, have a capacity of 600MW and a total footprint of 68,000 hectares making it one of the largest onshore wind farms in Southeast Asia. The scale of the project means that it expects to reduce Laos' CO2 emissions by 34 million tons throughout the project lifetime.
The project is being developed by Impact Energy Asia Limited (IEA) and Impact Electrons Siam (IES) and is targeted to reach commercial operation by 2023. The strategic location of the project located on a 1,200 metre elevation plateau along the main highway connecting Ubon Ratchatani (Thailand) to Danang (Vietnam) means that much of the energy it produces (as much as 95% according to some estimates) will be destined for export to nearby markets across Asia.
In August 2020, Bangchak Corporation Public Company Limited invested $840 million for a 45% stake in the project. They plan to sign a power purchase agreement with Electricity Vietnam (EVN) in October that will advance the project to the construction stage.
Guimaras Strait Offshore Wind Farm
Location: Philippines
Cost: $1.2 billion
The Philippines' renewable energy share has grown to a steady 30% in the country's energy mix, but falls behind coal (41%) as the largest share. However recent events suggest that there could be a change for the country. With coal's global share falling rapidly in the last few months and the price of renewable energy falling, many countries are moving swiftly away from the fossil fuel and anticipations from experts suggest that the Philippines could follow suit.
Investors have been looking toward the nation as a great potential generator for renewable energy, with Triconti Windkraft Group leading the way in recent months with their plans for a $1.2 billion offshore wind farm located in the Guimaras Strait between the Panay and Negros islands.
This would be the first offshore wind project ever built in the Philippines.
The proposed farm will cover a 12,700 hectare area in predominantly shallow water depths and is expected to have a total capacity of 600MW. The project is in the very early stages so far, with a service contract awarded by the Philippines' Department of Energy to Triconti Windkraft Group in March 2020. Plans are therefore subject to change.

​Theparak Wind Farm
Location: Thailand
Cost: $400 million
Thaliand's long gestating Power Development Plan (PDP) puts a great amount of focus on the growth of renewable energy over the coming years. According to IRENA, the nation's total renewable energy capacity currently accounts for 12% of the country's energy market, but could grow as high as 37% by 2036 thanks to targeted investment in strategic projects. Much of this is in the domestic solar market, but there is scope for major wind investment as seen by the $400 million Theparak Wind Farm.
The 270MW onshore wind farm is under construction in the Nakhon Ratchasima Province, spread over 3 sites of 90MW each. The farm will use 150 turbines, 90 of which will be hybrid towers delivered by GE Renewable Energy. The 3.0-137 turbines with hybrid towers will measure 156.5 metres in height, making them the tallest turbines the company has installed outside Europe. GE Power will also supply the wind turbine's electric drive train, generators and pitch motors as well as the collector and grid interconnection substation packages. Much of the farm has been constructed in the last year, but there is still completion and operation work to be done, with calls for potential expansion if the farm continues to deliver strong results.

Sukabumi Wind Farm
Location: Indonesia
Cost: $250 million
Indonesia's first wind farm - Sidrap - began operation in March 2018, with 30 wind turbines in South Sulawesi producing 75MW of power to the national grid. This installation represented a significant step towards clean energy investment for the nation which, like the Philippines, is still largely dependent on coal for its power generation. Renewable energy accounts for just 6% of Indonesian energy consumption at the moment, but like most countries the government are seeking to reduce their carbon footprint. New legislation has been brought in to increase the share of renewables, though investment so far has been limited.
There is potential though, with projects like the Sukabumi Wind Farm in the pipeline. Planning for this project was announced following the success of Sidrap project with the Government of Indonesia looking to add another 170MW capacity in onshore wind in the West Java province of Sukabumi.
The proposal was announced along with smaller 150MW developments in Garut, Lebak and Pandeglang and a 100MW development in Lobok. So far the Sukabumi project is still in the feasibility stage with a construction date yet to be announced.
Should it go ahead, the Sukabumi wind farm is plotted to open in 2024.

Cambodia Wind Power Pilot Project
Location: Cambodia
Cost: $20 million
Cambodia's hydropower dams provide much of the country's clean energy needs, with renewables accounting for 62% of installed electricity capacity in 2018. But there are other sources too, with wind power accounting for around 1,380MW in 2019, according to the Southeast Asia Atlas Report.
Research from The Blue Circle, a French-owned company, suggests that Cambodia's natural conditions make it a prime region for wind power. The company measured long-term wind data from three meteorological masts installed in 2015 to come to the conclusion that they could generate wind power at a competitive cost. According to their findings there is a potential to generate 500MW of wind power in the area.
Following this research, The Blue Circle conducted a feasibility study in 2018-2019 for a pilot project including onshore wind farms located across Kampot, Sihanoukville and Mondulkiri.
In March 2020 it was reported that the company were in talks with the Cambodian government and the state-run electricity supplier, Electricite du Cambodge, for an agreement to move forward with the pilot project. Blue Circle are seeking approval to build at least 10 wind turbines on top of Bokor Mountain in Tuek Chhou with a capacity of 80MW.
The pilot project, if it goes ahead, could lead to further investment taking advantage of Cambodia's potential for wind energy and creating renewable energy jobs in the country.
Find your next job in Southeast Asia's growing wind energy industry
NES Fircroft are the global leader in sourcing leading talent for the renewable energy industry.
If you're looking for skilled personnel for your wind project our discipline-specific consultants can support all stages of your renewable project life cycle, from the funding, design and installation phases' right through to project management and grid installations.
We work on some of the most exciting wind projects in Asia, meaning we have plenty of renewable job opportunities for engineers looking to enhance their energy careers.