5 Interview Tips For Making A Good Impression
24 Sep, 2019
3:43
Interviews are an integral part of the recruitment process and preparation is key ...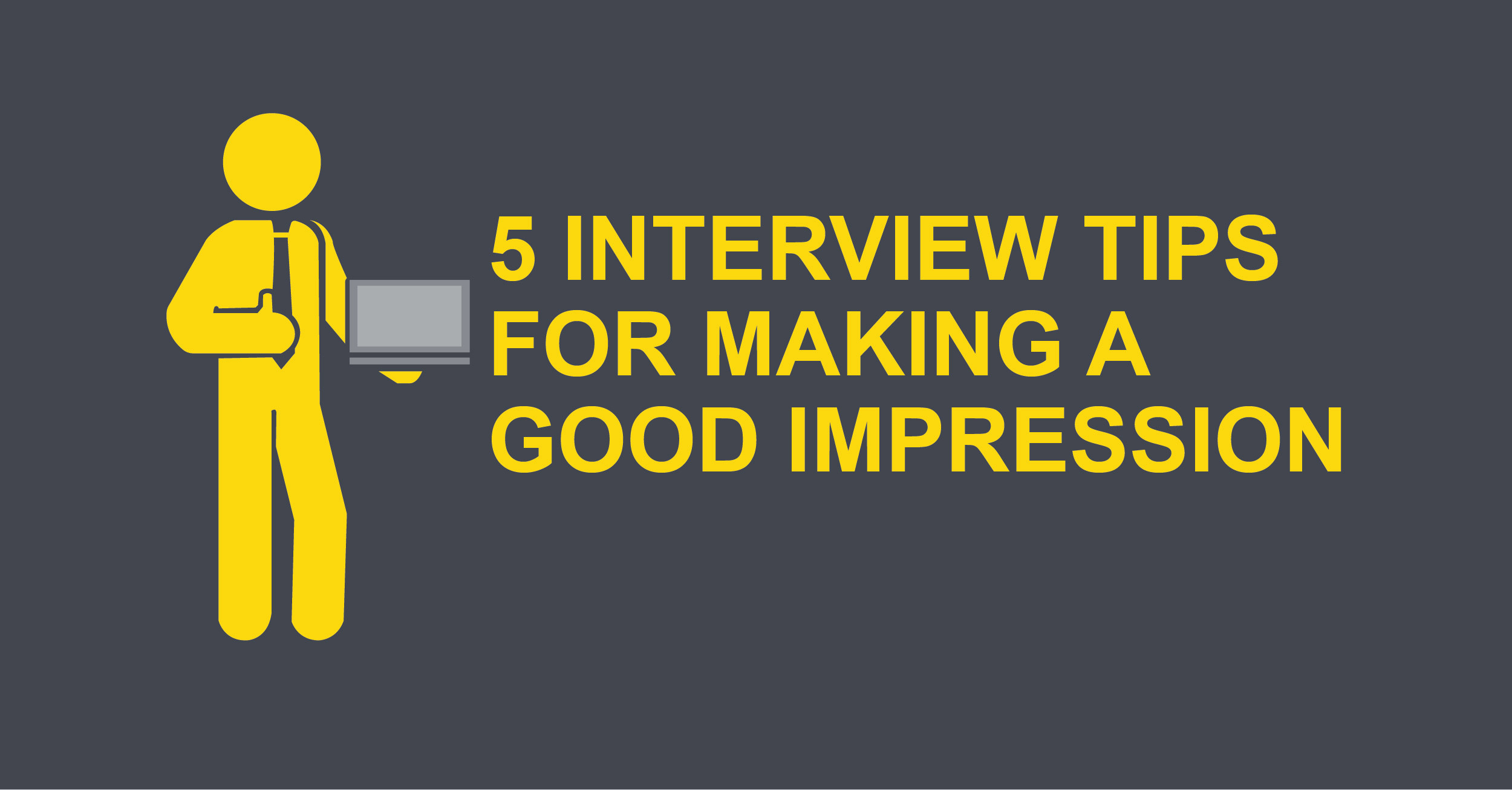 Interviews are an integral part of the recruitment process and preparation is key – like most things in life, if you don't prepare well you're less likely to succeed. That being said, candidates often find this stage one of the most difficult to prepare for. But, despair not; there are steps you can take to ensure you make a good impression at your interview.
1. Research the company
You may have already looked into the company and the role when you applied for the position. If so, you're already a step ahead. If not, this should be the first thing you do. You need to know as much as possible about your prospective employer and the role before you attend the interview.
You should look into the industry they are part of, who their competitors are and if there's been any relevant news in the press recently. You can also use websites such as glassdoor or google business to find reviews on the company from current and past employees.
After gathering some general company data, don't forget to look into your role and consider how you individually would contribute to the business. Can you find potential team members on LinkedIn? If so, this will give you an essential background to your potential colleagues' responsibilities and where you'll fit in with the team.
It'll help to write your research down – taking some brief bullet point notes or cue cards into the interview can help keep your thought process moving in the right track and is an accepted behaviour in interviews. However, no interviewer wants to watch a candidate read their every word from a pre-scripted card. This behaviour can create a stilted environment, conveying the impression that you lack confidence and are unable to be reactive.
​

2. Consider how you might answer common interview questions
Whilst you can never know the exact questions you'll be asked there are usually a set of common interview questions that employers use to get an idea of your career so far, your personality and your ability to do the role you applied for.
Some of the most common questions asked are:
Tell me about yourself?

Why did you apply for the position / company?

What are your strengths / weaknesses?

Where do you see yourself in 5 years' time?

Tell me about any accomplishments that you are proud of?

Why did you leave your last position?
Make some notes on how you might answer these questions - the fear of not knowing the answer to questions can deter you from performing to the best of your ability, so it's a good idea to practise your response to some of the more commonplace questions.
Remember: interviewers are generally looking for candidates who demonstrate common skills such as teamwork, responsibility, communication skills, organisation and problem-solving. Try and work examples that demonstrate these qualities into your answers.
3. Prepare yourself for competency questions
Once your interviewer has been through the common interview questions and they can see you possess the basic skills they require for the role, they'll move onto assessing your competency. These types of questions will help you evidence your ability to do the role in question.
Although this sounds intimidating, it's worth remembering that you wouldn't be invited to the interview if you didn't possess the relevant skills and experience to do the role!
To prepare for these questions, you can use the job advert/description to inform your notes – what are the core competencies the employer is looking for? For each core competency you identify, think of a specific example where you have demonstrated the desirable skill – making sure to explain in detail the context behind the situation and how you contributed followed by the results of those actions.
You don't need to think of multiple examples for each competency either – you should think of a few examples that demonstrate your desirable skills so you don't have as much to remember on the day.

4. Plan logistics in advance
To ensure success, you need to plan logistics in advance such as what you're going to wear and how you're going to get there. It sounds simple, but not every candidate does this. Being organised will put your mind at ease and can also prevent you from being late to your interview – which is a big turn off for a potential employer.
You should always plan your outfit at least one day before the interview. Select something that you feel comfortable and confident in – as long as it's professional. There is no 'one-size fits all' advice on what to wear because this depends on the culture of the company you're being interviewed for but you can't go wrong in office/business attire. It's also a good idea to plan the route you'll take to the interview, taking note of any potential areas where you might hit traffic or be held up at road works. You should aim to arrive 10-15 minutes early as this will give the employer a good impression of you.
5. Lastly, be approachable!
When the day for your interview finally comes, here are a few pointers for making that vital good first impression:
Try to relax as much as possible and don't cross your arms – it's important to be friendly.

Turn your phone on silent so there are no distractions.

Remain positive! Make eye contact with your interviewer and smile.

Don't interrupt the interviewer – let them take the lead.

Make sure you ask them questions too (usually there's time for this at the end). Doing this displays your interest in the role whilst assessing if this is the right fit for you.

Lastly, thank them for their time!

Recruitment expertise from NES Fircroft

NES Fircroft offers recruitment expertise from discipline-specific consultants that truly know their markets and endeavour to support you in making that next step in your career by helping you to secure your next job and providing a range of candidate support services. Alternatively, for more advice from our CV experts, listen to our career advice podcasts.

Looking for more interview advice? Check out our interview tips & techniques podcast episode: