5 Simple Steps To Writing Your Career Development Plan
02 Feb, 2022
4:21
Writing a Career Development Plan, with clear, achievable, and measurable steps, i...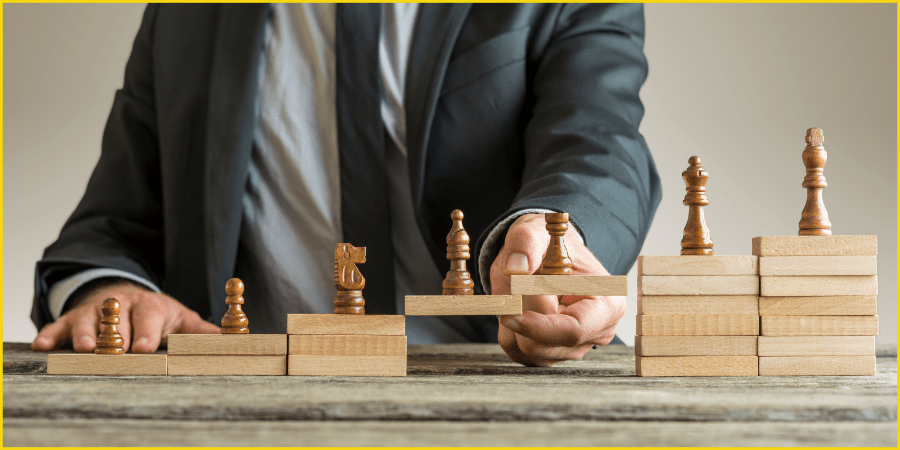 Writing a Career Development Plan, with clear, achievable, and measurable steps, is a great way to make sure you have a roadmap when it comes to your professional life and achieving your career goals. Without direction, it can be easy to feel stuck, demotivated, and not have a sense of control or direction.
So, if you're uncertain about where you want to take your career, here are 5 simple steps to writing your Career Development Plan.
​
1. Evaluate your current job
First, you need to take stock of where you are at now. Consider what your current job involves, as well as what skills and experience you have – this should be an easy task if you regularly update your CV or Resume. You should think about what you enjoy in your current job, as well as things you've liked in previous jobs. You should also reflect upon the negatives of your current and past positions.
To make these reflections, start by answering these questions:
What is your current position and level?

Do you prefer working as part of a team or independently?

Do you like leading people, or do you prefer following someone else's lead?

Do you have more of a creative or an analytical mind?

Do you like working in a fast-paced environment?

What motivates you the most?

What are the tasks you enjoy doing most?

Which tasks do you least enjoy doing?

What do you dislike about your current position?
Answering these questions will give you a sense of direction and tell you what you need to look out for when considering the next step in your career. Take time to sit down, think, and write down your answers.
​
2. Consider where you want your career to go
The second step to creating your Career Development Plan is figuring out where you want your career to go. Without this, you'll find it hard to determine what steps to take to be successful, regardless of what success looks like to you.
Have a brainstorm and use your answers to the above questions to inform your ideas of potential career avenues. Don't be afraid to dream big either! Think about where you want to be in 5, 10, 20 and 30 years and write this down.
What can help is to think of a few job titles which you think sound interesting, or you could aspire to. Think about people you look up to and you consider have had a successful career. Use tools such as LinkedIn to view their current title, what their current position involves and how they got there. Don't be afraid to network and reach out to them. You'll probably find that often, people are willing to help and have a chat.
​
3. What do you need to do to reach your goals?
Once you have an idea of where you want your career to go, you should think about the skills, education, and experience you currently have, as well as anything you might need to acquire to reach your end goal. Do some research into the types of jobs you will need to pursue in the near- and mid-term future to reach your long-term goal and go through job descriptions.
Looking at the career paths of your managers, mentors, and peers, as well as of people who are where you ideally want to be in the future is also a good way to start. Look at what jobs they've had that have led them to where they are now, and what skills are involved in those.
Are there any qualifications you might need to work towards? For example, engineers often work towards becoming chartered engineers as it will put them in a better position when applying for a promotion or a new job. Some companies also require a chartership for certain positions.
You might need to acquire different types of skills such as project management or digital marketing to orient yourself in a specific direction. Or you might need to brush up on some soft skills such as leadership, communication, or management. There are plenty of free and paid resources online that you can look up, and some courses even come with a certificate upon completion. Coursera, Google Digital Garage, HubSpot Academy, and The Open University have hundreds of courses. A lot of them are free, so make sure to make the most of them!
Talking to your employer and seeing how they can support your growth is also extremely important, as your professional development will benefit both yourself and your employer.
​
4. Finalise your Career Development Plan
By now, you should have a clearer idea of the direction you want to go in. You will also have a list of the skills, education, and experience you have, as well as those you don't have. You can now start laying out a concrete plan of how you will reach your goal.
For this step, you should ensure that you set SMART goals. Your goals need to be:
Specific,

Measurable,

Achievable,

Relevant and

Time-bound.
For each item on your list that you need to achieve, you should create a set of tasks that will lead you to reach them. Not all the items on the list will be particularly hard to achieve, but by writing down what you need to do, you can hold yourself accountable and avoid getting distracted.
Write down these steps and set yourself a timeline for when you want to achieve each step. This will make it a lot easier for you to action them. Start with the easily achievable ones, like taking part in a webinar, and give yourself more time for harder tasks, such as acquiring a qualification.
By now, you should have a clear plan with actionable steps and a clear timeline that will lead you to your ultimate goal.
​
5. Keep yourself accountable and refer back to your plan regularly
It's not enough to simply write a career development plan – you must ensure you're working towards the goals you've set yourself.
Make sure you stick to your timeline as much as possible and that you keep yourself accountable for achieving the goals you've set out for yourself. Ultimately, that is what will get you where you want to be.
Nevertheless, you should also remain flexible. No one can predict the future and things evolve, so don't beat yourself up if you find that you're unable to hit every single target.
Your plan might also change with time as you learn more about yourself and your career aspirations. So, keep your plan up to date and go for your dreams!
​
Career Development with NES Fircroft
NES Fircroft has been supporting engineers, candidates, and technical clients across many different industries throughout the past 50 years. If you're looking for your next career move, take a look at our latest job opportunities now.
If you're looking for more career tips and advice, check out our blog or sign up to our EngineeringPro newsletter, to receive the latest career advice, industry news, job opportunities and more, directly to your inbox.