5 Tips To Start Your Offshore Wind Career
24 Jul, 2019
3:54
The renewable energy industry is on the rise as governments set targets for sustainability a...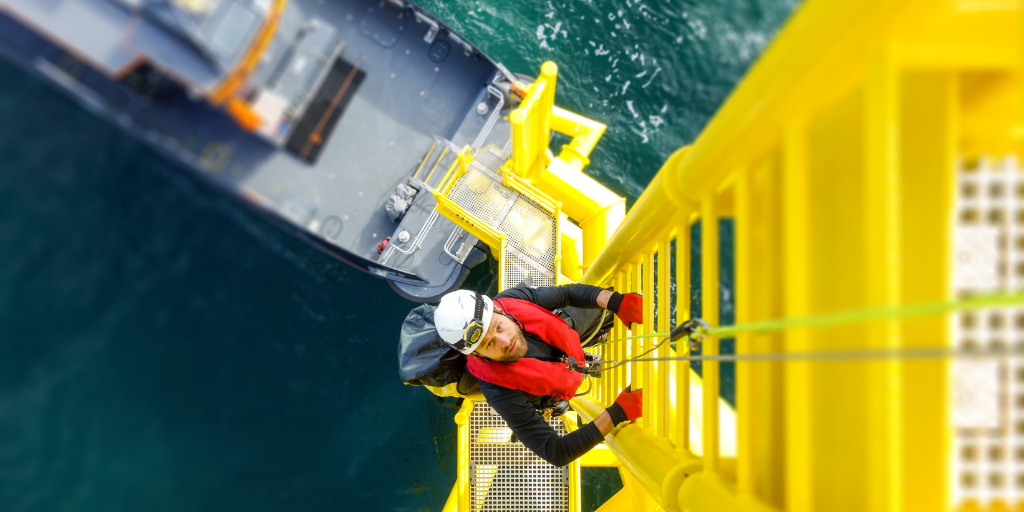 The renewable energy industry is on the rise as governments set targets for sustainability and offshore wind is leading the efforts to tackle climate change. Billions of pounds are being invested, providing thousands of skilled job opportunities for candidates looking to start their offshore wind career.
But, it's a competitive market and getting that first career break can be daunting. In this blog, Carl Robb, Head of Operations Support at Siemens Gamesa Renewable Energy, provides you with practical tips to help you kick start your offshore wind career.
1. Who do you want to work for? Turbine Manufacturers or the Utility Industry?
The first place to start is to begin researching the type of companies you might want to work for. Scopes of work can vary depending on whether you work for a manufacturer or a utility provider. For example, manufacturers, like SiemensGamesa, build, install and service wind farms, whereas utility providers will physically own the wind farm and handle day to day operations.
Depending on the scope of work, the employer's minimum entry requirements change so it's important to identify this early on in order to enhance your job searches. Manufacturers like SiemensGamesa often want a minimum of Level 3 qualifications in subjects such as Mechanics. Electrical backgrounds are also beneficial as these skills are transferable.

Once you've identified companies you'd like to work for, sign up for alerts on their job page so you find out immediately when roles become available. If you're completely unsure which company is right for you, NES can help point you in the right direction and you can also register for job alerts.
2. Should you apply for a contract or permanent role?
Next you need to decide how you'd like to work. Many companies employ a mixture of contractors and permanent staff and they both have their pros and cons.
As a permanent member of staff, you will obtain a more stable income with more possibilities to earn promotions into senior management. As a contractor, you have a greater earning capacity from the start, but sometimes there can be gaps in your pay if campaigns are delayed or finish ahead of schedule.
It's also important to consider your commute. Most companies look for site based candidates who live within 45 minutes of the offshore wind site or candidates who are willing to work shifts and travel. In this case, bear in mind you could be away for weeks at a time as this style of working is not for everyone.
3. What is your passion? From Installation to Decommissioning
Offshore wind roles are extremely varied meaning that as the lifecycle of the wind farm progresses from installation to decommissioning, different skillsets are required. For example, you could be involved in maintenance, servicing, troubleshooting when things go wrong, inspections, blade repairs and more.
Depending on the role, different levels of technical training are required. The basic standards are set by the Global Wind Organisation and all large manufacturers and utility providers must adhere to these when training their workforce. After receiving basic training, you would then move onto more technical and role specific training. This can take anywhere from 3 weeks to 2 years depending on what role you do, with safety on site being a huge focus. Skill sets are so specialist and companies around the world are competing for capable candidates to take on these roles. Because of this, up-skilling is a huge possibility so be prepared to work your way up.
Once you've decided on your passion, you can begin to target applications and find the right role for you.

4. Is your CV ready for offshore wind roles?
Usually, your CV is the first thing a hiring manager will see so it's important to make the right impression. When writing your CV make sure you:
Tailor your CV to the job – Now you know what kind of role you're looking for, make sure your CV is relevant to the job role, ensure you emphasis the skills that make you the ideal candidate.

Take time to proof read your CV - spelling mistakes and bad grammar create the impression that you don't have attention to detail. Always spell check after writing and ask a friend to check it over.

Keep personal details to a minimum - whilst you may want to include a brief bio, it is not advisable to include your age, religious or political stance.

Order your education & qualifications – give prominence to the most recent or the most relevant qualifications to the specific role you are applying to.

Get the most from your skills - aside from formal qualifications; ensure to mention software skills, applications, operating systems and databases that you are familiar with. Speak any foreign languages? Include them!

Advertise your experience - don't stop at formal job roles. Have you taken part in work placements or voluntary work? List the skills you developed in each role (as long as it's relevant!)
NES have placed tens of thousands of engineering contractors on energy assignments in all 4 corners of the globe – for expert advice check out their guide on how to prepare your CV to maximise your offshore wind client appeal.
5. Have you got any contacts in offshore wind?
Now that you're ready to enter the offshore wind market, it's vitally important to make contacts with other technicians and engineers. There are huge support networks available on websites such as LinkedIn, where you can find out about job opportunities and speak to others who are working in the offshore wind industry. You can follow relevant industry news as well as thought leaders who can help you develop your market knowledge, which can be a huge plus in an interview!
You could also attend industry events to help grow your circle and begin networking with other professionals, as well as recruiters and talent acquisition managers.

NES and offshore wind
Offshore wind has a large, competitive market. It's estimated that the Global Wind Organisation trains around 30,000 candidates per quarter across Europe alone with the basic training for entry level qualifications, and this is ever growing. There are plenty of opportunities for someone looking to enter the offshore wind Industry and here at NES, our experienced recruiters can help you to find the right role. Register your CV or visit our job page to apply for jobs in the offshore wind industry.