6 Renewable Power Projects Creating Jobs In Europe
29 Jul, 2020
5:08
In the first half of 2020 Europe got more of its power from renewable sources than fossil fu...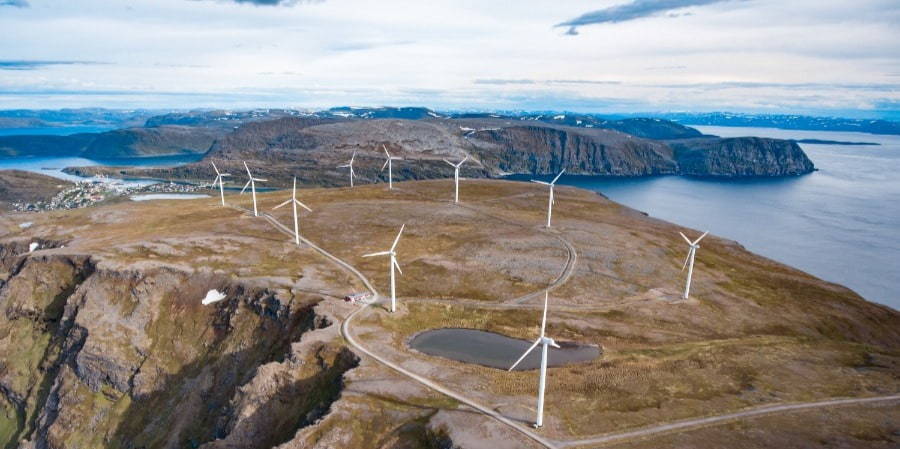 In the first half of 2020 Europe got more of its power from renewable sources than fossil fuels for the first time ever.
Reports from independent climate and energy think tank Ember show that renewable energy usage has increased 11% year on year, driven largely by offshore wind and solar.
Renewables, including wind, solar, hydro and bioenergy, were responsible for 40% of all electricity generation in the EU this year.

And this is expected to grow. The EU has set its climate goals and these depend heavily on greater reliance on renewable energy generation. So with that in mind, we're taking a look at the biggest planned projects that are going to be providing that extra power in the coming years.
These are 6 of the biggest renewable energy projects that will continue creating jobs across Europe over the next few years:
1. Hornsea Wind Farm
UK
Cost: $31.7 billion
Hornsea is a major new offshore wind farm being developed by Ørsted off the UK's East coast, located roughly halfway between the Dogger Bank Wind Farm and East Anglia Wind Farm. The project is split into 4 subzones, which together will generate a total capacity of 6GW.
It's planned to be the biggest offshore wind farm in the world.
Phase 1 began construction in January 2018, with the first turbines supplying power to the UK grid in February 2019. Completion is expected during the first quarter of 2020. This phase will feature 174 7MW turbines, with the nearest to shore located 103km from the East Riding of Yorkshire coast. Three offshore collector substations and reactive compensation substation are connected, processing the power to a total of 1.2GW.
The construction base for Phase 2 was officially inaugurated at Humberside Airport in Lincolnshire in September 2019. The base will host 30 employees to support the construction of 165 turbines with a total installed capacity of 1.386GW. Turbine installation is expected to commence in 2021, with operations beginning in 2022.
Phase 3 will cover an area of 696 square km, located to the east of the other two phases. Ørsted are thought to be considering the use of decommissioned oil and gas platforms as support, with the nearby Schooner and Ketch gas production platforms being most likely options.
Between 160 and 300 turbines, each with a capacity of 13MW to 15MW, are expected to be used for the development, which aims to have a total capacity of 2.4GW. Startup is planned for 2027.
Phase 4 is the highest value stage, with a projected value of US$12 billion. The proposed site area will span over 600 square km with enough turbines to produce 3.6GW. Though still in the planning process, it's hoped that Phase 4 could be operational as early as 2028.
2. IJmuiden Ver Offshore Wind Farm
Netherlands
Cost: $18 billion
A 4GW offshore wind development zone in the Dutch North Sea off the Noord-Holland coast, near the Hollandse Kust Zuid, Hollandse Kust Noord and Hollandse Kust West offshore wind development areas.
The wind farm forms part of the Dutch government's plans to develop an additional 7GW of offshore wind capacity between the years 2024 and 2030. TenneT will connect the project to the Dutch electricity grid using DC technology.
Continued innovations in electricity transmission technology should enable the development of DC connection capacities of between 1,200 and 2,000MW, which will then enable the integration of IJmuiden Far Offshore with fewer connections and less spatial impact than would be possible today.
It is possible that an island in the IJmuiden Far Offshore zone could be constructed to accommodate a converter and transformer station, to which wind farms could be connected, expected to be more cost-effective than installing multiple large offshore DC platforms.
As of July 2020 RVo have issued a tender for the surveys and assessments, with the contract valued at €250,000 to be carried out between October 2020 and December 2022.
3. Dolphyn Hydrogen Project
UK
Cost: $15 billion
Hydrogen has long been acknowledged in some sectors as being essential in any long-term low-carbon solution - though it has still yet to be given the same level of investment as sources like wind and solar.
This could change in the next few years though with projects like the UK's Dolphyn project run by ERM (Environmental Resources Management). This first-of-its-kind system integrates wind and hydrogen production technologies together in an offshore facility located in the North Sea.
The hydrogen production facility itself will be powered by a 4GW floating offshore wind turbine array - featuring 400 10MW turbines fitted with water intake, desalination and proton exchange membrane (PEM) technology systems. Hydrogen will be transported back to the shore using a trunk pipeline and could supply up to 1.5 million households.
The project will begin with a 2MW prototype consisting of a MHI Vestas turbine and WindFloat platform to be deployed by 2021, with a full-scale 10MW platform to be installed by 2026.
In February this year the UK government awarded £3.12 million to ERM for the prototype design. In July the firm confirmed that Norwegian hydrogen specialists Nel ASA would join the project, potentially using their proton exchange membrane (PEM) electrolyser technology.
4. Markbygden Vind AB Onshore Wind Farm
Sweden
Cost: $6.9 billion
Up to 1,101 wind turbines are to be installed at this onshore wind farm in northern Sweden, with a total capacity of 4,061MW. When complete the project will be able to power around 400,000 households per year.
The project will consist of several stages including 20 turbine 44MW pilot phases Dragaliden and Stor-Blaliden.
Phase 1: Featuring around 300 turbines totalling 917MW and will comprise of three wind farms; Erstrask (229.1MW), Skogberget (84.5MW) and Markbygden 1 (650MW).
Phase 2: Comprises the 844MW Markbygden II project. The phase is also known the Maximus project/Markbygden ETT project/MB Etapp 2 cluster. The phase features a "northern part" of the phase (253MW) and a 'southern part' (97 turbines).
Phase 3: Also called Önusberget. Could be the largest component with a possible maximum of 442 turbines and a total capacity of up to 1,800MW. At present 137 turbines are being planned. It is located between the villages Koler and Långträsk in Piteå municipality.
Construction of the turbines is ongoing, with the project on track for completion by 2023.
5. Baltica-2 Offshore Wind Farm
Poland
Cost: $5.5 billion
A proposed offshore wind farm is being planned in the Baltic Sea, that will be located near three artificial islands.
The Baltica-2 wind farm will have a total installed capacity of up to 1,500MW. Multiple stages of building will be undertaken with the project connected to the grid at the 400kV substation in Zarnowiec in the northern region of Pomerania.
Polska Grupa Energetyczyna (PGE) are the operator of the planned project, though Ørsted have agreed an acquisition of 50% in the Baltica-2 project, which is expected to go through by the end of the year.
An additional offshore wind farm, Baltica-3, is also being planned at a cost of 2.5 billion. This will sit alongside the Baltica 2, 25km off the Polish coast at the border of Slupsk Bank, and will have a total installed capacity of 1,045MW.
6. West Somerset Tidal Lagoon Project
UK
Cost: $3.6 billion
Tidal power is the most efficient source of clean energy, though it is dependent on massive infrastructure investment.
The development of a tidal lagoon project in West Somerset is expected to have a total capacity of 1080MW. The project will comprise of a continuous breakwater and impoundment facility, spanning from Culvercliff in Minehead to Blue Ben Point at West Quantoxhead. The structure would create a lagoon covering around 50 square kilometres.
Turbines of 9m will be installed in the lagoon wall in 20m of water. The lagoon will have a head capacity of 90 million cubic metres of water, designed to make use of the current tidal range of 14.5m, and the additional 82cm rise in water level expected this century. The project is expected to have a life span of 125 years.
Deep water access would be built into the structure to allow for a cross-channel car ferry and an additional berth for mid-sized cruise ships. The structure would also provide defence against flooding and coastal erosion issues.
The project is still in the early days, with developers yet to submit a planning application, but it is hoped that construction could begin by 2023.
NES Fircroft works with major renewable energy developers across Europe
If you're looking for your next job in renewables, view all of NES Fircroft's open opportunities or register your CV with us for free.