7 Predictions For The Future Of Renewable Energy
18 Apr, 2023
4:58
Back in 2020, we published our predictions on the future of renewable energy. Our report was...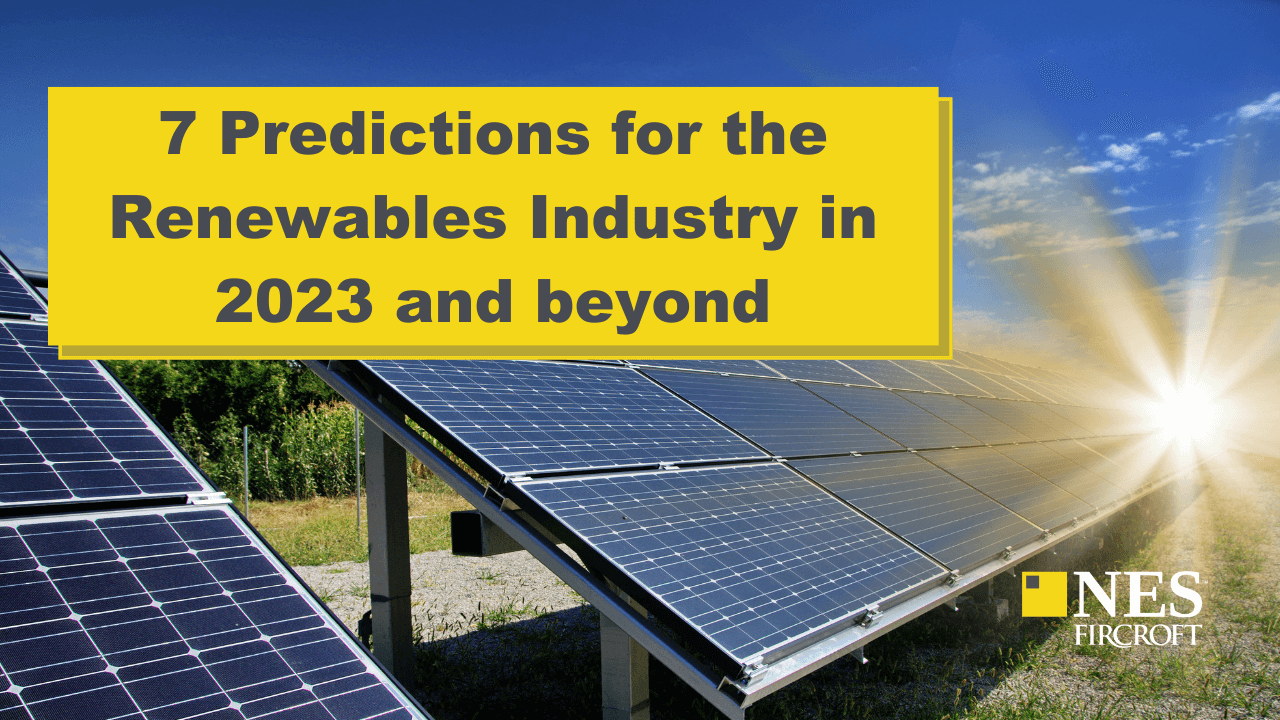 Back in 2020, we published our predictions on the future of renewable energy. Our report was based on the mid-pandemic predictions; since then, the renewable energy landscape has changed again.

During the pandemic, growth in the energy industry stalled as energy usage dipped. Since 2021, this demand has steadily increased again as production, transport, and business resumed. Projections for Net Zero were again adjusted in 2022, when the conflict in Ukraine resulted in energy market volatility. Countries are looking to become less reliant on imported oil and gas while balancing net-zero targets with an immediate need for alternative energy sources. Government policy continues to change and adapt, with many predictions being unstable due to global crises.
The combined factors of a volatile market, the recovery from the pandemic, and global climate change targets mean there is a continued push for renewable energy, with predictions for the most significant growth to be in solar, wind, and biofuel technology.
"Energy market developments in recent months – especially in Europe – have proven once again the essential role of renewables in improving energy security, in addition to their well-established effectiveness at reducing emissions."
IEA Executive Director
​
​Key Takeaways
China Continues to lead the way in renewable energy
Offshore wind energy is set to increase its share
Rising costs could hold back the future of renewable energy
​Solar energy will still be a dominating market
Biofuel demand will remain high
​Energy Storage is a growing market
Renewable energy: predictions beyond are unreliable
1. China continues to lead the way in renewable energy
China is well on the way to exceeding its target of generating 33% of electricity consumption to come from renewable sources by 2025. Although China still creates around a third of the world's greenhouse gases, it aims to reduce its carbon footprint through policy and action. One recent example of their push for developments in renewable energy can be seen in China being responsible for almost 70% of wind energy growth in 2021. This trend will continue to rise as the country follows its Five Year Plan to reduce its reliance on fossil fuels and increase local renewable energy production and consumption.

A recent report indicates that of 31 provinces with government targets to increase their renewables target as a share of electricity consumption in 2021, only Gansu and Xinjiang fell behind. In spite of emissions, China is leading the world in adopting renewable technology and is currently forecast to pass its own renewable target by 50% by 2030.
China is looking to achieve this by building large-scale renewable energy facilities in the north-western desert regions of the country. It also has plans for a large offshore wind farm in the Taiwan Strait in the construction process, with the potential to power 13 million households.
2. Offshore win energy is set to increase its share
Of the total capacity of wind farms installed in 2021, 93% were onshore systems. While onshore continues to dominate, the share of offshore wind energy is expected to increase. Continuing into 2023 and beyond, more countries, including Canada, the US, India, China, and the UK, are looking to expand their offshore capability as the technology improves and becomes more widely available.

The Hornsea wind farm is already the largest offshore wind farm in the world, but an even larger farm – the three-phase Dogger Bank Wind Farm – will take the top spot once development is complete. Offshore construction of the UK's East Coast Dogger Bank project began in 2020, and the first power is predicted to be produced in 2023 and 2024 - with future projections seeing the wind energy farm being capable of powering six million homes in the UK.
Approximately 22% of total wind capacity growth in 2021 was delivered by offshore technology, but this number is set to plateau across 2023, with fewer projects due to come online.
3. Rising costs could hold back the future of renewable energy
Material costs have been one of the biggest challenges through 2022 in deploying new renewable projects. The rising cost of fossil fuels, electricity, and transport has made constructing new projects in remote areas more expensive. For example, with the price of PV-grade polysilicon up by 400%, steel by 50%, and copper by 70% between 2021 and 2022, pushing the costs of onshore wind facilities have increased by up to 25%.

On the other hand, the cost of fossil fuel production has also increased due to the Russian invasion of Ukraine and governments seeking to secure energy for winter. This has kept the comparable price of renewables competitive in the market.
IEA data suggests that after a year of steady growth in 2022, renewable energy developments are likely to stabilise in 2023, owing to the instability of the energy market. The policy has changed rapidly over the last 12 months, leaning towards energy security and affordability in reaction to the instability caused by the war in Ukraine and sanctions against Russian energy in Europe. This policy will have to continue to adapt quickly to ensure growth in the renewable market can continue.
However, it is not all doom and gloom. For example, in 2022, US President Joe Biden launched the Inflation Reduction Act (IRA), promising $370 billion to support the future of renewable energy, offering tax incentives to decarbonise the economy and manufacture clean energy projects. The IRA Act created over 100,000 clean energy jobs within six months of its launch, with $90 billion invested. The International Renewable Energy Agency (IRENA) also expects that 38 million people will benefit from jobs within the sector over the next decade due to the IRA Act.
4. Solar energy will still be a dominating market
Solar PV capacity is an area that will see continued growth and is forecast to surpass a terawatt of global solar power generation by 2023, accounting for almost 60% of renewable growth. Despite the costs of solar PV rising, it is still ultimately cheaper than any other form of energy production.

Growth in the sector is high, with China, the US, Japan, Germany, and India all at the forefront of the industry. New solar projects are being developed globally to leverage this form of power; Germany is focusing on solar energy in their biggest-ever expansion into the industry. In the UK, renewables firm NTR is beginning construction of Europe's largest solar farm built on a landfill site, and Iraq is planning to launch 5 GW of solar projects in 2023.
In 2022, 83% of the world's power capacity was produced by renewable energy, with solar energy leading the way with 22% of the total capacity. The UK has also seen significant growth in solar power, recording 5,488.6 MW in 2014 and rising to 13,259 MW in June 2019. These numbers are expected to increase to 15,674 MW in 2023 - resulting in a 4% compound annual solar power growth rate over the next four years.
5. Biofuel demand will remain high
Biofuel costs are also heavily influenced by the conflict in Ukraine due to the higher prices of feedstock and higher diesel prices. The IEA's forecast adjusted their biofuel demand growth forecasts to 3% in 2023 earlier in the year, and with no end to the conflict in sight, the instability continues to make predictions difficult.

A recent OECD report states that demand for biofuel in 2023 is likely to grow, despite disruptions to the market, with a 3% year-on-year increase in biofuel demand, primarily for transport. This is lower than the previous 5% year-on-year increases for 2021-2022 but shows continued growth.
More recently, however, Biofuels International have said they expect the global biofuel demand to rise by 5%, similar to the annual growth recorded over the last decade, with Government policies in the US, Brazil, Europe, India, and Indonesia contributing to 70% of this growth. Additionally, renewable diesel and biodiesel are expected to make up two-thirds of this demand.
6. Energy Storage is a growing market
Energy security will be a key focus globally in 2023, linked to the continued growth of the electric vehicle (EV) market. It is estimated that there will be 836 million EVs in circulation, and the infrastructure and technology to power these vehicles will follow this upwards trend. Bloomberg has estimated that growth for domestic energy storage batteries to power EVs will rise to 155 GWh by 2030, growing 30% annually.

In line with the countries growing their global share in renewables, China, the US, Japan, and India are the leaders in battery storage technology and facilities into 2023 and beyond.
​7. Renewable energy: predictions beyond are unreliable
The global energy market continues to be highly volatile, with factors including the global recession, energy crises, climate policy, and conflict making predictions beyond 2023 difficult. Broadly, we expect the technological and policy developments in renewables to be offset by rising costs and fluctuating demand.

Additionally, the consensus is that European countries will continue to work to use renewable energy to offset their dependence on imported energy, China will continue to work to meet their renewable energy target to meet their climate goals and industrial requirements, and the US will continue to pursue the policy that reduces reliance on fossil fuels.
Countries globally are looking for ways to invest in cost-effective renewable energy to meet the challenges of climate change during a global period of financial challenges.
Ultimately, there's no doubt that the future of renewable energy looks bright. The industry is thriving and growing, with the demand for new talent as high as ever as companies look to staff new projects globally. So now that you know the top 7 predictions for the future of renewable energy scroll to see how you can play your part in the industry's future with our support.
​

Are you ready to be part of the future of renewable energy?
NES Fircroft's expert renewable energy recruitment team recruits the world's best engineering and technical professionals to support the future growth of your business.

If you're looking for the latest open vacancies, you can view our renewable energy jobs or register your CV with us today for free to ensure you're first in line for future jobs in this expanding industry.  
​
​