8 of the Biggest Renewable Energy Companies In The World
21 Mar, 2023
4:22
The renewable energy sector has grown consistently over the past few years and decades. It...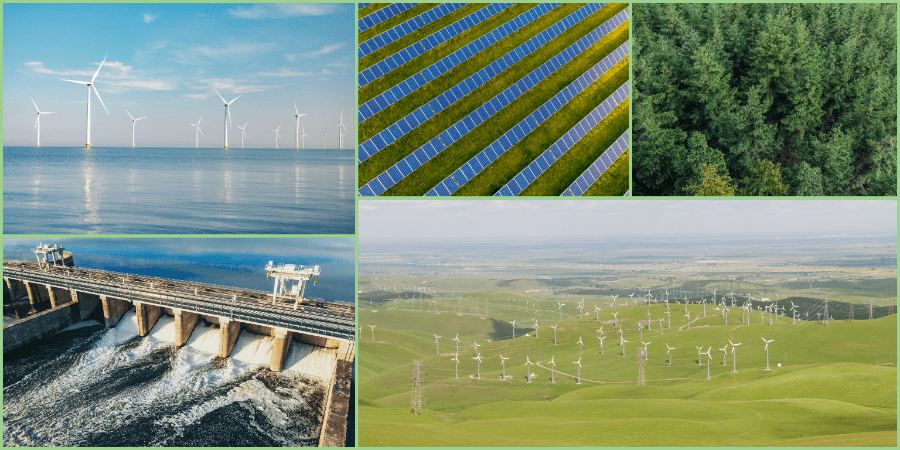 The renewable energy sector has grown consistently over the past few years and decades. It's becoming clear that clean energy is the pathway to a sustainable future, with oil and gas majors such as TotalEnergies, Shell, and ExxonMobil giving the subject much focus. But who are the best renewable energy companies in the world? Here are 8 of the biggest renewable energy companies in the world.
1. Iberdrola – $56.8 Billion
Iberdrola is a Spanish multinational energy company with over 170 years of experience and one of the world's biggest wind power producers. Its annual revenue for 2022 was $56.8 billion, a significant increase from the $41.2 billion recorded in 2021, making it one of the globe's top renewable energy companies.
The company specialises in generating, distributing, trading, and marketing electricity and has committed to investing $49 billion between 2023-2025 to support the global energy transition.
Iberdrola has been committed to advancing renewable energy for more than 20 years and had a record year of investments of $11.3 billion in 2022 which resulted in a profit of $4.5 billion. In 2022, they recorded 60.77 MW of installed renewable capacity and avoided 30.7 million tonnes of CO2 from entering the atmosphere.
As of 2022, the company employs more than 40,000 people worldwide and has a global presence by working in Spain, the UK, the US, Brazil, and Mexico. Today the group supplies energy to support over 100 million people worldwide.
Some of their flagship projects include the following:
East Anglia Hub Offshore Wind Complex
Kitty Hawk Offshore Wind Farm
Park City Wind Offshore Wind Farm
Vineyard Wind 1 Offshore Wind Farm
Saint-Brieuc Offshore Wind Farm
Baltic Eagle Offshore Wind Farm
2. NextEra Energy – $20.9 Billion
NextEra Energy is an American energy company founded in 1925. As of the end of 2022, they had about 61,800 MW of installed generation capacity, of which half comes from green energy resources. In 2022, they generated approximately $20.9 billion in revenue - an increase from the $17 billion recorded the year prior. As a result, today, they are considered one of the major organisations when it comes to global renewable energy companies.
With facilities operating in 49 US states and 4 Canadian provinces, NextEra is also one of the most prominent capital investors in infrastructure in America, having planned to invest between $50 and $55 billion in new infrastructure throughout 2022.
NextEra Energy has around 61,000 MW of net generating capacity spread out primarily in the US and Canada. Its subsidiary, NextEra Energy Resources, has approximately 28,000 MW of net generating capacity, with another 18,000 MW in development. This comes primarily from wind (67%), then solar (14%), nuclear (9%), and other sources (10%).
The company is currently stirring to decarbonise America through their Real Zero strategy, a plan to eliminate all US carbon emissions by 2045. NextEra Energy's Real Zero objectives focus on lowering the costs of renewables for customers and making energy more affordable. The plan could create 150,000 renewable energy jobs and an additional GDP of $15 billion.
3. Ørsted – $18.7 Billion
Ørsted is a Danish multinational working within the renewable energy industry for over three decades. It currently represents a 25% global offshore wind sector market share. It's also the largest energy company in Denmark. In 2022, they reached an astonishing total revenue of nearly $18,7 billion, up from the year's previous revenue of $11 billion.
The company develops, constructs, and operates onshore and offshore wind farms, solar farms, energy storage facilities, and bioenergy plants. It also provides energy products and services to its customers.
Since the company began transitioning to green energy about 10 years ago, it has reduced its coal consumption by 86% and is set to phase it out completely by 2023. They also finalised the divestment of their upstream oil and gas business in 2017, thus becoming dedicated to clean energy.
Currently, Ørsted produces 90% of its energy from renewable sources, and it has pledged to increase this to over 95% by 2023 and 99% by 2025. They have also set the target for their energy generation to be carbon neutral by 2025 and to have no emissions by 2040.
As stated by the company,
'We've become a global leader in offshore wind and have installed enough capacity to power more than 19 million people. Our ambition is to raise this number to 30 million by 2025. By 2030, our ambition is to have installed approx. 50 GW of renewable energy capacity.'
4. Vestas – $15.2 Billion
Vestas, founded in 1945, is a Danish world leader in the wind energy sector. They currently have 29,000 employees designing, manufacturing, installing, developing, and servicing wind energy and hybrid projects worldwide. In 2022, the company generated annual revenue of $15.2 billion.
Today, Vestas has more than 164 GW of wind turbines installed across 88 countries, and they've managed to prevent the emission of 1.5 million tonnes of CO2 in the last 40 years. Vestas was also the first company in the world to reach 100 GW for installing and servicing wind turbines.
In January 2022, the company was named the most sustainable company in the world by Corporate Knights in their 18th annual Global 100 ranking.
The turbines that the company produced in 2021 will avoid the emission of 532 million tonnes of CO2 over their lifetime. That's the equivalent of a 2.64 million square kilometre forest sequestering carbon for a year, a forest over five times the size of Spain.
Currently, the largest turbine in their portfolio is the V236-15.0 MW. It's capable of producing up to 80 GWh every year. This is enough to power around 20,000 European homes and displaces more than 38,000 tonnes of CO2 – equivalent to removing 25,000 passenger vehicles off the road yearly.
As part of their CETEC project, Vestas plans to create the world's first circular turbine blade.
5. Siemens Gamesa Renewable Energy – $10.3 Billion
Siemens Gamesa Renewable Energy is a Spanish-German wind energy company. They manufacture wind turbines and provide offshore and onshore wind services, generating a revenue of $10.3 billion in 2022.
The company was founded in April 2017 when Gamesa and Siemens Wind Power merged. It functions around three business units: Onshore, Offshore, and Services.
They currently have more than 122 GW of installed wind capacity worldwide, enough to power more than 110 million households annually. The onshore business represents 101.5 GW of installed capacity since 1979; the offshore unit has accounted for 19.2 GW of capacity since 1991, and the services section maintains 82 GW of turbines.
Additionally, the company employs 27,000 people from over 100 nationalities and installed more than 10 GW of new capacity in 2021. It also has an impressive pipeline, with a $37.2 billion order book.
The company is mainly known for its SG 14-236 DD offshore wind turbine, its biggest turbine to date, with a nameplate capacity of up to 14 MW and 15 MW with the Power Boost function. In addition, in 2021, they developed the world's first recyclable wind turbine blade, and by 2022, these were installed for commercial use. Siemens Gamesa aims to produce 100% fully recyclable wind turbines by 2040.
6. Jinko Solar Co. Ltd. $6.4 Billion
Jinko Solar Co. Ltd. is a solar technology company based in China and, as of 2022, has a revenue of $6.4 billion. Across their 14 global production facilities in Asia, the Americas and Europe, they focus on manufacturing components for solar products, such as silicon monocrystalline material for cells, modules and wafers. By Q4 2022, these cells, modules and wafers have reached 55 GW, 70 GW and 65 GW, respectively.
Over a million homes worldwide have benefited from Jinko's residential house roof modules, producing clean energy while reducing energy costs for the global population. They also develop industrial and commercial PV projects and generate solar power for people and businesses through surface power plants.
By 2022, Jinkos shipments of modules cumulated over 130 GW and today support more than 3,000 customers. The company continues to thrive, having attained multiple awards since its founding year in 2006. Below are some of Jinko's accolades.
National Enterprise Technology Center
National Technology Innovation Demonstration Enterprise
Champion of Manufacturing
With a global presence stretching over 160+ countries, Jinko employs over 1,000 R&D and technical professionals. In 2019 the company became one of the first solar energy organisations to join the RE100 green initiative. Here, they committed to sourcing 100% renewable electricity by 2025, with a target of 70% across their organisations by 2023.
7. Brookfield Renewable Partners LP $4.8 Billion
Brookfield Renewable Partners is one of the biggest renewables companies in the world and supports the energy sector with solar, wind and hydroelectric storage facilities. The limited partnership generated an annual revenue of $4.8 billion in 2022, a 10% increase from the previous year.
With a headquarters in Bermuda, Brookfield Renewable Partners also created Brookfield Renewable Corporation with a base in Canada to support investors looking for flexible renewable power assets. Globally the two brands generate renewable energy from their 8,000+ facilities in the Americas, Asia and Europe.
Its 3,200 employees operating in the renewable power and transition space contribute to the company's ability to generate a capacity of 24,000 MW. Below is a breakdown of Brookfield Renewable Partners' business sectors.
Solar
Wind
5,400 MW installed capacity

Hydro
8,100 MW installed capacity

Sustainable Solutions
2,700 MW installed capacity

15 GW hydrogen project pipeline

3m tonnes per annum carbon removals by 2023

Distributed Generation

1,600 MW distributed generation portfolio
8. Enphase $2.3 Billion
Enphase is a solar energy company developing, manufacturing and distributing residential energy solutions for the global PV market. Their innovative microinverter technology converts sunlight into a reliable energy source for the global population. Paired with their award-winning smart battery technology, Enphase has one of the renewable energy industry top performing clean energy systems.
2022 was an excellent year for Enphase, increasing its annual revenue by 68% to $2,3 billion - establishing itself as one of the world's fastest-growing renewables companies.
Its microinverter technology works with almost every solar panel on the market and has provided clean energy to over 2.7 million homes across over 145 countries. More than 52 million microinverters have been distributed globally with support from 2,834 employees and 6,522 installers worldwide.
Enphase has recorded 31 million metric tons of CO2e, the offset equivalent to providing 3.5 million homes with a year's electricity supply. Its cumulative shipments of micro converters equal 43.4TWh and 16+ GW DC.
Discover how NES Fircroft supports the renewable energy industry
NES Fircroft has been supporting the renewable energies sector for over 20 years. We partner with our clients, offering a wealth of knowledge, a global talent network and local market expertise that can deliver complete renewable energy workforce solutions.
Our dedicated renewable energy recruitment teams understand the industry's challenges in depth. In addition, they can mine our extensive global database to build you the talent pool you need for the future.
We work on some of the most exciting renewable energy projects globally, meaning we have plenty of renewable energy job opportunities for engineers looking to enhance their energy careers.