Being Female In A Male Dominated Industry
07 Mar, 2022
5:14
Following the USA's record breaking win at the 2019 Women's Football World Cup, an inte...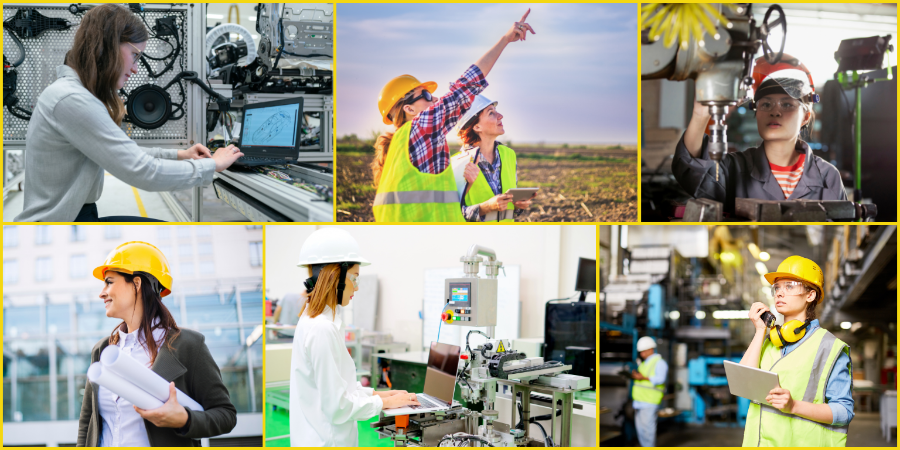 Following the USA's record breaking win at the 2019 Women's Football World Cup, an international debate forced itself into the spotlight regarding the state of equality not only in sports but in the world in general. This debate is still ongoing.
The team and in particular, player of the tournament, Megan Rapinoe faced criticism for what some people described as a 'arrogant' persona, with others taking the perspective that the attitude was simply indicative of celebration and success, likening it to that of male counterparts such as Cristiano Ronaldo and Zlatan Ibrahimovic, who are public "heroes" in the sport and seldom criticised for displaying the same behaviours.
Women make up approximately 49.5% of the world's population, yet only account for 15 of the world's heads of state and 8% of CEO's from Fortune 500 companies. It's clear there's still a lot of catching up to do, but how far away are we from narrowing the gap?

​
What's work life like for a female Electrical Technical Authority?
We caught up with Janice Richford, an engineer at the Rumaila Oilfield, Basra, Iraq in the Operations Engineering Department. Janice has worked in the Oil and Gas industry for over 20 years.
Originally from Glasgow, Janice moved to Hungary ten years ago and doesn't feel her gender hindered her when looking for a job in oil and gas, although she has experienced some strange interview questions:
"In an interview for a graduate engineering position, I was asked about my 'opinion on children' which I felt was a highly inappropriate and judgmental question to direct at me… particularly ridiculous considering I was only 20 years of age at the time," she recalled.
While the number of women in technical industries such as oil and gas has increased over the years, Janice said:
"It's still relatively unusual to come across more than a few female engineers in one place. However, my choice of work locations may have an implicit impact on that observation as I have spent the past ten years working in remote desert environments which are ostensibly not the most appealing for the majority of people."
She added that Engineering, and definitely in the Oil and Gas sector where her experience lies, is without question, a male dominated industry. In general, the ratio would be something like 30:1 or so from her general observations. Among the complete population of employees in her current role in Iraq – it would be closer to 300:1.
"People are still generally surprised to see women in this industry, it's not uncommon to be asked about why you decided to become an engineer in the first place – which is not a question that would typically be levied at male colleagues – it is a question borne out of curiosity, which in itself tells you that people still perceive it to be an unorthodox choice."
Although Janice does not feel that there is a gender pay gap - and nor has she been treated differently for being a woman - she revealed she has experienced the odd comment or stereotyped assumption from associates over the years.
She also explained:
"I have spent a large part of my career working either in or interfacing with people from conservative cultures, where a woman's role is far more restricted and defined within boundaries that do not necessarily align with my views. This has, of course, meant that there is more effort required to establish yourself and your authority in order to try and attain equal treatment."
How can we encourage women to work in the oil and gas industry?
Janice believes that it isn't the oil and gas industry itself that needs to change. Rather, schools and colleges need to encourage more women to work in the energy industry, emphasising that it's a viable career path.
"What does need to change is the numbers of girls taking up technical subjects at school and engineering degree qualifications at university," she said. "When less than 15% of engineering and technology graduates are female I believe, then the industry cannot be shaped any other way."
Despite a steady improvement for women in these industries, the fact that there are still so few of them shows that there quite clearly is still a place for campaigns and charities – if for nothing more than to encourage women to enter these industries and to ensure equality both remains and grows.
One such group is the Women's Engineering Society (WES) which is formed of a professional network of female engineers as well as scientists and technologists. They offer inspiration, support and professional development opportunities. They also campaign to encourage women to participate and succeed as engineers, scientists and leaders.
Kirsten Bodley, former CEO of WES, explained:
"Our mission is to inspire and support women to achieve their potential as engineers, applied scientists and technical leaders. WES works collaboratively to assist educators, employers and influencers in creating a diverse engineering community."
The society was set up following World War I, when the women who worked in engineering roles during the War campaigned to continue their employment. International Women in Engineering Day (NWED) was inaugurated in 2014 and now takes place annually on the 23rd of June. The day
"seeks to celebrate the achievements of women in engineering and inspire younger generations," explained Kirsten, and "serves as an accessible and inspiring way not only for schools, colleges and universities to encourage girls to take up engineering careers, but also companies, professional organisations, government and individuals to showcase their commitment to diversity and to raise the profile of women's achievements in engineering by organising their own events."
Kirsten explained that the proportion of young women studying engineering and physics has remained virtually static since 2012. The number of women in engineering has remained under 10 per cent of the total engineering workforce in the UK since 2005 and the gender balance in the profession remains one of the worst in Europe.​
With a large skills gap looming and the additional need for a more diverse workforce, it has never been more important to inspire and encourage girls to choose a career in engineering and women to stay in the industry and return after a career break.
There has been some positive progress, but there's a long way to go for true diversity across the engineering sectors – it's a challenge that needs a step-change in recruiting and retaining the female workforce including reviewing flexible working approaches.
In terms of whether there is a gender pay gap within these industries, Kirsten said:
"Research by Deloitte shows that although the gender pay gap is closing steadily, we forecast that at the current rate of convergence, pay parity will not be achieved until 2069. In engineering, however, the gender pay gap is smaller than in the general pay gap."
Former Chief Executive Helen Wollaston from WISE, who campaign for gender balance in science, technology and engineering, said:
"We need to create an environment in which women feel they belong and in which they can do their best work and thrive. We want to be treated with respect and allowed to be ourselves."
She added:
"Women tend to be interested in the bigger picture – talking about the purpose of the job helps. This is why we find more women work in renewables than in the more traditional energy sector. Those companies working in renewables can encourage applications from women by emphasising the opportunities to make a difference."
​
NES Fircroft and supporting women in STEM
If you are a female who has contemplated working in one of these industries but has been put off by the fear of not being treated as equal to your male colleagues – don't be. Ultimately the main reason these roles are dominated by males is that females simply aren't applying for the roles. Want to change this? Check out the roles we currently have available – you never know where it could take you!
NES Fircroft is committed to helping our clients close the gender gap through sourcing and placing female talent.
You can download our "Women in Energy" survey which focuses on women working in the Energy industry, their career path and the challenges and opportunities of working in the sector. It also considers what the energy industry could be doing to attract and retain more female employees.
Our discipline-specific teams are experts at helping candidates advance their career with a job move. If you're looking for your next challenge, check out our latest engineering jobs.