CAPEX Trends - Life Science Staffing, Biotechnology
19 Jun, 2020
3:00
The Biotechnology industry, including monoclonal antibody, vaccine development, and other as...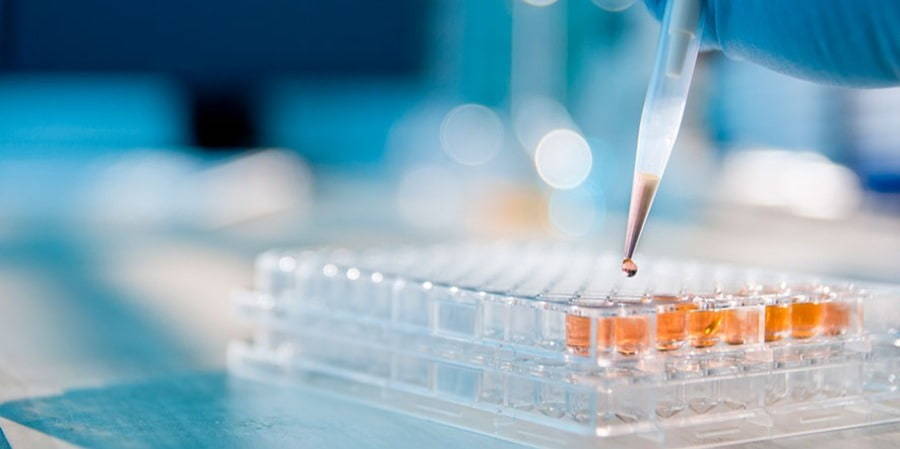 The Biotechnology industry, including monoclonal antibody, vaccine development, and other associated industries, has typically been regarded as a niche sector with high levels of risk and volatility for investors and organisations.
Whilst it is certainly true that product development pathways have inherently high attrition as a therapy progresses through developmental and approval phases on its route to market, one of the highest factors of risk - regulator confidence - has softened since 2015.
Drug approval rates from the FDA continue to increase
Pre-2015 the FDA, established as the regulator for the healthcare market globally by spend, had only modest approval rates. Via dialogue with biologics therapy developers (sponsors), they were clear that as many new and emergent therapeutic technologies came to light, it was not entirely clear what the correct and most relevant data to be considered in the course of their approval was to be. Therefore, this uncertainty represented significant risk in its ambiguity to any investor, or sponsor.
Since 2016 however, approval rates from the FDA for Biologics have increased rapidly. This change reflects a continued investment into this field, as well as a greater clarity for designing approval processes in an innovative space. The FDA has adapted its approval process and outlook to accommodate for dealing with the innovative nature of biological products and therapies.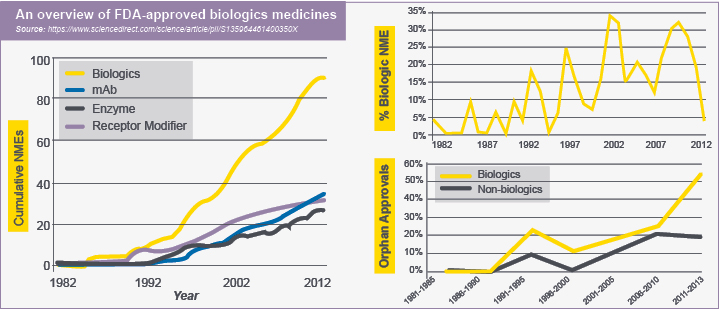 The scale of biologics manufacturing we see demanded today, was never previously needed
As product demand increases, there is a knock-on effect to associated industry verticals.
Following the increase in a product's likelihood of achieving approval, to succeed in penetrating the market, biologics products need to be produced to a scale which assures both patients and regulators of their availability. The construction and operation of such facilities requires the need for very specialist skillsets; individuals who have experience working on similar projects. In particular, personnel must have experience of working within the regulatory environment of manufacturing sites to be compliant with Good Manufacturing Practice (GMP), and demonstrable experience of being a functional or technical expert in their field.
Biologics manufacturing facilities, as a condition of GMP, are often based in different locations around the world. A sponsor must therefore mitigate supply-chain risks by enabling production of a therapy in multiple locations. This means that for candidates - job opportunities will not always be local. To enhance their career and work on the most efficacious project initiatives, individuals with relevant project experience must be mobile and willing to work as an expatriate.
​There are two categories of prospective candidate, who behave in typical patterns when seeking a change in employment:
Candidates can be categorised as locals, and non-nationals.
Locals typically sit in the local labour market, and when seeking a new role would do so under the influence of local factors, for example they are likely to also consider competing companies within a commutable distance (and balancing the attractiveness of one commute versus another), and local salary levels. Due to the number of personnel required, a local talent pool is often exhausted early on in the lifecycle of a project.

Non-nationals however will often consider positions and employers on a broader horizon. Typically, they will do so in consideration of factors such as: education standard versus other countries, right to work in the country / availability of work permits, personal taxation and fiscal considerations, employee rights, proximity of the site to international transport hubs, salary levels versus other countries, relocation packages and allowance. Owing to the significant personal upheaval and investment made by a permanent employee to realise and execute an international move, the employee retention rates typically balance out between the two.

Contract or contingent labour movement is typically driven by project stages, hourly and daily rates, and the profile of the project. Contingent labour can be mobilised on scale, and within short timelines, but a number of key considerations need to be made to ensure value is achieved for the sponsor including talent planning, hiring process competencies, pricing management, cultural integration, performance monitoring, and end of project transitions.
Demands on the European Biologics Talent Market
Today, there are more Biologics manufacturing construction projects in Europe than ever before.
Such an unprecedented scope of projects leads simultaneously to unprecedented opportunity and demands for the talent market. A successful talent acquisition and management strategy must account for the holistic demand for talent, the limitations of any local talent market, and an attraction plan to entice the mobile talent pool.
NES Fircroft's Life Science division is experienced in managing, consulting, and supporting clients around the world to help them achieve their organisational goals. Our contingent labour solutions will help you ensure that your operations continue to run smoothly and seamlessly to complement market conditions and help ensure business continuity. Our Life Science team build, lead, and execute talent supply chain solutions across Europe. Get in touch if you're looking for staffing support, or if you're looking for a job you can search our latest Life Science vacancies.