Challenges shaping the chemicals industry in 2023
23 Feb, 2023
8:34
Will 2023 be a year of continued unpredictability for the chemicals industry?In 2022, the d...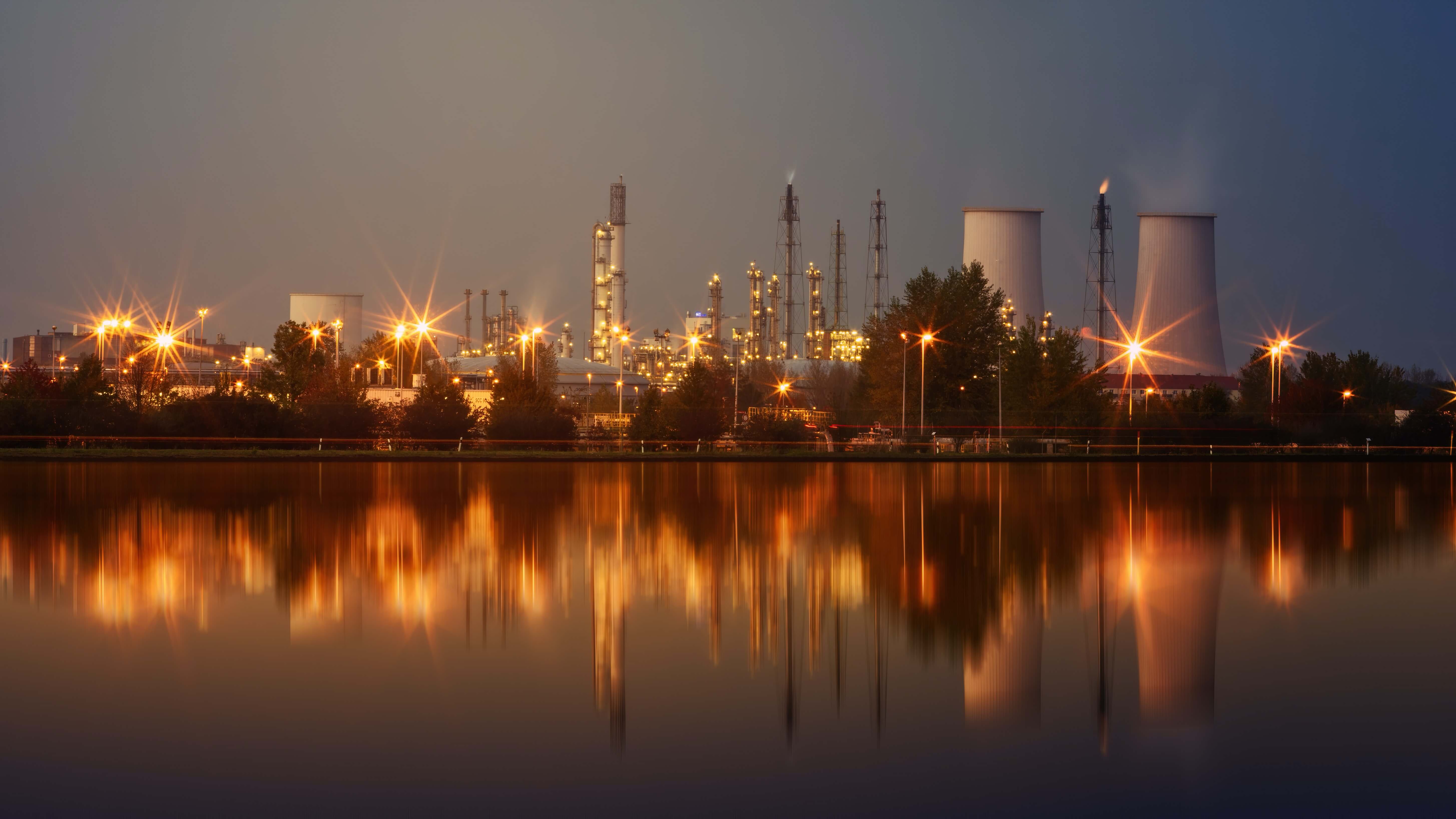 Will 2023 be a year of continued unpredictability for the chemicals industry?
In 2022, the downstream chemical market grappled with uncertain demand in many areas. Rising production and transportation costs and increased pressure to lower carbon footprint decreased profitability and public and government pressures to produce more recyclable products, saw chemical companies shift their focus to more sustainable practices.
But will this uncertainty persist into 2023, and is there a positive outlook?
We've analysed data and opinions from key industry reports to present the strongest predictions for 2023 for the chemicals industry.
Overview of the chemical industry in 2022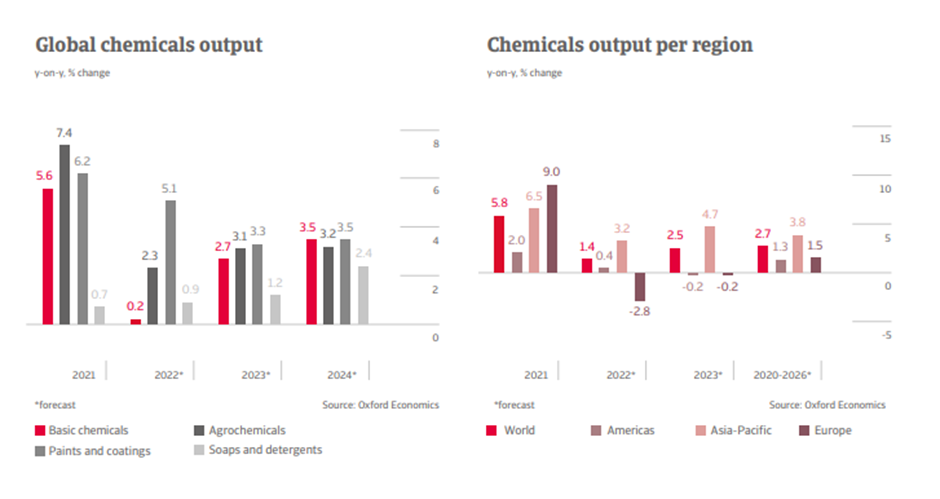 Source: Atradius/Oxford Economics
2022 was a difficult time for the chemicals industry, particularly in Europe. The conflict in Ukraine, higher resulting energy prices, and high inflation dampened growth in the region and saw Europe import more chemicals than it exports, for the first time.
The conflict has, in turn, affected global chemical supplies; Ukraine is the world's largest supplier of noble gases and is Europe's biggest ammonia producer for fertiliser. On the other hand, Russia has been a significant exporter of materials used in vehicles, including platinum and palladium, as well as 22% and 14% of the world's supply of titanium and aluminium, respectively.
The rising cost of energy in Europe also had a considerable effect. The chemical industry is very energy intensive, requiring high levels of natural gas feedstock. With the shutdown of the EU's main gas supplies and the rising cost of gas from imports, many companies have struggled through increasing prices and tighter margins.
Chemicals company Dow experienced a huge decrease in their earnings for the third quarter, with their European olefin and polymer business even incurring a loss. Additionally, LyondellBasell Industries' earnings declined by 63%, Eastman Chemicals' by 26%, and Covestro's by 97%.
In the UK, the Chemical Industry Association's (CIA's) yearly survey revealed a dip in sales since the start of the pandemic, with more than 40% of chemical firms experiencing a decrease in sales in the first quarter of 2022. The trade body stated that energy prices, raw material costs and shortages, and labour costs were the main reasons for this slump and that these issues continue to become more serious.
There was however, some growth in the industry - mainly in the electronics, automotive, healthcare and agricultural sectors. For example, Kemira, based in Finland, supplies services to food, water and energy companies and has reported a 40% increase in revenue for 2022.
The US market has also seen challenges. A survey in August 2022 from the American Chemistry Council (ACC) reported that over 50% of manufacturers halted production because they could not deliver products to their customers, while 35% of respondents said customers cancelled their orders over concerns with deliveries.
Despite this, the US chemicals sector performed well compared to other regions. The lowered supply of chemical fertiliser from Ukraine has boosted prices and exports of US-produced fertiliser products. These producers also have a competitive advantage in energy, supplied by comparatively cheaper domestic US shale gas.
China, meanwhile, remained the world's largest producer and consumer of chemicals, accounting for about 45% of the global chemical market. After seeing year-on-year growth since 2010 (where the market share was around 26%), it has become a critical contribution to the country's GDP. The country is the biggest exporter in markets such as silicon, PVC, and many specialist chemicals.
Chinese chemical production decreased in 2022 as a result of COVID-19 restrictions. Chemical production is concentrated in areas like Shanghai. With more than 25% of the workforce under the effect of lockdown, factories were shut down or working at minimal volumes, with workforces quarantined to the factories.
Many predictions claim these economic conditions will persist into 2023, but is there any good news? And how is the industry reacting?
Chemical Industry Predictions for 2023
Feedstock supply is healthy, but low demand will put margins under pressure
As the world recovers from the economic downturn of 2020 following the pandemic, the industry seeks to resume the growth trend. The current polyolefin feedstock supply is healthy, but oversupply issues are expected in the first half of 2023. Feedstock production has outstripped demand, which means that overstocked capacity will negatively affect profitability.
High supply and low demand will mean prices remain unpredictable for the first part of 2023. This will mean tight margins across the value chain unless downstream demand rises in the latter half of the year.
Inflation and the cost-of-living crisis will continue to suppress consumer confidence
High inflation, energy prices, and the cost-of-living crisis will continue to dampen consumer spending on goods in end-use sectors. In addition, inventory reduction measures through the second half of 2022 have led to weak demand, with retailers and brands looking to reduce their inventories and cut costs in response to consumers reducing their outgoings.
According to a report by Wood Mackenzie, this dampened consumer spending is likely to continue through the first half of 2023, with living costs anticipated to rise further. If inflation falls in the US and Europe as their governments aim, then there's optimism that demand will increase in the second half of 2023.
China's recovery from lockdowns hampered by supply and global inflation
Following the long lockdown and special measures across Shanghai, the region is attempting to manage a second wave of COVID infections. This will affect China's production capacity as much of the country's chemical production is concentrated in the regions around Shanghai. This slowdown will likely slow the industry's growth through the first half of 2023. Weak downstream demand will also cause capacity issues for chemical producers, with overcapacity being an ongoing issue for polymer markets through 2023.
And as previously mentioned, China is a significant global exporter of specialist chemicals. Demand for these products across Europe and the US will likely remain diminished due to inflation, further affecting growth.
Recycled materials will be in short supply as public demand grows
Demand for recycled materials is expected to grow, in line with public expectations of companies and governments looking to meet plastic reduction targets. In 2023, brands will continue to invest in their circularity targets, bringing plastics back into feedstock. The challenge through 2023 will be a limited supply of recycled materials, particularly for food-grade packaging producers under pressure to move to more sustainable products, which could affect pricing this year.
The main focus through 2023 will be the improvement of the recycling collection and sorting, as well as improvements to infrastructure, to increase the viability and efficiency of waste recycling and returning materials to feedstock.
Sustainability will be a priority and drive ESG agendas
Recycling is just one part of the sustainability ecosystem. Chemical companies will continue developing their environmental, social, and governance (ESG) standards to drive their decarbonisation strategies.
There are three areas, or Scopes, to consider for measuring emissions. Scope 1 involves direct emissions from company-own assets, including facilities and vehicles. Scope 2 looks at indirect emissions associated with the generation of electricity. And Scope 3 emissions are indirect emissions resulting from transportation and waste. Chemical producers will work towards these targets across all three scopes in 2023, but progress will likely be slow.
For example, DSM increased its renewable energy purchasing targets to 100% by 2030. BASF signed contracts in 2022 to purchase up to 660,000MWh of wind and solar electricity each year, with an output of 250 MW. As a result, more than 25% of BASF's North American power will be sourced from renewable electricity. Covestro plans to construct a £27 million polycarbonate recycling plant in Shanghai, China. This facility will be capable of producing 25,000 tonnes of polycarbonate products with recycled content by 2023.
The growth of the EV industry is an exciting opportunity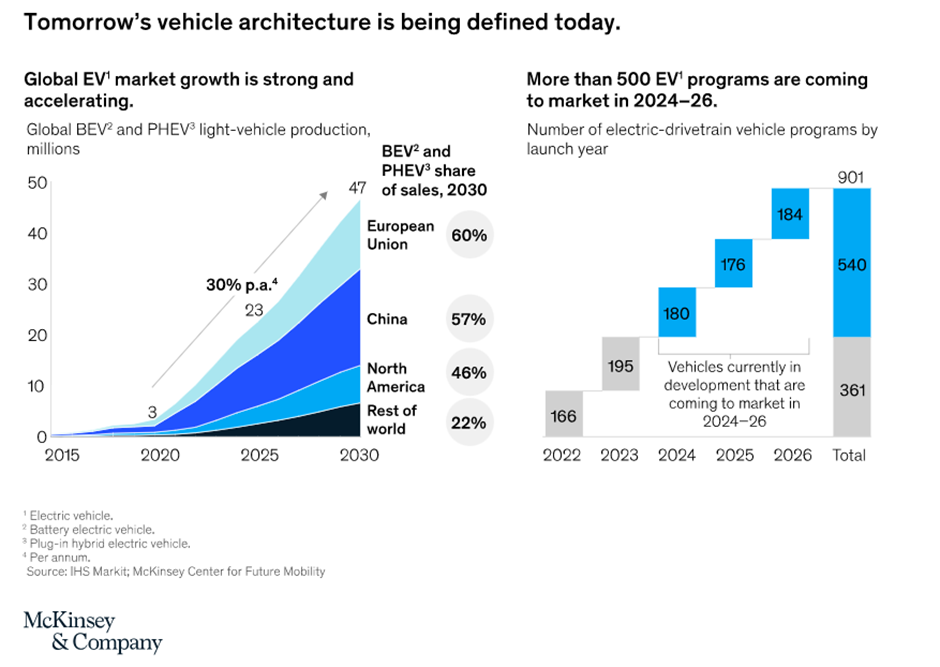 Source: McKinsey & Company
Despite the challenges mentioned above, the industry does have some positive outlooks, and the growth of the Electric Vehicle (EV) industry is just one area of good news.
Industry insights specialists McKinsey and Company predict that by 2030, battery electric vehicles (BEVs) and plug-in hybrid electric vehicles (PHEVs) will make up more than 55% of new vehicles produced by 2030 in China, Europe and the US. Driven by public perception, government policy and incentives, and lower vehicle purchase costs, the EV market globally is set to rise 3-5% across the major car markets of China, the US and Europe.
There is a continuing shift towards lighter EVs, including polypropylene, which accounts for over a third of the plastic demand in the transport sector. EV production also uses 3-5% more plastic than internal combustion engine (ICE) vehicles, and this increased demand will drive growth.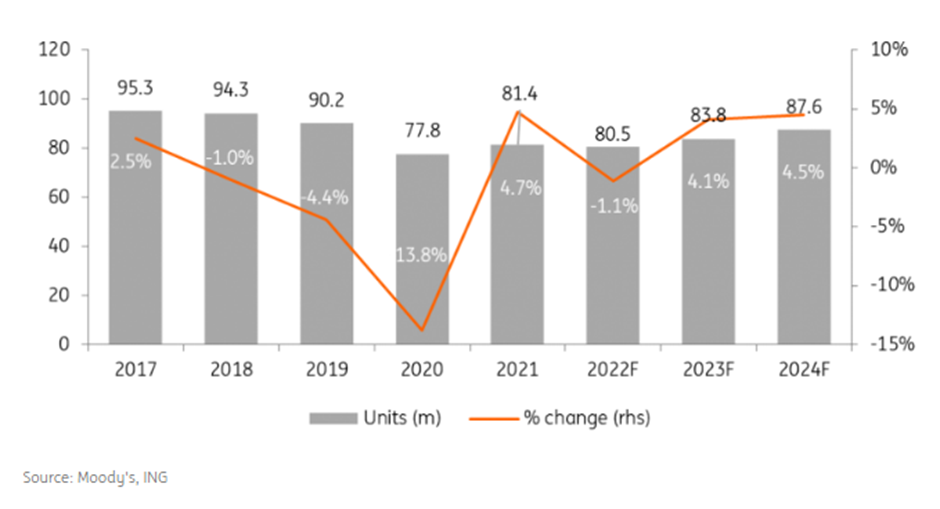 Demand for EVs is forecast to rise through 2023 onwards. Source: ING/Moodys
Summary
The first half of 2023 is likely to remain challenging. There will be continued risks from ongoing conflict, energy prices and inflation, and issues with trade and supply. Chemical producers will be looking to invest and develop decarbonisation strategies while balancing higher costs and lower profit margins. Capitalising on growth in demand in specialist markets such as EVs will be key. Still, predictions show increased confidence going into the second half of 2023, with demand slowly recovering.
NES Fircroft and supporting the Chemical Industry
NES Fircroft has supported the Chemical industry with the right talent for over 50 years across various industries. If you're looking for your next role, check out all our latest opportunities.
We offer a range of workforce solutions if you're looking for personnel for your next project or to join your team. Our discipline-specific recruiters have an in-depth understanding of their discipline and local market. Please take a look at our chemical engineering jobs today. If you are a company in the chemical sector looking for workforce specialist support, find out here how we can help you with your hiring strategy.