Exploring the 6 Largest Refineries In The World
19 Apr, 2023
9:50
Through our work with petrochemicals, we are lucky to recruit talent for some of the largest...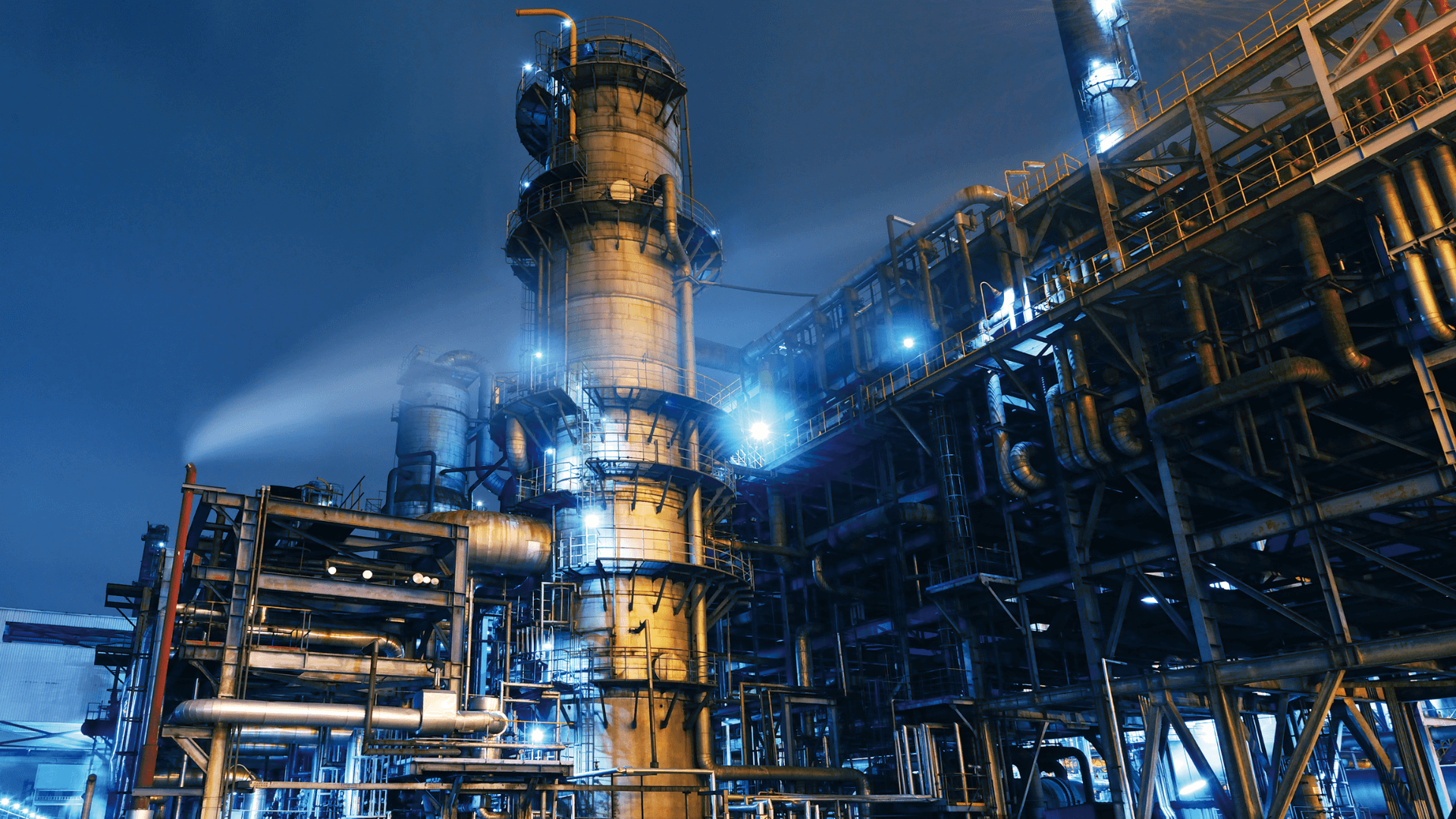 Through our work with petrochemicals, we are lucky to recruit talent for some of the largest refineries in the world. Petrochemicals is a vital industry and can be found everywhere, from our clothes, laptops and mobile phones to cleaning products, fertilisers, and packaging.
As a report by the International Energy Agency states, the petrochemical feedstock is responsible for 12 percent of global oil requirements. This is set to grow as demand for fertilisers, plastics, and other products increases.
The sheer scale and complexity of refineries involve astonishing feats of engineering and require in-depth expertise from initial conception straight through to commissioning and operation. So, are you ready to explore 6 of the largest refineries in the world that contribute to making our world as we know it?
1. Jamnagar Refinery, Reliance Industries – India
First on our list is the incredible Jamnagar Refinery which is located in Jamnagar, Gujarat, India. Did you know it holds the title of the world's largest refinery? First commissioned in July 1999, it is a private-sector crude oil refinery owned by Indian multinational conglomerate Reliance Industries Limited . It has a processing capacity of 1.24 million barrels of oil per day.
The whole complex now consists of a fully integrated petroleum refinery, a petrochemicals complex, captive power plants, a captive port, related infrastructure, and a small town that houses its 2,500 employees and which has over 7,500 acres of land. If one were to link all the refinery pipes one after the other, they would connect India from North to South.
When Bechtel completed it in 2000, it was already the world's largest petrochemical and refinery complex to be built from nothing. It was then expanded in 2008, through an investment of more than 6 billion USD, with a second adjacent refinery, nearly doubling its initial capacity.
When construction was at its peak, the project involved more than 70,000 employees. Bechtel also created a virtual company that employed about 2,800 professionals across 19 offices worldwide. Construction of the second refinery required more than 200,000 supplier and engineering documents, 4 million metres of piping, over 1.5 million cubic metres of concrete, and 4,400 pieces of major equipment. The worksite covered an area bigger than London.
The refinery is seen as an industry trendsetter and has won several prestigious awards, including the 'International Refiner Of The Year'. Its importance in India is unquestionable; it has transformed the country from being a net importer of petroleum products to a net exporter. This transformation has ensured the nation's energy security.
2. Ulsan Refinery, SK Energy – South Korea
Just behind the Jamnagar Refinery is SK Energy's impressive Ulsan Refinery, located in Ulsan, South Korea. Ulsan is the country's seventh-largest metropolitan city and is South Korea's powerhouse. Moreover, it's at the heart of the country's Industrial District, making it the ideal location for such a vast refinery.
Currently, the refinery has a capacity of 840,00 barrels of crude oil per day, which are sold to domestic and overseas markets. In addition, it produces liquefied petroleum gas, gasoline, diesel, jet fuel, and asphalt. The refinery and wider business currently employ more than 2,600 people.
Not content with being the location of one of the world's largest refineries, Ulsan is also home to the largest automobile assembly plant in the world, operated by Hyundai Motor Company and has the world's largest shipyard, operated by Hyundai Heavy Industries.
3. Paraguaná Refinery Complex, PDVSA – Venezuela
Sitting in third place in our list of largest oil refineries in the world is Venezuela's Paraguaná Refinery Complex. The complex is a crude oil refinery with an impressive total processing capacity of 971 thousand barrels daily.
Operated by the state-owned company Petróleos de Venezuela (PDVSA), the whole complex was created by combining three existing refineries: the Amuay Refinery, the Bajo Grande Refinery, and the Cardón Refinery.
The Cardon Refinery, the oldest of the three refineries, was owned by Shell and started operations in 1949. Shortly after, the Amuay Refinery was then built by Creole Petroleum in 1950 and the Bajo Grande Refinery in 1956 by Richmond (now Chevron). The combined crude oil processing capacity of the Cardon and the Amuay refineries is 955,000 barrels per day, whilst the Bajo Grande asphalt plant can process 16,000 barrels per day of crude.
The complex is crucial to the Venezuelan petrochemicals industry and the economy as a whole, as it is responsible for 71 per cent of the oil-rich South American country's refining capacity.
4. Yeosu Refinery, GS Caltex – South Korea
South Korea makes a further appearance on our list with the vast Yeosu Refinery. It is the country's second largest refinery and has a total capacity of 730,000 barrels per day. Operated by GS Caltex (jointly owned by Chevron and GS Group) and produces gasoline, diesel, jet fuel, fuel oil, and sulphur. Did you know that GS Caltex supplies more than one-third of Korea's oil needs and exports more than 50% of its products?
In 2007, GS Caltex invested 1.5 billion USD in building what was, at the time, the world's largest vacuum distillation unit, a hydrocracker, and a base oil plant. This dramatically increased GS Caltex's heavy-oil cracking ability.
More recently, GS Caltex announced that it had successfully switched from low-sulphur fuel oil (LSFO) to liquified natural gas (LNG) for the operation of the Yeosu refinery in a bid to reduce their CO2 emissions. They expect this transition to reduce the refinery's CO2 emissions by over 19% and particular matter emissions (such as sulphur oxides and nitrogen oxides) by more than 30%.
5. Onsan Refinery, S-Oil – South Korea
Continuing South Korea's dominance of our list of the largest refineries in the world is The Onsan Refinery, owned by S-Oil. Like the Ulsan Refinery, it is also located in the country's industrial powerhouse city of Ulsan. Onsan has a total processing capacity of 669 thousand barrels per day.
S-Oil first started commercial operation of its crude oil distillation unit in 1980. Since then, there have been significant expansions, including the $1.2 billion "Onsan Refinery Expansion Project", which was completed in 2011. This equipped the plant with an 89,000 BPD condensate splitter and petrochemical plants.
S-Oil now has three crude distillation units and has become a key player in hard oil provision in the Asia-Pacific region. In 2005, they also started exporting Ultra Low Sulphur Gasoline (ULSG) of below 10ppm sulphur contents to Japan, following strict environmental regulations.
Since then, S-Oil has focused much of its energy on producing and exporting high-quality, environment-friendly oil products worldwide, including Europe, Asia, the US, and Oceania. As a result, they are currently ranked 439 on the Fortune Global 500 List.
6. Singapore Refinery, ExxonMobil - Singapore
We have the spectacular Singapore Refinery on Jurong Island in Singapore to complete our list. ExxonMobil owns the refinery and has a total processing capacity of 605 thousand barrels per day. It is ExxonMobil's biggest refinery.
The refinery originally consisted of two sites connected by pipelines. There was one refinery site on Pioneer Road, which Mobil commissioned in 1966. The other refining facility was located at the Pulau Ayer Chawan site, commissioned by Esso in 1970. When Esso and Mobil merged in 1999 to become ExxonMobil, the new company started operating both sites as a single refinery complex.
There are plans to expand to produce higher-value lube products from fuel oil. Final Investment Decision (FID) was made, and ExxonMobil awarded the engineering, procurement, and construction contracts for the expansion in April 2019. This expansion is expected to cost about 2.9 billion USD. Completion is due to be completed this year. This expansion project will increase the refinery's low-sulphur clean fuel output by 48,000 barrels per day. It will also increase ExxonMobil's base stocks of high-quality automotive and engine oil lubricants by 20,000 barrels per day.
Such an expansion will create a whole host of new jobs for engineers and other industry experts.


Looking for an industry expert in Chemical Recruitment?
NES Fircroft has more than two decades of experience within the Process, Chemical and Petrochemical sectors, sourcing and managing experts for a complete range of contract and permanent placements.
Working with global manufacturers of speciality chemicals, bulk chemicals, fine chemicals and oil refining, our knowledge of process development and project execution, with our specialist understanding of regulations such as COMAH regulations and the Seveso III directive, help us to find the best candidates for our clients' projects.
If you have a staffing requirement, you can learn more about our award-winning talent acquisition services here. If you are a candidate looking for your next position, search our Oil and Gas roles here.