How (And Why) You Can Transition Your Career From Oil & Gas To Renewables
24 Jun, 2020
8:20
The last few years have seen a major transition for major Oil & Gas companies as they se...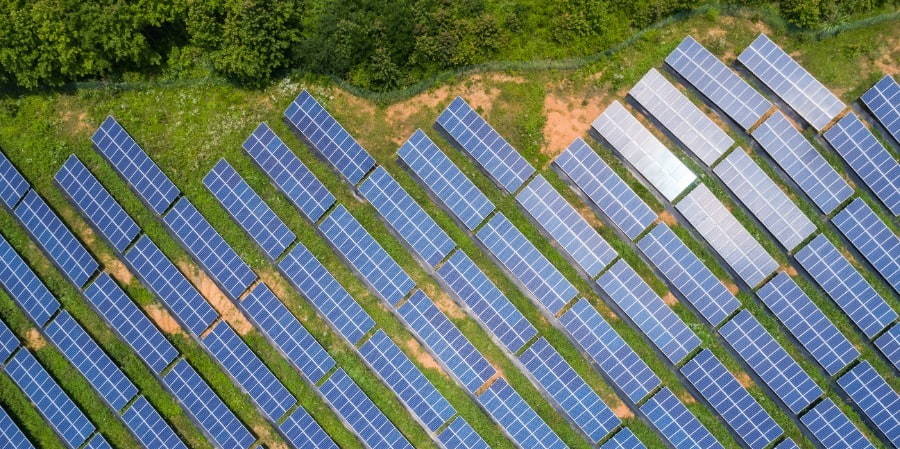 The last few years have seen a major transition for major Oil & Gas companies as they seek to diversify their core business away from purely fossil fuels to a more generalised energy supply trade. These changes include massive investment in other areas, with a marketing push that repositions them as drivers of clean, carbon-neutral energy while quietly scaling down the publicity of their continued operations in Oil & Gas.
But where does this leave workers who - in many cases - have built up a successful career over many years as a specialist in Oil & Gas jobs? If you're an experienced Oil & Gas engineer, even working within these supermajors, can you also seek to transition towards Renewable Energy jobs? Or will the experience you've gathered over years, maybe decades, only qualify you for the more traditional meeting?
The short answer is that there are many transferable skills that make transition from Oil & Gas towards Renewables a good and achievable move for many engineering and technical professionals. We'll cover how these skills are transferable and how you should approach such an industry transition. But first let's look at why this is so important.
The current situation
The rapid growth of renewable energy has been well documented for years. In the USA, renewable energy grew more than 100% from 2000 to 2018, and in the same year was reported to make up 26.2% of global electricity generation.
Growing public concern in the impact of climate change, plus the agreement signed by nations in the Paris Accords to seek carbon neutrality by 2050 and limit temperature rises by 1.5 degrees have somewhat forced the hand of the market over the last decade or so. Pushed by government incentives and public pressure, investors have finally begun to put their money in renewables. The impact of that of course is that larger projects come into existence, technology improves and the cost of new renewable energy projects comes down.
Suddenly this is much more viable investment than it was 10 or 20 years ago.
And this comes at a time when companies and investors are already beginning to worry about "peak oil". As we have seen by the move towards onshore fracking and offshore ultra-deepwater drilling, getting significant amounts of Oil & Gas is a progressively more difficult job. While there are many advances, such as the growth in reliance on FPSO and FLNG vessels, that make operations in places like the Gulf of Mexico not only viable but lucrative - exploration and installation requires a massive upfront cost. And this now needs to be balanced with the potential long-term viability of putting that money into offshore wind or solar power.
We've already seen the impact with one form of fossil fuel - coal. In Britain, a country that was not so long ago largely dependent on coal for most of its power, only three coal-burning power stations are in operation. All three are expected to be phased out over the next four years and in fact none of them have been required for the last few months.
Is it likely that Oil & Gas will go the way of coal? Probably not - at least not in the near future. The industry is still dominant in most areas and the growth of liquefied natural gas, particularly in the Far East, goes some way to demonstrate a safe recourse for this industry.
But recent events show that this industry can be extremely unpredictable.
The impact of Coronavirus
Whether you believe that peak oil is coming or not, the current market highlights a particular threat. May saw the oil price fall below zero for the first time ever as production began to outweigh demand. A near-global lockdown slowed the entire energy sector while the virus itself threatened workers.
According to Rystad Energy:
"...the Covid-19 downturn will expedite peak oil demand, putting a lid on exploration efforts in remote offshore areas and as a result reducing the world's recoverable oil by around 282 billion barrels."
The firm's Head of Analysis, Per Magnus Nysveen broke it down further:
"Non-OPEC countries account for the lion's share of "lost" recoverable resources with more than 260 billion barrels of undiscovered oil now more likely to be left untouched, especially in remote exploratory areas...OPEC countries are expected to lose 21 billion barrels of reserves potential as the negative developments in Venezuela and Iran outweigh the increased strength and reserves potential of core OPEC countries in the Arab Gulf region,"
The impact on jobs has already been felt, with BP alone announcing that up to 10,000 Oil & Gas jobs will be made redundant.
Now that's not to say that there isn't hope that the oil price can recover, that demand won't grow again once lockdowns are ended and that exploration won't continue - creating new jobs and requiring experienced workers. But that is a long term view and, as has been made inescapably clear in the last few months, nothing is guaranteed. For the short term, many former oil and gas workers are looking towards other industries for opportunities - and renewables may just be the answer.
The opportunity
The important thing to remember is that the positions open within renewables now are no longer limited to green energy specialists, start-ups or small-scale businesses hoping to train up the youngest generation of workers. With supermajors diversifying their core businesses, renewables are now a large property of existing firms.
With diversification comes a consolidation of skills - will companies who have made billions over many years put their newest investments in the hands of a generation of inexperienced engineering graduates who have yet to prove their capability in a major business? Or will they rely on experience from other sectors - engineers who have proven themselves to solve problems, lead teams, manage safety protocols. Whether or not you've come from an oil platform or a wind turbine - there are skills you will have gathered that will be a demonstrable asset in a new industry.
And never forget the importance of understanding a company's hierarchy and culture. Contractors on projects for Oil & Gas majors will know how these companies work and what is expected of them. Even if the task itself is different, the way they work is likely very similar.
So your experience is valuable, but what about the opportunities?
Covid-19 has impacted just about every industry in the world, but some will recover faster than others. For Oil & Gas, that recovery is likely to be a slow one - we have already seen how it took several years to recover from the last time the oil price fell in the early 2010s. Renewables, however, are expected to recover much faster and may even be boosted by a "restart" in investment and planned operations.
Analysts at Research And Markets released a report with the catchy title: "Covid-19 Impact on Renewable Energy Market by Technology (Wind and Solar), End-User (Utilities), Captive (industrial, Commercial and Residential) and Region - Global Forecasts to 2021" in May. The report predicted that, despite the virus impact, the global renewable energy market will grow from $184.3 billion in 2020 to $226.1 billion over the next 18 months. The Asia Pacific region particularly showed the most positive market trend, led by China and India.
They said:
"This is the right time for utilities to make the transition to 100% renewable energy."
Other reports support this, with data published by Rystad Energy in early June 2020 predicting that expenditure in offshore wind would match upstream oil and gas in Europe by as early as next year, surpassing it in 2022.
"Offshore wind development in Europe is expected to flourish in the coming years as countries strive to reach their ambitious 2030-targets – and large investments will be required," said Alexander Flotre, Rystad Energy's project manager for offshore wind.

"Commissioning activity is expected to increase towards 2025, and projects expected to be operational in 2023-2025 are already driving up capital expenditure in 2020. This trend will continue in the coming years."
According to research from the International Renewable Energy Agency (IRENA), global employment in the renewable energy sector grew by nearly 4 million jobs in six years, from 7.1 million in 2012 to 11 million in 2018. The agency predicts that by 2050, employment in the sector will almost triple to 42 million renewable energy jobs.
Who is making the transition?
So the experience is viable and the opportunities are there. Can you really transition though?
"Before 2020, I had never heard of any firm specifically hiring from oil and gas into advanced-energy companies," says Nat Kreamer, founder of Sunrun Inc. and CEO of the trade group Advanced Energy Economy.

"Now you look at a place like Texas with so much work to be done in renewables and so little work to be done in oil & gas -- it's obvious."
Oil & Gas workers around the world are making the transition, and the doors are wide open at green energy firms.
"Ten years ago, the idealistic change-the-world folks were attracted to clean energy," says Jeff Bishop, CEO of Key Capture Energy - a Houston-based developer of energy storage devices.

"Today, we still get some of the change-the-world folks, but it's an increasing number of team members wanting stable jobs in a growth industry."
Three months ago Bishop issued his call to arms for those looking to transition, with a LinkedIn post entitled "Houston Oil & Gas Folks - we're hiring in Texas".
"We've always wanted oil and gas folks," he later explained.
And Key Capture are not alone in this. Many others are specifically calling on those with Oil & Gas experience to join them in the green revolution. Many majors are now offering retraining programmes to help workers understand renewable systems and operations. But in many cases, even that is not needed.
"There's no magic to renewable technologies...Managing a wind farm or solar project is nothing a good oil and gas man who has built or organised facilities cannot manage," said Adriaan Kamp in an interview with the Guardian in 2015.
Kamp is a former Shell employee who left his oil job to set up a consultancy in Oslo that advises national governments on how to transition to clean energy.
And even if it is needed, the programmes are increasingly widely available either as part of a major company or backed by the government, such as the UK's £12 million Transition Training Fund launched in 2016 that has already helped over 4,000 Oil & Gas workers affected by the last downturn find new opportunities.
How can I transition?
Those who have already made the move from Oil & Gas to Renewables have offered plenty of advice for anyone now seeking a transition. But the essentials are fairly straightforward.
1. Find your place
Where are you hoping to work? Is it in offshore wind or in energy storage? Construction of new projects or operation/maintenance of existing ones? Compare renewables roles to your existing experience and find where the equivalent may be.
Keep up to date with the latest news from the sector to see where upcoming projects are going to be and what the biggest job creators are likely to be.
2. Target your experience
Use your experience to your advantage. Don't think that just because you are looking for a role in renewables you have to eliminate all mentions of your Oil & Gas experience from your CV. As we've seen above, there are many reasons why this experience can still be relevant and transferable - it's your job to demonstrate it.
Don't waste space discussing the specifics of a rig you worked on or a workflow that is only relevant to an oil employer. Instead use the opportunity to talk about the skills you've picked up that a renewables employer might be interested in - HSE, leadership, management, your ability to learn and upskill. Show that your abilities are diverse and that you're seeking to grow them further.
3. Think about why you're doing this
Why do you want to transition to renewables? Is it to be part of a growing industry, is it because you believe in the importance of green energy, or is it simply that you're looking for any job and this one will do. One of those isn't going to impress a potential employer.
It's not just about what you put on your CV though. Really consider why you want to make this transition. How will this benefit you? What will you get out of this that you can't get in Oil & Gas. When you're honest about your reasons it shows, and will motivate you to seek the right opportunity in the right place for the right reasons.
4. Seek out training opportunities
As mentioned above there are training schemes both within energy companies and outside them that are dedicated to renewable energy jobs. While your Oil & Gas experience may be useful, there's always more that you can learn. So take whatever time you can to look up training or learning opportunities and take advantage of them. Aside from giving you the skills or qualifications you need, they can often be great networking opportunities which may pay off in the future.
Find the next step of your career
NES Fircroft began recruiting engineering and technical professionals for the offshore Oil & Gas industry in 1970. In the 50 years since then we've helped thousands of workers find jobs across many engineering industries, including renewable energy. Find out more about our available jobs in renewables or register your CV with us today for free to receive updates on the latest job opportunities in Renewables, Oil & Gas and more.