How To Attract Recruiters To Your LinkedIn Profile
28 Jun, 2021
3:47
LinkedIn is considered the world's largest professional network - with more than 30 mil...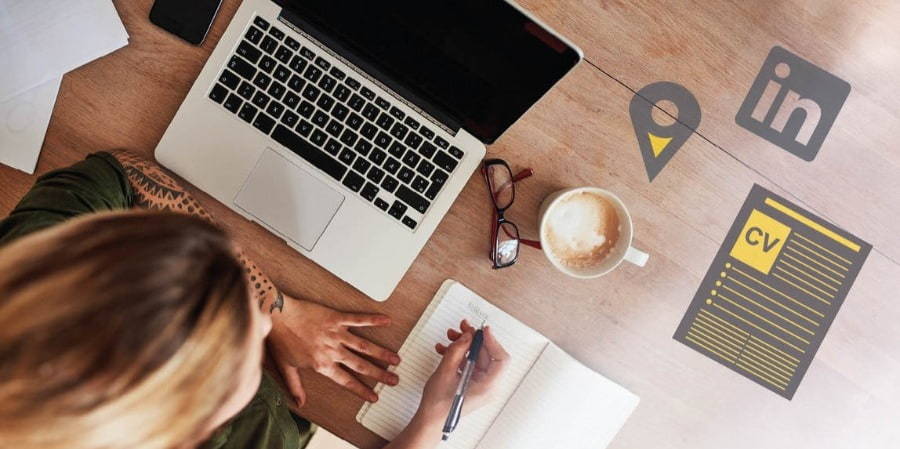 LinkedIn is considered the world's largest professional network - with more than 30 million companies listed on the site and 20 million open jobs, there are truly endless opportunities for candidates looking for their next career move.
But there's equally plenty of competition for those vacancies – LinkedIn has nearly 675+ million users in more than 200 countries and territories worldwide which can make it difficult for recruiters to find your profile. So, how can you make your LinkedIn profile stand out from the crowd?
To help you maximise the chances of a recruiter making contact, we've curated a list of top tips for profile optimisation.
Make sure your LinkedIn Profile is complete
The first step to attracting a recruiter is ensuring your profile has all the necessary information. If you have a profile that's incomplete, it makes it harder for a recruiter to determine whether you would be suitable for the role they are sourcing for. Make sure you have a descriptive 'About' section, a comprehensive 'Experience' section and a list of your most recent Education.
Consider completing other areas such as languages, certificates, projects, and volunteer activities as well - many people don't do this, so it could give you the competitive edge.
Ensure your LinkedIn Profile is easy to find
LinkedIn uses a complex combination of factors when deciding what order to rank profiles when a recruiter carries out a search, so you want to do everything you can to come near the top of the list. On top of this, the recruiter will also be using specific filters to make the most of the platform such as; years of experience, job function, seniority level and more.
To ensure you come out on top, include your most up to date information about your current role, as well as the keywords of your target role in your profile. You may want to cast a wide net and see what opportunities come your way, but this won't help you secure a new role. Be as specific as possible and include keywords in various places such as; in your heading, your summary, your job titles, and your job descriptions.
However, beware not to 'keyword-stuff' because this can make your profile look very unprofessional and it becomes apparent that you're trying to game the system.
Show recruiters that you're open to job opportunities
LinkedIn has a dedicated 'open to opportunities' feature. This gives a clear indication to recruiters you're open to hearing about new positions. Recruiters in your own company or affiliated companies won't be able to see this however, so this remains as private as LinkedIn can make it.
To turn this feature on or off, click settings and privacy and scroll down to 'job seeking preferences'.
Create an appealing profile
As well as listing your job and education experiences, you should write a brief but appealing summary that includes your key skills, goals, and a bit of personality! Make sure you sell yourself by highlighting what you can bring to an organisation if they hired you.
This doesn't mean that you should include everything - be clear, concise and selective in the choice of positions you include (especially if you have a long experience history) and the way you describe these. Recruiters see thousands and thousands of profiles and don't always have time to read them thoroughly, so you need to get your point across succinctly. Don't use company lingo or jargon – this can be alienating.
You could also consider including visual elements to your profile such as rich media (PDFs, photos, videos, presentations, etc.) to highlight specific achievements within a specific role. You can also upload media to your summary, so if there is something in particular you want to highlight and make it visually stand out, you can do so here.
Select a suitable profile picture
According to LinkedIn, profiles with photos are 14 times more likely to be viewed compared to those without. But this doesn't mean any photo is better than no photo. Pick a picture that clearly shows your face and suits the nature of your occupation. It should reflect positively on you and show you in a professional light; it should not be a photo of you with friends at a bar, for example.

Once your LinkedIn profile is complete, be active in your community!
Your profile includes a space which highlights your articles and activity. If you are active on LinkedIn (liking and commenting interesting content, and even writing your own interesting content), this will reflect well to recruiters as it shows you are interested and active within your industry.
This will also help you to build and maintain a professional network which can be vital in securing your next role.
Ask your network to recommend you
Recommendations are another part of your profile where you can demonstrate your capabilities but this time, through the words of your colleagues or peers. Recommendations come from people who are working in your industry that think highly of you and they can be vital to helping a recruiter understand who you are and where your strengths lie. Think of them as little reviews of your key skills and personality.
But asking for a recommendation can be daunting – to get started, read LinkedIn's help article on requesting recommendations. Be selective though, as you don't want to spam your whole network with recommendation requests.
Lastly, make sure your LinkedIn profile is consistent with your CV or Resume
Once you've piqued the interest of a recruiter, they'll want to find out more about you and will likely ask for your CV or resume. In this instance, it's important to ensure your information is all consistent. For example, do the dates of employment for each role match on your CV and profile? Having inconsistent dates looks unprofessional and can confuse a recruiter. It could also give the impression you lack attention to detail and/or your employment history is falsified.
Enhance your career with NES Fircroft
NES Fircroft offers recruitment expertise from discipline-specific consultants that truly know their markets and endeavour to support you in making that next step in your career by helping you to secure your next job and providing a range of candidate support services.