How to Find a Job that Matches Your Values
22 Aug, 2023
6:51
In today's competitive job market, finding a job that pays the bills and aligns with your va...
In today's competitive job market, finding a job that pays the bills and aligns with your values has become more important than ever. Most of us strive for job satisfaction and fulfilment, and one way to achieve that is by finding a career that resonates with our core values.
In this blog, we look at how to find a job that matches your core values and explore why it's such an important part of the job-hunting process.
The Importance of Values
Core values are what shape us as individuals; they influence how you react in a variety of situations. With so many hours in the week spent at work, it's vital to ensure your values align with your organisation's values. The wrong fit can lead to unhappiness and a lack of motivation, while the right fit can make work meaningful and exciting.
According to research, around 71% of professionals would take a pay cut to work for a company that has a mission they believe in and shared values, and 61% of employees choose their employer based on beliefs. So, while influences such as salary are important in many individual's job hunts, a company having the right values for you plays a big part in whether it will be a good fit for you.
If you and your company are clashing when it comes to what you believe in and value the most, it might be time to look elsewhere. Equally, if you're currently job hunting, don't underestimate how important company values are to your overall well-being.

Discovering What Your Values Are
To begin your journey towards finding a job that aligns with your values, it's essential to identify what those values are. Even if you already have a clear idea of what your values are, putting pen to paper can help you prioritise what matters most to you. On the other hand, you may not be sure of what you want yet, so take some time to reflect on what is important to you and list the top three to five things that matter the most.
If you're unsure where to start, think about your ideal working situation.
What motivates you?
What will set you up for success?
What type of environment do you work best in?
What did you like and dislike about your previous job?
What are your career goals, and what values align with them?
You could also consider work-life balance, ethical practices, collaboration, environmental consciousness, personal growth, and development.
You can also arrange your values based on priority. You can have top non-negotiable values that are a 'must-have' in your new role, and others that are preferred and would make your experience better but are not essential.
If you're still not sure, here are some keywords that may prompt you.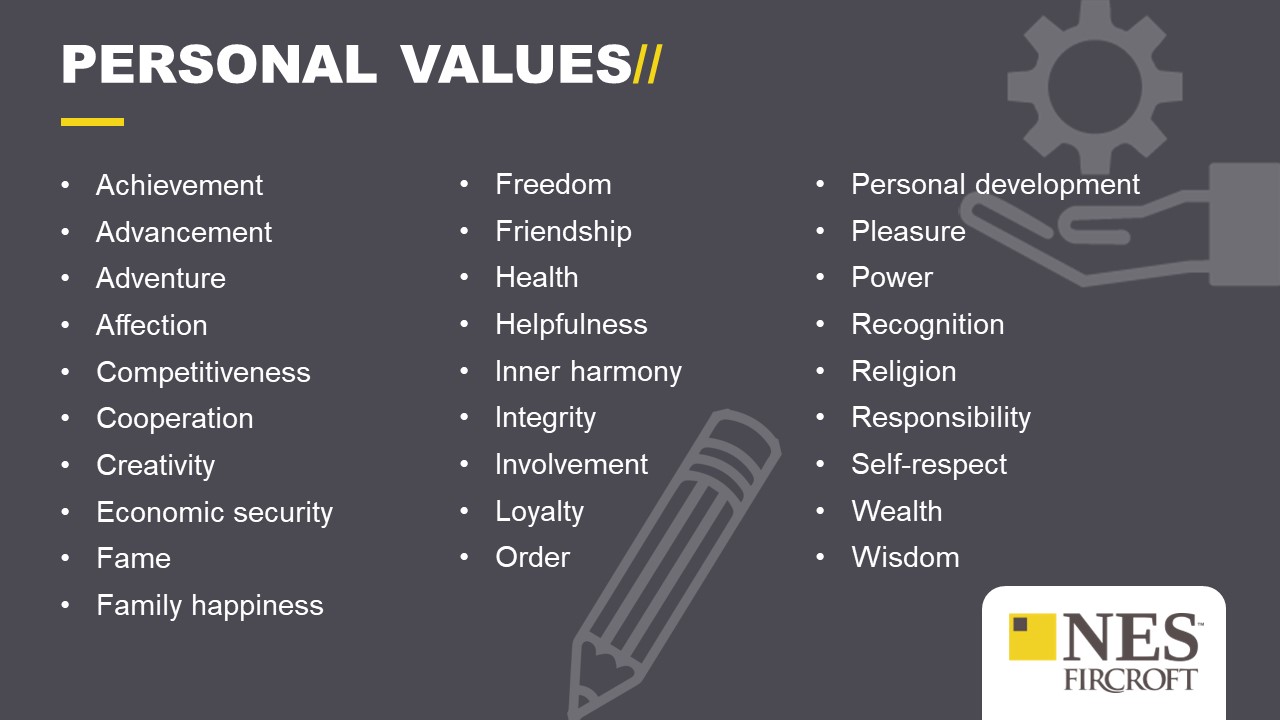 These values will serve as a compass in your job search and career decision-making process, so spending time exploring what matters most to you will set you up to find the right job.
Research Company Values
Once you know what values you're looking for, it's time to start seeing if they align with potential employers and their value statements.
Read job descriptions carefully for clues on their culture and consider checking the employer's website for information on their values. If a company's values are hard to find or figure out, it can be a tell-tale sign that they might not have the best practices in place.
Many companies will proudly display their core values, but it's crucial to dig deeper and ensure that these values are genuinely upheld within the company's practices.
For example, here at NES Fircroft our core values are:
Customer Focus. Our priority is to deliver safe, efficient, and effective solutions that help and support our clients and candidates.
Integrity & Responsibility. We own our responsibility to our customers, colleagues, and shareholders, while holding ourselves to the highest standards. We are committed to minimising our impact on the environment.
Drive & Personal Impact. We bring passion and determination to our work every day, looking to grow our talent and give back to the community around us.
Enterprise. We are creative, adaptive, and innovative, always looking for new opportunities to improve and evolve our working practices.
Teamwork. We believe our collaboration is what sets us apart, striving to be the best in our industry by recognising and valuing diversity.
Social media can be a great way to see the culture of a workplace and let you know what kind of place you'd be working in. We sat down with our employees to see how our core values resonate with them.

Be Selective in Your Search
When job-hunting, it can be easy to get stuck in a rut. If you've been hunting for a while, it's normal to feel that if you don't apply for every single job you're qualified for, then you're not doing enough.
However, it's important to remember your values when applying. Don't fall into the trap of wanting a job so much, that you overlook something that may mean you're unhappy and unfulfilled once you have accepted the role and started working.
On LinkedIn, you can even set your searches for roles with companies that highlight specific values such as work-life balance, career growth and diversity inclusion.
Utilise Interview Time
So, you've made it to the next step and got yourself an interview; what next? This is an opportunity to get more information about the company and its values.
Make sure to ask as many questions as possible in your interview. It's easy to think of an interview as a Q&A format, but it's a conversation. It is not just a chance to show what you're capable of, but the perfect time to learn more about a company and their values. Some examples of questions to ask are:
Can you tell me about your company culture?
Can you describe the team dynamic?
What are some new and exciting initiatives the company is working on?
What is the average employee turnover?
Do you feel the company values align with your own?
What does the average day/week look like in this role?
How would you describe your managerial style?
Often at least one of your interviewers will be someone on your prospective team, so it can also be a way to gauge if you'll work well together.
Stick to Your Values
It's crucial to stay true to your values throughout your job search and career. Your values guide your actions, decisions, and interactions in the workplace, so when faced with opportunities that don't align with these, it's essential to recognise the red flags and trust your instincts.
It may be tempting to go for the role that offers the most money, but sacrificing your values can lead to unhappiness and a lack of motivation, hindering your long-term success.
Finding a balance between being adaptable and staying true to what you hold dear is crucial. By doing so, you not only ensure personal fulfilment but also contribute to fostering a positive workplace culture.
Are you looking to take the next step in your career? Our expert recruitment teams recruit engineering and technical professionals for global roles. You can view our open vacancies or register your CV with us today for free to ensure you're first in line for future jobs in this exciting industry.