How To Find The Perfect Job
24 May, 2021
5:24
The 'perfect' job can often seem like an elusive concept. Whether you're only just entering ...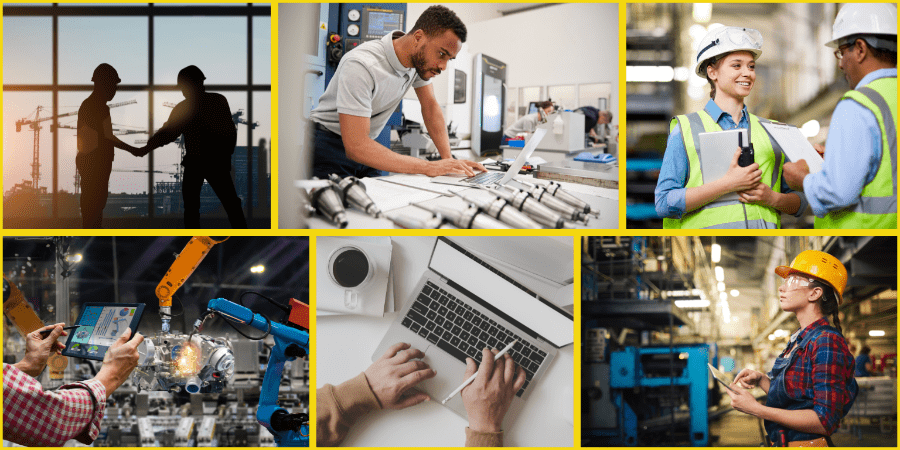 The 'perfect' job can often seem like an elusive concept. Whether you're only just entering the job market or have a 20-year career behind you, within a world saturated with choice, it can be hard to know where to look when it comes to finding the perfect job for you.
More often than not, compromises need to be made and there are plenty of factors to consider such as location, salary, company culture, progression, work-life balance, flexibility, travel and more. What you choose to prioritise will depend on where you're at in both your personal and professional life.
It's also important to emphasise that the perfect job looks different to everyone. So, with all this in mind, how do you go about identifying the perfect job for you?

​
​What are your priorities?
The perfect job isn't just about the role you perform for the company you work for, it's also important to think about what added benefits you value most and what you want to prioritise. For example:
Is money and/or a bonus important to you?

Do you require medical insurance?

Do you want to spend more time with your family?

Do you enjoy traveling?

What commuting distance would you prefer?

What is your ideal work-life balance?

Do you enjoy technical work?

Would you rather be in the office or out in the field?
The perfect job could end up being at a company you've never considered before if they can offer what you value the most in life.
Consider creating a list of the top 5 points that you want to prioritise in a potential new position to keep these factors at the front of your mind. For example, a larger salary could initially look attractive but if the position requires a long commute, then you would lose valuable family time.
Doing this will serve to clarify your search and save you a lot of time when you start actively applying for positions.
​
What do you enjoy doing outside of work?
If you're looking for a complete career change, think about what you enjoy doing when you're outside of work. You could have a hobby or passion that could turn out to be the perfect way to make a living for you.
For example, if you enjoy designing systems or machinery, then you could go into a designer role. Or maybe you enjoyed being captain of a sports team during your studies and think you'd be a good manager within a company.
Whilst your hobbies might seem completely unrelated to your professional career, they often involve activities and provide you with skills that can be easily transferred into a job. Thinking about what gives you satisfaction outside of work can give you a better idea of what you would like to do in your professional career.​
Where do your interests lie?
When looking for the perfect job, it's important to consider what your interests are. For example, you might be working within fine chemicals but find the pharmaceutical industry interesting. Or you've been designing processes for the food industry but would be keen to discover more about the chemical industry.
Although it seems daunting, it's entirely possible to change industries and/or your job orientation, so don't be scared to consider things that are outside your comfort zone. Companies often like to have people from different backgrounds, as it brings fresh and creative new ideas which they might not have found otherwise.
Think about your qualifications
Whilst it's good to dream big, you won't necessarily be able to go into any job right away, no matter how perfect it sounds. If you don't have the required qualifications, you're unlikely to be considered for the role.
Start off by looking at different job descriptions that sound appealing to you – do you have the right studies or qualifications to fulfil the role? If not, what do you need to secure your perfect job? There are plenty of options available to you to enhance your knowledge, whether that be enrolling onto a physical university or college course, or some online learning.
Understanding what your qualifications enable you to do, and what you might need to achieve for your perfect job will help you narrow down your search so that you don't waste too much time searching for jobs you won't be able to get.
What skills do you have?
Qualifications aren't the only requirement hiring managers look for. Many employers look for a range of soft and practical skills in their future hires. For example:
Are you a particularly good problem solver?

Are you good at creating systems from scratch?

Do you have the interpersonal skills to attract new business connections?

Are you a confident public speaker?
Make a list of the skills you have and compare this with the job descriptions of your ideal roles. By understanding what your strengths are, you'll be able to narrow down your job search.
Feeling good about what you do is essential to gaining a sense of fulfilment and purpose at work and of course, if you're good at what you do, you'll be more likely to progress in your role.​
Think about your current and previous positions
When thinking about what you want in a new position, it helps to consider current and past work experiences. Think about what you've enjoyed doing, but also what you haven't.
For example, you might've started off your career in a huge international corporation, then moved on into a start-up, and are now finding that you miss the high-energy, fast-paced company culture of your first position. Conversely, you might find that you enjoy working in a smaller company and getting stuck into a wider range of activities, which is generally the case with most start-ups.
Your bad experiences will be just as informative as your good ones when it comes to figuring out what your ideal job is.
Where do you see yourself in 10 years' time?
Although some people know from a young age where their passions lie, many of us don't. If you've never spent time considering your future goals, now is the perfect time to think about where you see yourself in 10 years' time. To do this, write a career development plan for yourself, considering questions such as:
What is your goal job role?

What level of responsibility do you want to have?

What training would be required to get you to your goal?

What other roles might you need to take on to get to your goal?

When do you need to hit certain milestones to achieve your goal in 10 years?

Is there anything in particular you want to achieve?
Having an idea of where you see yourself in the future and breaking that down into an actionable plan will make it a lot easier to implement the necessary steps to get there. This will make you feel a lot more confident and in control of your life and your career.​
Build up your network
When considering different options for your future, it's always helpful to have conversations with the people around you and others who are in the position or industry you want to be in.
They will be able to give you advice and guide you as to the next steps you should be taking. You'll also be able to build a better idea of whether that change is actually right for you or whether it only looks good on paper.
Reach out to people within your network and expand it further. You can do this by networking via LinkedIn, taking part in online events and going to careers and industry fairs. There are plenty of options when it comes to meeting and talking to new people, whether that be online or in person.
Talk to recruiters
Once you have a general idea of what kind of role would be perfect for you, start talking to recruiters. They are on the front line when it comes to finding people their ideal job. They'll be able to give you advice and potentially put you up for relevant positions.
They talk to clients and candidates within their industry on a daily basis, meaning they have the knowledge and expertise necessary to guide you through your career and give you the best chance of getting that perfect job.
NES Fircroft and finding the perfect job
NES Fircroft has been supporting engineers, candidates, and technical clients across many different industries throughout the past 50 years. If you're looking for your perfect job, take a look at our latest job opportunities now.
If you're looking for more career tips and advice, check out our blog or sign up to our EngineeringPro newsletter, to receive the latest career advice, industry news, job opportunities and more, directly to your inbox.