How To Get Work Permits And Visas In Thailand Compliantly
08 Nov, 2022
2:21
One of the biggest challenges for international companies, in developing new projects in new...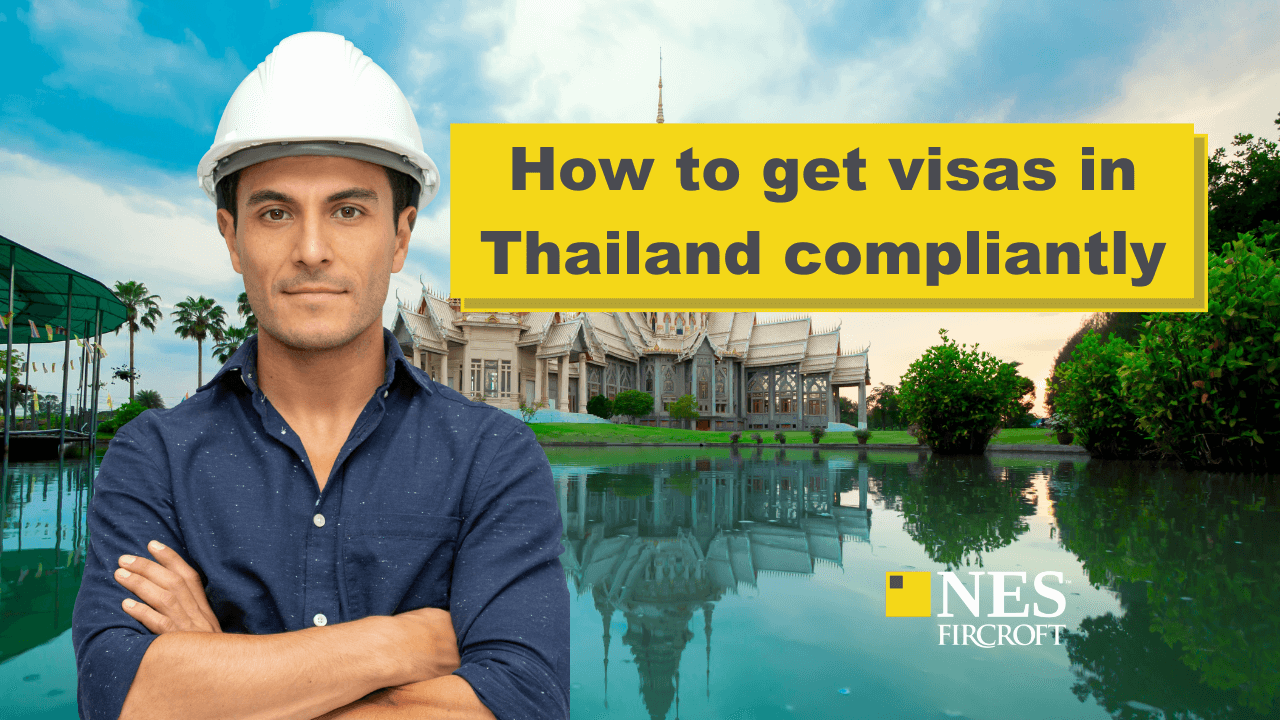 One of the biggest challenges for international companies, in developing new projects in new regions, is staffing. Businesses need to be aware of local and national employment regulations, permit procedures, and visa requirements. They will need to consider the requirements of operating in a new region, balanced against the project's staffing needs.
Our client, an International EPC company, found themselves with this challenge when they won a contract to be the main EPC on a downstream facility in Thailand worth USD$4 billion. With over 10 years of partnership in delivering staffing solutions, they selected NES Fircroft as a proven workforce solutions provider to meet this challenge.
The client had no previous business operations in Thailand during the initial phase of the project, so they needed to build a new team of over 350 staff to be based on the site. The team would consist of local personnel, as well as expatriate staff from existing areas of their business and experienced external talent.
This meant combining an understanding of local employment regulations in the country alongside visa application support for expatriate staff to meet the staffing needs of the project.
Here's how NES Fircroft helped them.
Services we provided to our client
​To meet this challenge, NES Fircroft supported the client with some of our key services;
A dedicated, local recruitment service – NES Fircroft deployed a team of local experts in Thailand to support the client with an all-inclusive recruitment service. The purpose of this team was to fully understand the employment environment in Thailand, and employment regulations concerning EPC, and then apply that knowledge to develop an efficient recruitment process.

Global mobility and contract workforce solutions – For the staff that NES Fircroft provided, we also supported the client with payrolling and work permit solutions, to build the client's team until they could support these operations independently. This meant the staff could be provided immediately for the project.

A complete service for visa applications and work permits for the client's employees – As a local employment expert, NES Fircroft provided a liaison point between the client and regulatory bodies. This included document preparation, liaising with the labour department in Thailand, making appointments for the collection of work permits, meeting the expatriates on the day of application, and supporting them when collecting the work permit, and completing 90-day reporting on behalf of each expatriate. As a result, full compliance was kept for every staff member NES Fircroft provided.
The Results – A project delivered fully staffed, on time
To support the project on time, NES Fircroft filed over 200 expatriate visa applications, none of which were rejected. This meant that all our client's expatriate staff were mobilized on time for the project kick-off, eliminating problems with staffing delays.['úpy;yOnce the client was established, they were able to move to their in-country business license and can now employ local staff at their site for the 4-year duration of the project.
Thanks to the high quality of service and ease of use, the client still uses NES Fircroft's visa and work permit services for employees on secondment and will continue to do so until the end of the project.
How NES Fircroft can help you
Our international award-winning team has over 50 years of experience in contractor workforce management globally. We can apply this knowledge to ensure your business has the right skills at the right time, combining local employment expertise in line with regional and national regulations, with our global network of staffing solutions to find and place highly skilled candidates.
As a partner, we support visa applications, work permits, and other support solutions to ensure projects start on time and are fully staffed with the correct documentation in place.
Get in touch with our experts to find out how NES Fircroft can support your regional workforce needs.One of the biggest challenges for international companies, in developing new projects in new regions, is staffing. Businesses need to be aware of local and national employment regulations, permit procedures, and visa requirements. They will need to consider the requirements of operating in a new region, balanced against the project's staffing needs. Our client, an International EPC company, found themselves with this challenge when they won a contract to be the main EPC on a downstream facility in Thailand worth USD$4 billion. With over 10 years of partnership in delivering staffing solutions, they selected NES Fircroft as a proven workforce solutions provider to meet this challenge. The client had no previous business operations in Thailand during the initial phase of the project, so they needed to build a new team of over 350 staff to be based on the site. The team would consist of local personnel, as well as expatriate staff from existing areas of their business and experienced external talent. This meant combining an understanding of local employment regulations in