Meet Our Colleagues – David Cabrera, Managing Consultant, Life Science
02 Feb, 2023
1:45
Ever wondered what it's like to work for NES Fircroft?In this series, our colleagues from ac...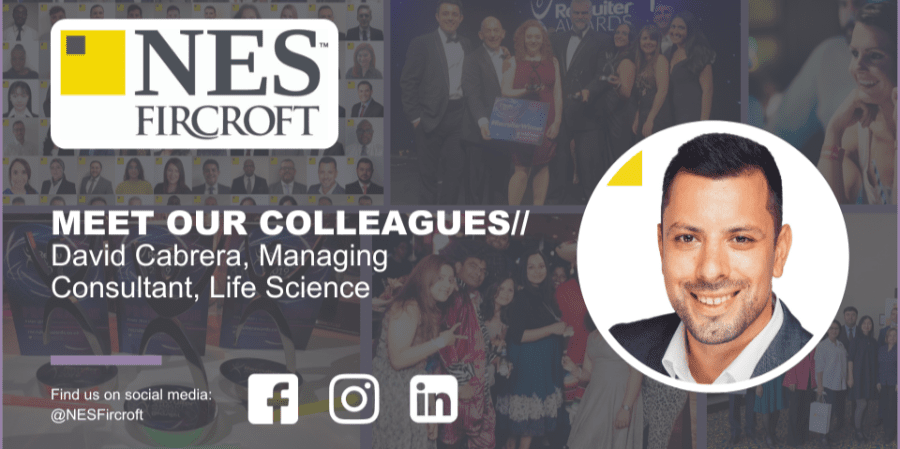 Ever wondered what it's like to work for NES Fircroft?
In this series, our colleagues from across the globe share their experiences working for the world's largest engineering staffing company! This time we spoke with David Cabrera, Managing Consultant in our Life Science team, about his career journey at NES Fircroft.
David joined NES Fircroft at the start of 2020 focussing on the Life Science sector in Germany. Today he leads a team of 6 focussing on all aspects of contract staffing within the Pharma, Biotech and Medical Device industries.
​What's been your best moment at NES Fircroft?
The best moment was our trip to Portugal!

Due to the excellent performance of the European teams, NES took us on a reward trip to Portugal. After 2 years of a rough pandemic and knowing most of my colleagues only via video chat it was great to meet everyone in person and connect with them while celebrating successes from the past year.
What values are important to you at work? How do you experience those values at NES?
Teamwork and customer focus are the most important values and the fundamentals to building a successful business, especially when you enter a new market as we did in Germany. I am happy that I am surrounded by people who feel the same. Not only in Germany but also my peers from the UK, Poland, France, and Switzerland feel the same way. Together we are creating an environment where we are supporting each other and going the extra mile to achieve great things for our customers.
How have you grown professionally while at NES Fircroft?
I feel that I improved my intercultural competencies a lot. In my position, I am constantly interacting with colleagues, candidates and clients from different countries and cultural backgrounds.
What makes NES Fircroft different from other companies you've worked for?
I think what really makes the difference at NES is the cross-border collaboration between our offices around the globe, which offers great benefit to our clients - they can access our global support and talent pools from over 100+ offices.
What is the best career lesson you've learned so far?
I learned to celebrate small wins. Overnight success is rare, and in the long run, these small wins can lead to great achievements.
Join NES Fircroft!
Do you want to be part of something big? We're enabling the progression of global healthcare.
In just 10 years we've more than doubled our international office count, tripled our internal headcount, made eight acquisitions and secured a spot on Staffing Industry Analysts' largest engineering recruitment firms. We know what we're doing.
We're currently growing our European Life Science division to further establish our brand as one of the top tier suppliers for the Pharma/Biotech and Devices industries.
Do you want to be part of this growth? Share your LinkedIn profile with us.