Relocating To Oman? What You Need To Know
07 Aug, 2019
4:30
Oman is the oldest Arab state in the world and is located in the southeast corner of the Ara...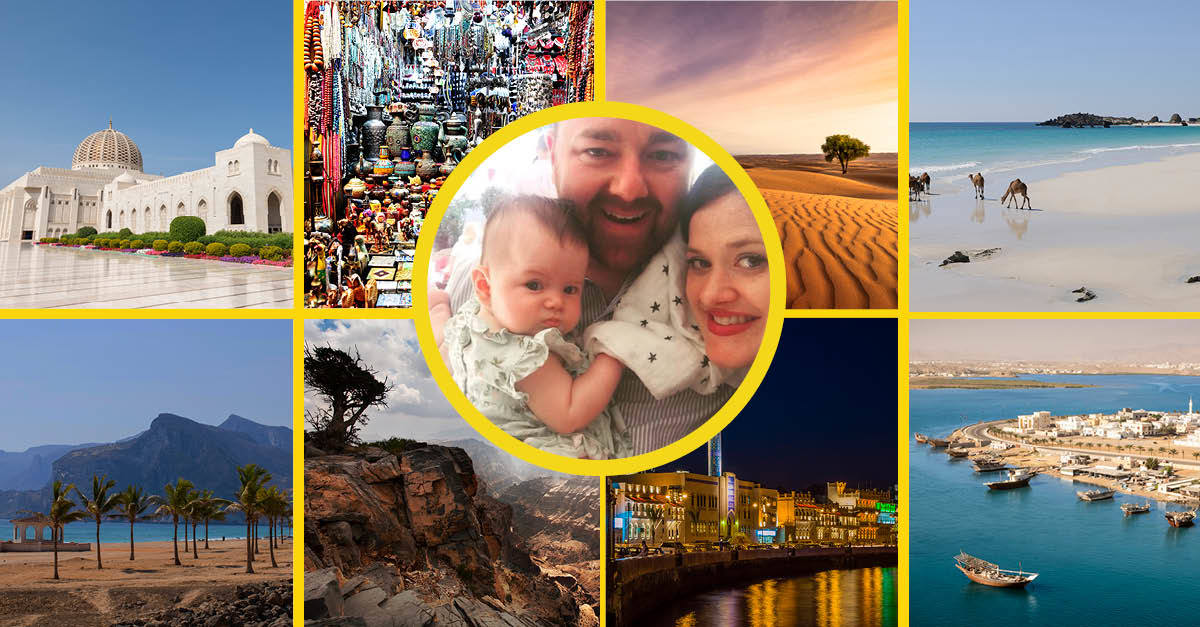 Oman is the oldest Arab state in the world and is located in the southeast corner of the Arabian Peninsula, sharing a boarder with the UAE. It boasts outstanding natural beauty from rocky mountain ranges to sweeping golden beaches. In the last 20 years, its popularity with expatriates has surged and more than doubled, meaning expats now contribute to more than 40% of Oman's population.
But, what's it really like to relocate to Oman? To find out, we spoke with NES Global Talent Managing Consultant, Daniel Hamilton, who recently relocated from the NES head office in Altrincham, UK to Oman on an open assignment.
When you were presented with the opportunity to relocate to Oman, what were your first thoughts?
I was excited! I have a friend and colleague that relocated to Oman four years ago and I've considered working with him there, but the time was never right for my family. When the opportunity came around again I wanted to take it and after a visit to Muscat with my wife we decided to go for it. We were both taken aback by how different it was to our initial impressions – there's no tall skyline like in neighbouring countries. Oman is full of history and we fell in love with it.
Why did you decide to relocate?
It came down to how family orientated Oman is. My wife and I have a young daughter and we felt this would be a good place for her to grow up – It gives her the opportunity to learn about a different culture and offered us a better work life balance and more family time.

The weather was also a big selling point. It's very hot and sunny which a completely different lifestyle to Manchester – it's great to be able to go to the beach in my spare time!
How did you find preparing for the move?
After I accepted the position, it was a few months before I actually moved so I did get a bit nervous. Saying goodbye to family members that can't travel was particularly difficult as I won't see them often now.

The visa process was a bit more difficult than usual too. You get your visa once you're in the country and you only have 30 days to do this, but the Visa system was down temporarily which created a backlog and meant timescales were tight. The process was difficult but I'm glad I've done it because it's given me a better understanding so I can help potential candidates with their move in the future.
What was the biggest difference you noticed when moving to Oman?
The biggest difference in my role is the focus in Oman is on not just finding the candidates, but also securing them Visas and offering global mobility solutions. That's quite a shift from what I was previously doing in the UK.

Personally, of course the temperature and weather is also a bit of a culture shock. Last week it was 40 degrees, so most people don't go outside! There's lots of air con though so it's not too bad. It took me about 2 weeks to get used to that.
There are several primary languages used in Oman, do you speak any of the local language and if not, how have you found the language barrier?
The main language is Arabic but there are lots of different dialects and that can be challenging. Oman also has a big mix of cultures from India to the Philippines so you do hear lots of different languages when you're out and about. However in Muscat where I am, lots of locals speak good English so I've had no trouble at all.

That being said, I am in the process of learning some Arabic which helps with client meetings and getting by generally day to day. The locals really appreciate it when you use some Arabic so I think it's important to try.
How have you found integrating into the Oman expat community?
It's been a really good experience. I'm lucky to have quite a few expats in the office and they have spent time helping me to adjust. I've been introduced to their friends and families and the wider community which has really helped me to settle in.
What is the best thing about relocating to Oman?
There is a real relaxed culture in Oman, the locals are warm and open towards expats and I've felt very welcome.
What was the hardest aspect about relocating?
I came out here alone first to get everything set up, so I would say the time away from family has been the most challenging. Certainly in the first week of moving. I've gone about a month now without seeing my wife and daughter which is hard. Especially because my daughter is so young and is growing and changing all the time!
Is there anything you wish you had known prior to the move? Or anywhere you could have done with more support?
In short, no! My colleagues in Oman had relocated many people prior to me so the process was quite smooth. Also, by the time we made the decision to move we felt very well informed because we had chance to visit before I accepted the job.
What do you do for fun in Oman?
The main things really are relaxing by the pool, exploring the large shopping malls and going to restaurants and the gym.
What is the cost of living like?
There are some differences to the cost of living. Imported items like certain food, clothes and of course alcohol is expensive but some things are cheaper like electronics and petrol so I think it probably balances out.
What tips would you give to someone thinking about relocating to Oman?
The most important thing is to make sure you do your research and understand the culture. I would recommend visiting first if you can to get a feel for the place and above all make sure your family is happy and comfortable – everyone has to be happy because your family is a very important part of relocation.
Any finally, how did you find the support from NES?
The teams at NES were great. I really can't speak highly enough of the whole team. Assignment support and also my colleagues in Oman answered any questions I had and made me feel welcome and comfortable. I can't thank NES enough for giving us this fantastic opportunity.
NES and Relocation to the Middle East
Did you know that as an Expat in Oman, you will pay:
0% Income Tax
0% Capital Gains Tax
0% Social Security Tax
And you will have no Individual Tax Compliance Obligations?
We did! NES opened our first Middle East office in Doha in 1999. Since then, we have expanded across the region establishing operations in Abu Dhabi, Dubai, Damman, Erbil, Basra, Muscat and most recently Mumbai. We have placed thousands of contractors in The Middle East and can help clients mobilise their workforces in a way that provides a positive experience for all - just like we did for Daniel.
Relocating is one of the most stressful experiences a person can do, so it's important you seek help and advice from experienced professionals. At NES, we can help candidates have a smooth relocation utilising our dedicated assignment support services.
NES can help clients and candidates, every step of the way.