The World's Top LNG Companies
18 May, 2023
5:30
The Shell LNG Outlook found that global demand for LNG increased to 397 million tonnes in 20...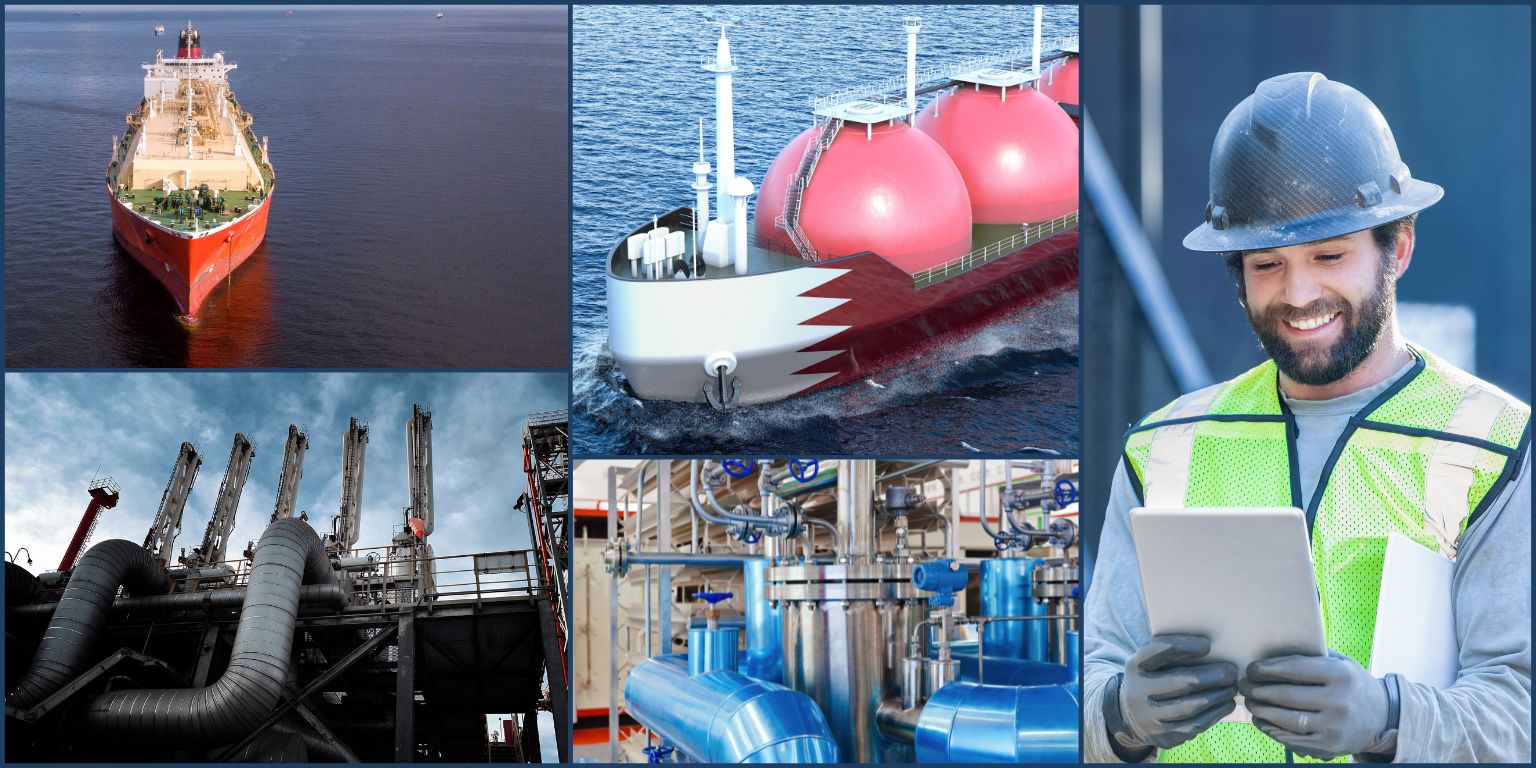 The Shell LNG Outlook found that global demand for LNG increased to 397 million tonnes in 2022, demonstrating the flexibility and resilience of the LNG industry.

Shell's research also highlighted that demand would reach 700 million tonnes by 2040, due to a growing demand for natural gas across Asia and increased traction in powering sectors that are hard to electrify. By comparison, LNG trade was at 100 million tonnes in 2000, increasing to just under 300 million in 2017, and stood at a mere 80,000 tonnes back in 1964, when the LNG trade began.
With the LNG landscape changing year by year, one of the main drivers for this rise in demand is that the LNG sector presents great opportunities when it comes to tackling climate change. LNG is emerging as a cost-competitive and cleaner-burning fuel with particularly attractive applications within the heavy-duty road transport and shipping industries, making it a great tool for companies looking to achieve net-zero.
So, which are the world's top companies driving growth in the LNG sector?

Qatargas
Qatargas, originally established in 1984 as a joint venture between Qatar Petroleum, ExxonMobil, and other partners, is the biggest LNG producer in the world. The company currently has a total of 208 wells which supply approximately 18.5 billion standard cubic feet of gas.
Qatargas also operates 14 LNG trains, six of which are 'mega trains', each with a production capacity of 7.8 million tonnes per annum (mtpa). These add up to a total annual production capacity of 77mtpa.
The company develops, produces, and sells hydrocarbons from Qatar's North Field, the world's biggest non-associated natural gas field, which spans more than 6,000 square kilometres. Discovered in 1971, it took 14 years and the drilling of 15 appraisal wells to fully understand the magnitude of the field. Indeed, it's now been established that it has recoverable reserves of more than 900 trillion standard cubic feet or about 10% of the world's known reserves.
As well as producing LNG, Qatargas exports helium, natural gas, condensate, and related products.
​
Cheniere Energy
Cheniere Energy is currently the largest LNG producer in the United States. The company operates two LNG facilities along the U.S. Gulf Coast, Sabine Pass and Corpus Christi. As of 2022, Cheniere Energy is the second-largest LNG operator by storage capacity. Not only does Cheniere produce LNG, but it also exports it across five different continents.
Cheniere's Sabine Pass LNG facility, located in Southwest Louisiana, started export operations in 2016. The facility currently consists of 6 fully operational liquefaction units, also called trains. The site covers over 1000 acres in total and has a predicted LNG production capacity of around 30mtpa.
Corpus Christi, Cheniere's second LNG facility, is in South Texas. It was the first greenfield LNG export facility in the U.S. lower 48. It began operations in 2018 and has 3 liquefaction units, adding up to a total production capacity of 15mtpa.
​
ExxonMobil
ExxonMobil has been working within LNG for more than four decades and is currently involved in the production 23mtpa of LNG globally and with suppliers, delivers to 30 countries. One of its largest operated LNG facilities is in Papua New Guinea. The PNG LNG project started exporting liquified natural gas in 2014 and recently reached a production capacity of 8.3mtpa, a 20% increase over the facility's original capacity.
Since it started operations PNG LNG has produced over 19 million tonnes of LNG and loaded 262 cargoes, delivering LNG to clients across Asia.
ExxonMobil is also present in Qatar, where they're involved in the operation of the four largest producing trains in the world, each of which has a capacity of 7.8 million tonnes per year.
In Europe, they have added 2.8 billion cubic feet per day of LNG regasification capacity by opening the South Hook terminal in Wales (Europe's largest terminal) and the Adriatic LNG terminal offshore Italy.
​
Chevron
Chevron is another major player within LNG. They currently operate 118 import terminals and 28 export terminals worldwide. To date, their biggest single resource project is the Gorgon Gas Project in Australia, worth $43 billion. Chevron has a 47.3% stake in the Gorgon LNG trains 1 to 3.
The Gorgon project, which received a final investment decision (FID) in September 2009, is also one of the world's largest natural gas projects. Indeed, it produces on average a total of 2.1 billion cubic feet of natural gas per day and 15,000 barrels of condensate in 2020. The LNG production capacity for the project is 15.6 million metric tons per year.
The project has also had an important impact on the local economy, creating more than 60 thousand direct and indirect local jobs. It's been forecasted that the project would add AU$440 billion to Australia's GDP.

The project is currently seeing development with the aim of maintaining capacity, which was set to finish in 2023. Gorgon Stage 2 will add 11 new wells - seven at the Gorgon field and four at their Jansz-Io field through an expanded gathering system.

Chevron's other major project in Australia is the Wheatstone Project, one of Australia's biggest resource developments, for which they have 64.1% ownership. The foundation project involves two LNG trains with a total capacity of 8.9 mtpa and a domestic gas plant.
Chevron also has a 36.4% stake in Angola LNG Limited, which operates Angola's first LNG plant. The plant, located in Soyo, has a 5.2 mtpa capacity and the first shipment was made in 2013. It was also the first LNG plant in the world to be supplied with associated gas, where natural gas is a by-product of crude oil production. The plant has a processing capacity of 1.1 billion cubic feet of natural gas per day.
​
Royal Dutch Shell
Shell has had more than 50 years of experience within the liquified natural gas sector. They were already involved in the first-ever commercial LNG liquefaction plant, located in Arzew, Algeria, back in 1964. They also shipped the first commercial cargo from Algeria to the UK that same year, setting a precedent for global trade.
Shell has invested a lot of time and money over the years into developing LNG technology ever further. In 2019, they shipped their first liquified gas cargo to customers in Asia from their new Prelude FLNG (Floating Liquified Natural Gas) project. This is the biggest FLNG facility in the world, producing 3.6 mtpa of LNG, 1.3 mtpa of condensate and 0.4 mtpa of LPG (liquified petroleum gas).
The company is one of the largest LNG shipping operators in the world. At present, they are managing and operating over 40 carriers and have 50 on time-charter, which represents about 20% of the global LNG shipping fleet.
They also buy and sell LNG to and from Shell, its trading partners, and third parties, as well as having LNG supply projects worldwide. Furthermore, Shell has major stakes in two regasification plants, Hazira in India and Dragon in the UK, whilst having access to capacity in North America, the Middle East and Europe.
​
China National Petroleum Corporation (CNCP)
CNCP is China's largest natural gas producer and supplier with a natural gas output of 137.79 billion cubic meters per year in China. The company has built a diversified gas supply system over the years to satisfy the growing demand for gas across China. They had two terminals in Jiangsu and Tangshan as of the end of 2021 which have unloaded 16.51 billion cubic meters of LNG.
In 2021, the Company had 16 LNG plants in operation, with a total LNG processing volume of 2.4 billion cubic meters.
The Tangshan LNG project includes a dock, trestle, and receiving terminals. It has a storage of 640 thousand cubic meters, whilst the terminals were constructed in two parts with an annual capacity of 10 million tons.
The Jiangsu LNG project involves an artificial island, receiving terminals, a dock and trestle, a submarine pipeline, and a gas trunk line. It mainly receives, stores, regasifies, and transports LNG from abroad. The terminals for the Jiangsu project were constructed in two phases. The first phase became operational in November 2011. It's capable of receiving 3.5 mtpa of LNG and delivering 4.8 billion cubic meters of natural gas per year. The second phase became operational at the end of 2013 and has a receiving capacity of 6.5 million metric tons and gas deliverability of 8.7 billion cubic meters per year.
The Dalian LNG project includes unloading, storage, regasification, transportation, and tanker loading. It has a receiving capacity of 10 million tons of LNG and a delivering capacity of 13.5 bcm (billion cubic meters) of natural gas annually.
​
NES Fircroft and supporting the Oil and Gas industry
NES Fircroft has been recruiting engineering and technical professionals for global oil & gas jobs since 1970. Our recruiters source candidates for some of the biggest energy projects across the world, with jobs available across various industry verticals. Upload your cv to our database or view our current vacancies to find your next role in the oil and gas industry.
Through tailored workforce solutions, we'll help energy clients to staff their projects, and through demonstrable experience (we're proud to look after over 12,500 contractors), our discipline-specific recruiters will help support contractors on their assignments, and help candidates prepare for the job market.