Thinking Of Joining The Great Resignation? What To Consider When Making A Move
19 Jan, 2022
4:23
The Great Resignation has been the topic of many conversations recently. The term was coined...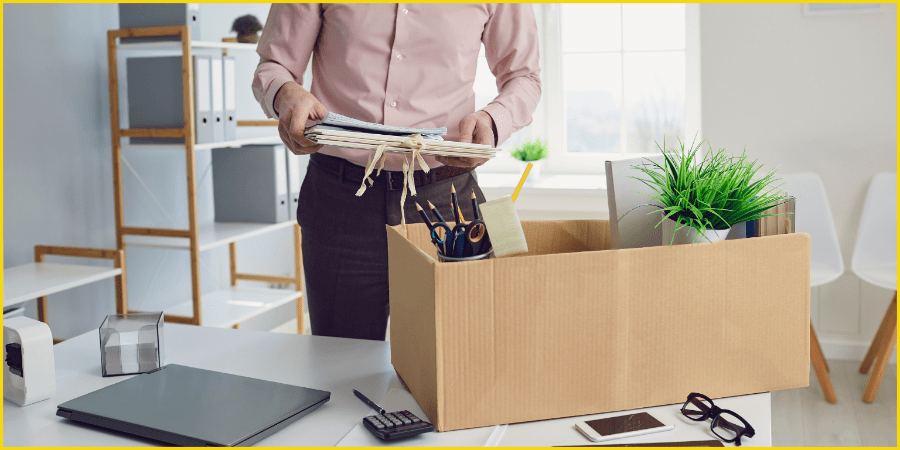 The Great Resignation has been the topic of many conversations recently. The term was coined by Anthony Klotz, a professor at Mays Business School (Texas A&M University). It refers to the recent trend, which started in early 2021, of employees voluntarily resigning en masse, predominantly in the United States. According to the US Bureau of Labor Statistics, in April 2021, more than 4 million people quit their jobs, and this increased to hit a high of 4.4 million in September 2021.
In recent months, this trend has spread across the globe as the pandemic allowed many to reassess their careers, pushing companies to adapt and rethink how they operate. So, before you join the Great Resignation, what should you consider?
​
​Work location: Is office work for you or do you prefer working remotely?
With the arrival of the COVID-19 pandemic, many countries worldwide set out lockdown measures and home-working rules meaning most of us will have experienced working remotely at some point.
The pandemic has revolutionised the way we work, and companies have had to adapt overnight to accommodate new home-working regulations. Most experts agree these changes are here to stay and many companies have already announced they would not be asking their employees to come back into the workplace full-time. Depending on where you are at in your career, remote work, office work, or a combination of both might suit you best.
Employees who are starting in their career might prefer being in the office full time, where they can benefit from closer contact with peers and management and learn from them directly rather than behind a screen. Conversely, working remotely might better suit people who are further into their careers and don't need as much guidance.
When contemplating whether to leave or not and what you want from your next position, think about what works for you. There are plenty of companies that have embraced remote working, whilst others prefer having their workers in the office. It's also important to consider how your current company has reacted to the pandemic and the steps it has taken (or not) to guarantee employee safety and compliance with regulations. You might be working from home now and enjoy this, has your company declared whether this will become permanent? On the other hand, you might miss the office environment and a permanent work-from-home solution fills you with dread.
There are pros and cons to both and knowing what environment you want to work in (and what your current company is providing) will make it easier to decide whether to resign or not.
​
Flexibility and work-life balance: What are your priorities in life?
For many, the COVID-19 pandemic has led to a time of reflection. Working from home and not having to commute to work has meant a lot of people have had more time to focus on other activities outside of work, whether that be spending more time with family, having more time to perform household tasks, or picking up a new hobby.
When considering where you might go if you resign from your current position, think about what matters for you most and how work fits in with the rest of your life and responsibilities. For example, you might have young children who need taking to school. Then working for a company that allows you to come in later might save you a lot of stress.
Or you might find that you are a lot more productive early in the morning and would rather have your afternoons free to practice a hobby. Companies that can accommodate their workers' wishes have a far better chance of both retaining and attracting employees.
If you're thinking of resigning, consider what kind of work-life balance you want, and then determine whether your current company can support this, and if not, what other companies could afford you the flexibility you desire?
​
Do you still want to work in the same industry?
For many, the pandemic has been an opportunity to rethink their whole career and contemplate changing industries. Maybe you're currently working in Oil and Gas but have been wanting to transition into the Renewable Energy industry? Or you've been working for years in the chemical industry and have transferable skills within the Life Science industry?
Although the prospect of changing industries can be daunting, you're likely to be welcomed with open arms - many businesses are happy to consider candidates from different industries as they can bring in new ideas and unique perspectives.
Conversely, by switching industries, you open yourself up to learn new skills, which can be extremely valuable for your long-term career development. Think about the skills you currently have as well as the ones you might need to acquire to switch industries so that you can plan and make an informed decision.
​
Could self-employment be the right move for you?
Several people who joined this wave of resignations at the start of the pandemic quit their jobs because they wanted to work for themselves. Whilst this is not necessarily suitable for everyone, or even an option for some, it's something worth considering.
There are many perks to working for yourself. You can set your own work schedule, choose your own projects, and you alone are accountable for your successes (or failures). Before deciding whether to become a contractor and work independently, consider:
Do you enjoy having the structure of company guidelines and rules?

Do you enjoy working as part of a team?

Do you enjoy being independent and making your own decisions?

Are you more of a risk-taker or do you prefer the job security associated with being part of a company?
Depending on your answers to these questions, being self-employed might or might not be the best fit for you.
​
Do you have opportunities for growth in your current position?
Being in a company with few progression opportunities can massively impact job satisfaction. During the Great Resignation, career growth prospects, or lack thereof, has been another motivator for people leaving their jobs.
The pandemic has brought on great uncertainty and has led to many people reconsidering where they want to be in the next 5-10 years. Many have found that they needed a push to make the move to improve their career prospects. Companies that have made their employees feel valued and have rewarded them for their hard work with promotions and recognition have been better able to retain and attract talent.
So, think about whether your current employer values you and whether there is space for you to grow within its ranks. If not, then it might be worth considering making a change and joining the Great Resignation.
​
How NES Fircroft can help you progress your career
NES Fircroft has been supporting engineers, candidates, and technical clients across many different industries throughout the past 50 years. If you're looking for your next career move, look at our latest job opportunities now.
If you're looking for more career tips and advice, check out our blog or sign up to our EngineeringPro newsletter, to receive the latest career advice, industry news, job opportunities and more, directly to your inbox.