Top 5 Renewable Energy Projects in Saudi Arabia
23 Oct, 2023
4 minutes
Saudi Arabia has a long history of being an oil and gas powerhouse. While fossil fuels remai...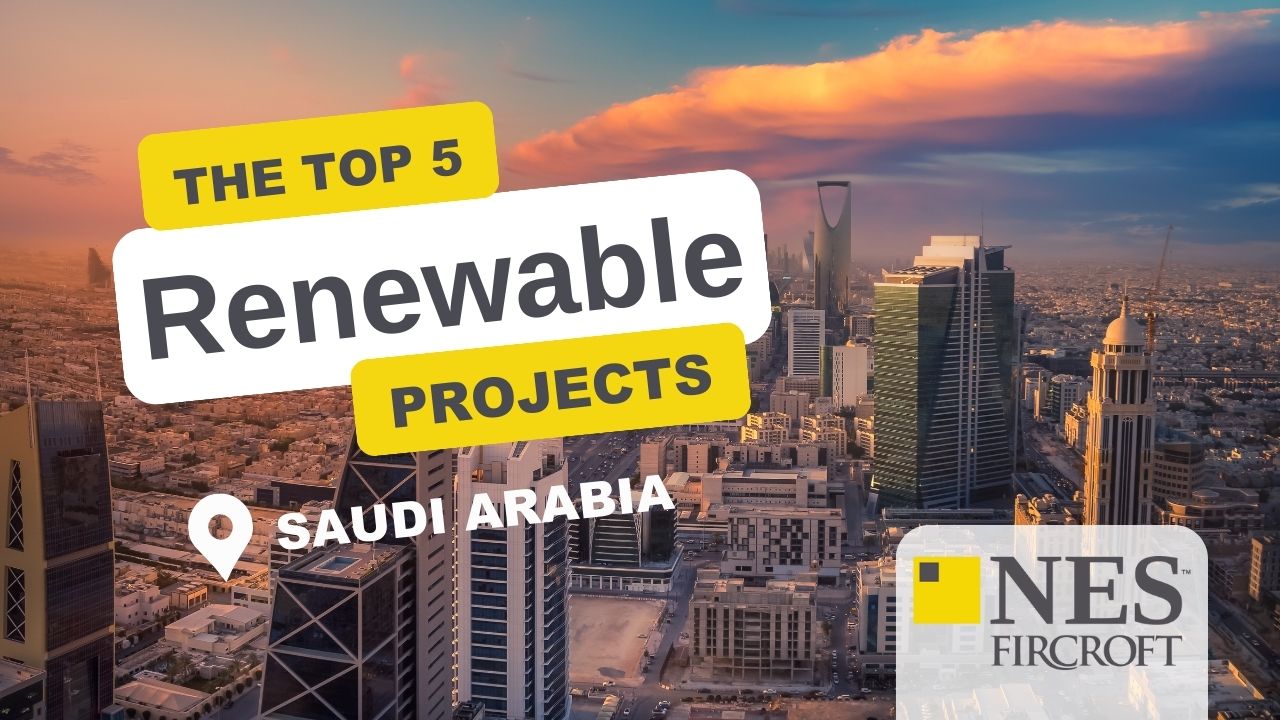 Saudi Arabia has a long history of being an oil and gas powerhouse. While fossil fuels remain dominant, the global energy transition has prompted nations of all shapes and sizes to work towards more sustainable and renewable methods of energy production.
This blog looks at Saudi Arabia's Vision 2030, which highlights its goals to diversify its energy mix, and share some of the kingdom's most exciting renewable projects.
The Global Energy Transition
The global energy sector is experiencing a shift from fossil-fuel sources such as coal, oil, and gas to more sustainable renewable energy sources such as wind and solar.
This energy transition is designed to minimise the carbon emissions linked to energy and fight climate change by increasing the share of renewables in the energy mix and exploring how to make traditional energy sources carbon neutral.
Despite the difficulties brought on by the pandemic, investments in energy transition technology have increased by 70% since 2019. Achieving the desired net zero objectives necessitates investment at an unrivalled rate and magnitude.
The Kingdom's Vision
Saudi Aramco, officially the Saudi Arabian Oil Group, is one of the largest companies in the world by revenue and the world's largest integrated oil and gas company, so it's clear Saudi Arabia's oil and gas industry is successful and lucrative. However, the kingdom is keen to expand its energy offering.
Saudi Arabia's Vision 2030 is an ambitious government project focussing on the kingdom's goals to diversify the country economically, socially, and culturally. The project is built on three primary themes: a vibrant society, a thriving economy, and an ambitious nation.
Vision 2030 was developed by the Council of Economic and Development Affairs, chaired by Deputy Crown Prince Mohammed bin Salman. Reforming the kingdom's energy output is a key focus of the project; the Saudi Green Initiative works to increase their reliance on clean energy, offsetting emissions and protecting the environment.
As a leading energy producer, the kingdom is working to contribute positively to the global energy transition. It has already started taking steps to diversify its energy output, resulting in several exciting renewable energy projects.

Dumat Al Jandal Wind Farm
Type: Wind | Status: Operating | Output: 400MW
Located 900km north of Riyadh in the Al-Jouf region of Saudi Arabia is Dumat Al Jandal, Saudi Arabia's first utility-scale wind project. It's made up of 99 wind turbines, each reportedly capable of generating electricity for up to 70,000 homes in the kingdom.
A group led by EDF Renewables and Masdar developed the 400MW project, creating more than 600 jobs during construction. The project was officially connected to the grid in 2021 and became fully operational in 2022, costing an estimated $500 million to construct.
Sakaka Solar Power Plant
Type: Solar | Status: Operating | Output: 300MW
The Sakaka Solar Project is a 300MW photovoltaic solar project located in Al Jouf, Saudi Arabia. It consists of a staggering 1.2 million solar panels arranged over 6km2. The plant offers a 606kton annual reduction in carbon emissions and generates enough electricity to power 44,000 homes.
The project started operations in June 2021 and is predicted to offset 10.5 million tonnes of CO2 in its lifetime. The project is managed by Saudi Arabia's Ministry of Energy, Industry and Mineral Resources (MEIM).
Neom Green Hydrogen Solar PV Project
Type: Green Hydrogen | Status: In Progress | Predicted Output: 600 Tonnes Daily
The NEOM Green Hydrogen Project is a highly anticipated joint venture between ACWA Power, Air Products and NEOM to develop the world's largest green hydrogen facility at the Neom site in Saudi Arabia.
The project has an astounding total investment value of $8.4 billion. It aims to pioneer and accelerate the adoption of green hydrogen by producing 600 tons per day of carbon-free hydrogen by completion at the end of 2026.
Powered entirely by 100% renewable energy, it represents a significant step towards a carbon-free future for Saudi Arabia and establishes the kingdom as a global leader in the hydrogen revolution.

Sudair Solar PV Project
Type: Solar | Status: In Progress | Predicted Output: 1,500MW
This Riyadh-based solar project is under the development of Acwa Power and Saudi Aramco Power. The plant is predicted to generate an incredible 1,500MW once completed in 2024.
It's set to become one of the world's largest single-contracted solar PV plants. It costs over $900 million and is expected to provide 70% of the country's total renewable energy by 2030.
Shuaibah Solar PV Project
Type: Solar | Status: In Progress | Predicted Output: 2,060MW
Set to become the Middle East's largest solar facility, the Shuaibah Solar PV Park will be built in Al Shuaibah, Makkah province. The Water and Electricity Holding Company and ACWA Power are set to pair up to develop the project to produce enough electricity to power 350,000 homes.
With hopes to have the project operating by 2025, it marks another step towards a greener future for the kingdom.

Working Towards a Greener Future
The demand for skilled engineers in the renewable sector is as high as ever. Companies require engineers to research, design and construct the future of renewable energy through the climate crisis.
NES Fircroft's expert recruitment teams source engineering and technical professionals for global roles with some of the biggest names in energy. You can view all our open vacancies or register your CV with us today for free to ensure you're first in line for future jobs in this expanding industry.