Top Chemical Projects To Watch In Asia Pacific 2021
01 Sep, 2021
5:11
Asia Pacific has become an important player in the global chemical market. The region accoun...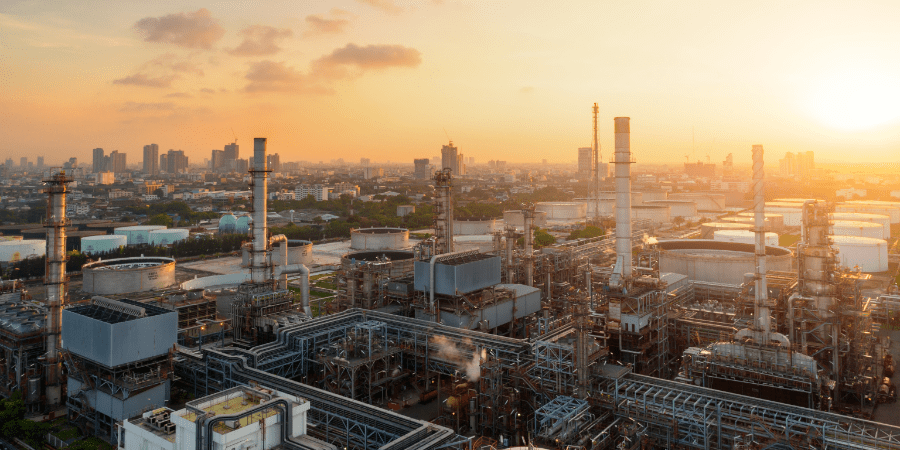 Asia Pacific has become an important player in the global chemical market. The region accounts for more than 45% of the global chemical manufacturing business and of the 120 million chemical jobs across the globe, 69% are based in Asia Pacific, meaning career opportunities are abundant for skilled technical personnel.
The industry has also played a critical role over the last year in producing supplies to fight COVID-19– such as personal protective equipment and hand sanitisers.
If you're looking for your next job within chemicals, here are the major projects within the region that are transforming the chemical industry.

Chemical Projects in Singapore
Sabic Saffron B Polymer plant
Asia has become one of Sabic's most profitable regions and largest sales markets. In 2018, the company announced the construction of a new manufacturing facility in Singapore, to produce Sabic's Extem and Ultem resins. The additional manufacturing plant in Singapore is projected to increase their production by 50%, localising their supply for Asia, reducing lead times, and assisting with qualifying cycle applications.
The company employs more than 3,000 people in APAC and the facility plans to open by the end of 2022.
Neste Biofuels Refinery
Neste's biofuel refinery is currently undergoing a major expansion - over $1.6 billion has been invested into the plant to increase its capacity and produce more renewable products. The expansion will enable raw material treatment capability and provide product solution opportunities within the entire production system.
Products produced by the plant include but are not limited to, renewable aviation fuel, renewable diesel, raw materials for various polymers, and chemical materials. The expansion has created 400 jobs in APAC and will increase its operational capacity to produce close to 4.5 million tons annually.
Neste plans to have the expansion completed by early 2023.

Arkema Symphony Project
In 2017, Arkema announced construction in Jurong Island of a new flagship Rilsan Polyamide 11 and Amino 11 manufacturing plant. Once complete, the state-of-the-art facility will be the world's largest integrated bio-factory for high-performance polymers.
The new facility's production is projected to generate a 50% increase in the production of Amino 11 and Rilsan Polyamide 11, which will be derived from 100% renewable castor beans. The facility is scheduled to be completed by the first half of 2022.
Linde Singapore Upgrade Project
The investment of US$1.4 billion into the expansion of Linde's current manufacturing plant was announced in 2019. The gasification facility on Jurong island will quadruple its current production of hydrogen and synthesis gas in Singapore, with the installation of four additional gasifiers to supply hydrogen, carbon monoxide and synthesis gas to other customers on the island.
Linde expects to double their operational and manufacturing employees when the plant is operational. In addition to the new facility, Linde will also be performing modifications and interconnections to the facilities that will continue for several years after the facility has been built.

Chemical Projects in China
INVISTA China
In 2020, Invista announced a $1 billion investment into the production of a Nylon chemical plant that will be integrated into the existing HMD polymer facilities. Scheduled for completion in 2022, the manufacturing facility will inhabit Invista's most advanced and energy-efficient adiponitrile (ADN) technology with the capacity to reduce energy consumption, lower greenhouse gas emissions, enhance process stability and reduce capital intensity compared to existing technologies.
ADN will offer domestic customers essential elements to produce nylon 6/6 and other high-value products, appealing to the automobile industry, industrial applications, electrical and electronic industry. The project will cultivate local talent, employment opportunities and enable relevant industries to collaborate.
BASF Verbund Project China
In 2018, BASF announced a US$10 billion investment into the construction of their third largest site in China. The facility will feature a comprehensive smart manufacturing concept based on cutting-edge technologies and implementation of automated packaging, high-tech control systems, automated guided vehicles and 100% renewable electricity.
Verbund will be built in phases, the first plant will be operational in 2022 producing engineering plastics and thermoplastic polyurethanes. The site will require approximately 2,000 employees and up to 1,000 external contractors.
The entire Verbund site will include a petrochemical plant and steam cracker with the capacity to generate 1 million metric tons of ethylene per year. The plant will occupy 9 square kilometres and is due for completion in 2030.

Zhoushan (Zhejiang) Refinery and Petrochemical Complex Phase 2
The commission of Zhejiang Petrochemical Company's refining and petrochemical integration project started in 2021. The facility inhabits 6.25 square kilometres of Dayushan Island, becoming China's largest refinery upon completion. Phase 2 will double the production of both ethylene and crude oil with the implementation of two ethylene units, and a second crude oil distillation unit. The plant is expected to yield 2.8 million mt/year ethylene and 800,000 barrels per day of crude oil.
Zhoushan is planning to build more facilities on Jintang island, including several crude terminals and crude storage, over the next five years.
​
Chemical Projects in Indonesia
Cabot Corporation - Cilegon Carbon Black Plant
In 2021, Cabot Corporation completed the expansion of their Cilegon carbon black plant in Indonesia, bringing them closer to achieving their goal to increase production capacity by 300,000 metric tons per year. Supply and demand for carbon black increases by 4-5% each year, and their expansion has enabled them to support the worldwide demand for tire, industrial rubber and speciality carbons.
INEOS Aromatic's PTA Plant
A major upgrade of INEOS Aromatic's PTA plant in Indonesia was announced in 2021. The plant produces purified terephthalic acid, employed by the polyester industry to produce PET bottles, textiles, film and an array of products to the APAC region.
The upgrade and modernisation of the plant involves the installation of a larger oxidation reactor, an overhead heat recovery system and modification of the main air compressor. The upgrades will significantly reduce energy consumption, chemical usage, and the demand for utilities.

Chemical Projects in Malaysia
Pengerang Refinery and Petrochemical Integrated Development (RAPID)
Petronas has invested $27 billion into further diversifying its portfolio to produce refined fuels and high-value petrochemical products. The RAPID refinery utilises modern technologies to produce gasoline and diesel that meet Euro 4 and Euro 5 fuel specifications, supplies feedstock for the petrochemical complex in compliance with stringent environmental regulations.
The RAPID project was completed in 2018 and spans across 6,242 acres to form part of the greater Pengerang Integrated Petroleum Complex (PIPC) which occupies 2,000 hectares. It's the largest single construction project in Malaysia and required approximately 70,000 workers during construction. It's expected to generate 4,000 new jobs post-completion, as well as employment opportunities from suppliers and related industries.
​
Chemical Projects in Brunei
Pulau Muara Besar Refinery & Petrochemical Complex Phase 2
Hengyi Petrochemical Co Ltd plan to invest $13.65 billion to execute phase 2 of the refinery and petrochemical complex in Brunei. Once completed, it will be Brunei's largest foreign investment project. Scheduled for commission in 2022, the complex will take three years to complete and will generate an additional annual net profit of approximately $1.72 billion.
The manufacturing facility is set to increase the production of crude oil by 14 million tons, p-xylene by 2 million tons and ethylene by 1.5 million tons. The facility plans to expand the aromatics and cracker plant to provide essential building blocks for the petrochemical industry.

Chemical Projects in Vietnam
Long Son Petrochemical Complex
The construction of the Long Son Petrochemical Complex started in 2018, with its opening scheduled for 2023. The complex has received an investment of $5.1 billion which will create 20,000 construction jobs and more than 1,000 technical roles once commercial operations begin.
The facility will produce up to two million tons per year of petrochemical products including essential plastic materials such as polyethylene, polypropylene, and others, that will substitute imported polyolefin products. SCG anticipates the project will encourage long-term investment in relevant industries in the value chain and improve product competitiveness
​
NES Fircroft and supporting the Chemical industry
We have over 20 years' experience in the Process and Chemical Manufacturing sector sourcing and managing personnel for a complete range of contract and permanent placements.
Working with global manufacturers of Bulk Chemicals, Speciality Chemicals, Fine chemicals and Oil Refining, our knowledge of process development and project execution with our specialist understanding of regulations such as COMAH regulations and the Seveso III directive help us to find the best candidates for our clients' projects.
If you have a staffing requirement, get in touch, or search our Chemical jobs to find your next position.