Top Productivity Tips To Get You Organised
10 Aug, 2022
3:47
Most people will have been guilty of procrastination at some point or another. Being product...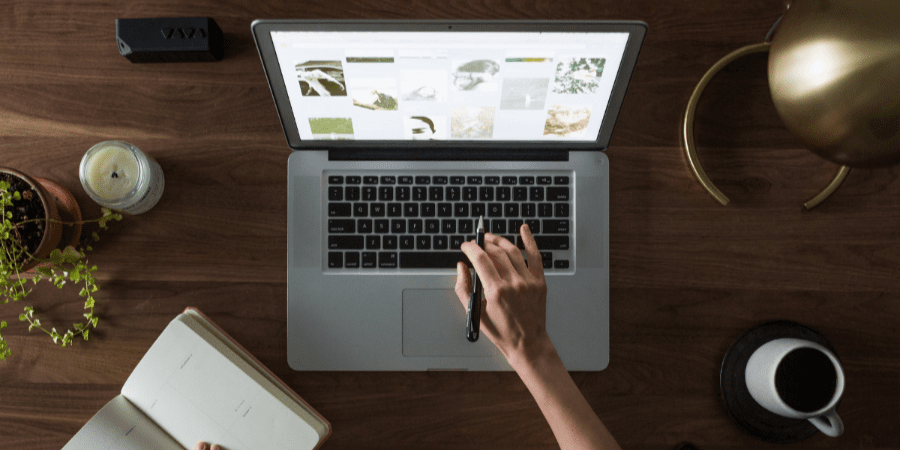 Most people will have been guilty of procrastination at some point or another. Being productive is not always easy and if you're struggling with this, you're not the only one!
To give you an indication, a piece of research led by vouchercloud found that on average, people were productive for 2 hours and 53 minutes a day, with social media and news websites the main magnets for people's attention.
So, what can you do to increase your productivity? Here are our top tips!

​
Create an Urgent-Important Matrix
The Urgent-Important Matrix, also referred to as the Eisenhower Matrix after the former president of the United States, can be a great tool to help you manage your tasks and time more effectively.
Essentially, this matrix is a grid composed of four sections:
Important and urgent tasks: things that need doing immediately

Important but non-urgent tasks: things that you can schedule to do later

Urgent but not important tasks: things that can be delegated to other members of your team

Not urgent and not important tasks: things you can remove from your task list
When you start filling in the matrix, it becomes a lot easier to organise your day and prioritise different activities. This means you don't waste as much time doing things that don't matter, and you can focus on the tasks that do matter.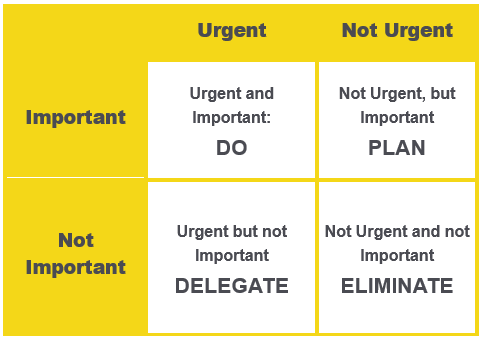 ​
Productivity Planners and Apps
Using a productivity planner can also be a great way to get organised. Whether that be a physical pen and paper planner or an app, there are plenty of options out there designed to make your life easier.
A few examples of digital platforms and apps you can use to get yourself and your team organised are:
Trello: A work management tool that you can use yourself or as part of a team. With Trello, it becomes easy to create plans, collaborate on projects, and streamline workflows, whilst keeping an overview of the progress you and your team are making. It makes it possible to organise both day-to-day tasks and longer-term projects.

Microsoft To Do: an app that enables you to create different task lists so that you can track exactly what needs doing. Because it's linked to your email address, you can access it on any device. You can also easily share lists with other people.

Taskable: allows you to bring all your different applications such as emails, online meetings, calendars, tasks, and files in one place so that you spend less time searching. With Taskable, you can connect different apps such as Trello, Microsoft Outlook, Google Calendar, Slack, Zoom, and Hubspot to it.
Using tools such as these, it becomes a lot easier to keep track of everything that needs doing, especially when work gets particularly busy.
​
Take regular breaks
This one might sound counterintuitive at first, but plenty of studies have demonstrated that taking regular breaks improves productivity, focus, creativity, well-being, job satisfaction, mental health, and work engagement.
On the other hand, not taking any break increases the likelihood of burnout and drastically increases stress levels.
Taking breaks also prevents decision fatigue. Taking some time to relax and refuel, even for just a few minutes, means that when you come back, you're able to make better decisions.
A couple of guidelines for taking breaks are to:
Do something that uses a different part of the brain from your work and step away from your desk. If you're working at a desk, for example, you could go for a walk, practice a few breathing exercises, have a snack, or make a drink.

Take short but regular breaks, followed by a longer one. Some people refer to this as the Pomodoro technique, after the tomato-shaped kitchen timers. This involves setting a 25-minute timer during which you work, followed by a 5-minute break. Repeat this 4 times and then take a longer break of about 15 to 30 minutes.
​
Take some time at the end of each day to plan your next one
Blocking out some time at the end of each day to determine what you need to be doing the next day can be helpful when it comes to organisation and productivity.
Your plan doesn't have to be excessively intricate, and you should allow for some flexibility, as things often come up that are unexpected and for which you need to switch things around.
If you already know what you need to be doing when you start your day, you can hit the ground running.
​
Block out focus periods
We all know how easy it is to get distracted by messages and emails from colleagues, and then forget the task we were working on.
If you set your devices on 'do not disturb' and let your colleagues know that you're busy but that you will get in touch with them as soon as you're done, then you take away those distractions.
Blocking out some time where you only focus on the task at hand will make it a whole lot easier to focus and get your task done faster.
​
Make sure you're communicating effectively with the rest of your team
Effective communication is crucial when it comes to productivity. If you're not communicating efficiently with others within your team, then you're opening yourself up to misunderstandings and mistakes that could have been easily avoided.
This in turn means that you're wasting valuable time by having to rectify the situation.
Some key tenets of good communication are:
Setting clear, achievable, measurable, and time-bound tasks

Measuring your words and taking a step back before talking

Practicing active listening

Making sure you are aware of all the facts
It is generally easier to pre-empt a problem than to fix it.
​
Career support from NES Fircroft
NES Fircroft has been supporting engineers, candidates, and technical clients across many different industries throughout the past 50 years. If you're looking for your next role, check out all our latest opportunities.
If you're looking for more career tips and advice, check out our blog or sign up to our EngineeringPro newsletter, to receive the latest career advice, industry news, job opportunities and more, directly to your inbox.
​