Top Solar Energy Jobs In 2021
08 Sep, 2021
4:38
More than 90% of the world has pledged to reach carbon neutrality by 2050 leading many count...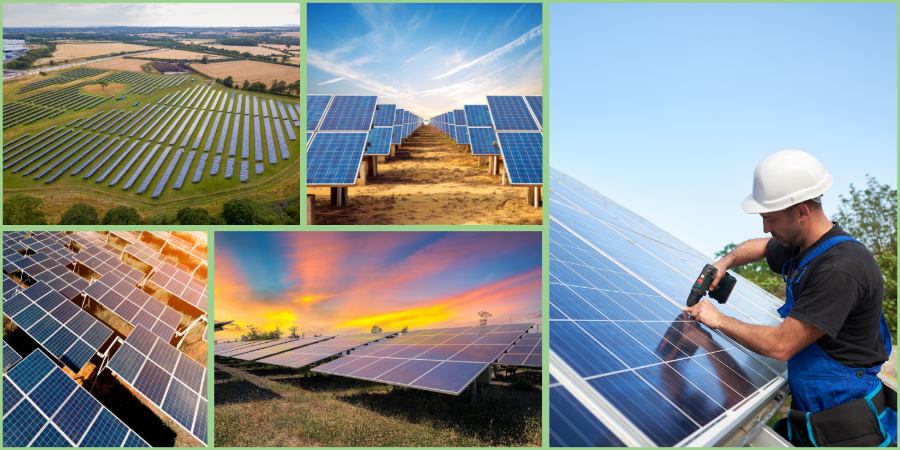 More than 90% of the world has pledged to reach carbon neutrality by 2050 leading many countries to adopt different sources of energy in a bid to diversify their energy mix and reduce their carbon emissions. Consequently, and thanks to government funding and incentives, solar energy adoption and development has been growing massively over the past few years.
According to the International Energy Agency, power generated from solar PV grew by 22% in 2019 worldwide, bringing the share of solar PV within global electricity generation up to almost 3%.
With the industry growing and evolving so quickly, there's a need for more talent and expertise. So, here are the top solar energy jobs in 2021.
​

Solar Installer/Technician
A Solar Installer, Solar PV Installer, Solar Photovoltaic Installer, or Solar Technician, is responsible for assembling, installing, and maintaining photovoltaic (PV) systems. This could be done on residential or corporate buildings or as part of a solar farm.
They will evaluate site conditions as well as customer expectations and needs and configure the PV systems accordingly. Once the panels have been installed, these are connected to a power grid. Part of the job is also to inspect the wiring and electrical installations. Solar Technicians will conduct tests on operating voltages and calibrate them to ensure that the systems remain within appropriate power limits.
Solar Installers have standards and codes that they need to follow depending on what types of panels they install and where they're installed. Solar Technicians need an in-depth understanding of PV equipment, installation practices and electrical wiring. They will also be good problem solvers and analytical thinkers.
Engineering Project Manager
An Engineering Project Manager's responsibilities will generally include organising resources, personnel, budgets and schedules to complete an assigned project. They will draw up a detailed plan of how to achieve each stage of the project within time and budget.
They will also have a team of engineers and other technical personnel working under them as part of the project team. They will also coordinate with other internal teams, external suppliers, and contractors for any necessary services or materials.
Another important part of their role is regular reporting to senior management or the client about the progress of the project.
A good Engineering Project Manager will have to have excellent organisational, time management, and planning skills. They will also be great analytical thinkers, be very attentive to detail, and be great at problem solving. As a manager, they will be communicating with different people daily, so they will have to have strong interpersonal, team-working, and communication skills.
Electrical Engineer
An Electrical Engineer will oversee the designing, developing, and maintaining of electrical equipment, components, and systems to required specifications. When doing so, they will consider different aspects such as costs, efficiency, safety, reliability, sustainability, and quality.
Electrical Engineers will be involved at all stages of a project, from initial conception and detailed design, straight through to installation, maintenance, and eventual decommissioning. They will be in constant communication with other members of the electrical engineering team such as designers and project managers and with other engineering departments such as mechanical and chemical.
Depending on the type of work the Electrical Engineer is required to do, responsibilities will vary, but they will generally include things such as:
Designing and making models of prototypes, products, and systems using different software

Reading technical drawings and design specifications

Finding solutions to any problems that might arise

Estimating timescales and costs

Coordinating with others within the electrical engineering team, as well as other engineering teams, departments, clients and contractors

Designing and conducting tests as well as analysing and reporting on the test data

Maintaining equipment
Solar Engineer
A Solar Engineer will be responsible for planning, designing, and implementing solar energy projects. This could be on a smaller scale such as with residential rooftop installations or on a much larger scale with municipal projects. They will have an initial client consultation and will evaluate the site to make a financial assessment.
Once that's done, the solar engineer will start designing a plan, considering different factors such as the type of project, the scale, timeframe, budget, and site conditions. Once the plan has been developed, they might oversee its implementation, keeping an eye on costs, resources, regulations, company and industry standards, timelines, and efficiency.
Although most of their time will be spent in an office, Solar Engineers could also be involved in site visits to make sure that the project is going according to plan, or they could be on call for emergencies. They will also write reports on project progress.
If not working on projects, Solar Engineers could also be researching, designing, and developing new products or working within testing, production, and maintenance. They could be working on all kinds of different technologies such as navigation and communication systems, solar-powered technologies, cooling and heating systems, solar panels, and even cars.
Solar Designer/Design Engineer
Solar Designers, or Solar Design Engineers, are mainly responsible for designing and developing plans for solar installations. They will take the initial system concept ideas and translate them into highly detailed construction ready designs. They will have to coordinate with engineers and other team members, as well as clients, striking a balance between the needs of the client and the effectiveness of standard practices.
Their role will generally revolve around calculations and design, Bill of Materials (BOM) preparation, and overseeing project execution.
As a Solar Designer, you might have to use custom software tools to design ground mounted or rooftop PV and other solar-related systems. You might also have to perform accurate system sizing calculations and create electrical single-line diagrams, panel schedules, or connection diagrams for solar electric systems, using computer-aided design (CAD)/PVsyst software, as well as run reports for system production estimates.
Mechanical Engineer
As part of the solar energy industry, a Mechanical Engineer will be responsible for providing design engineering for solar-related products, systems, and equipment. They will examine client product designs and releases, making sure that all design documentation is accurate.
They will work in tandem with the design teams to develop new solar or related products, based on specifications, as well as develop custom products to meet specific internal or external requirements. They will be an important source of expertise and support when it comes to technical questions and will find solutions if any challenges should arise when it comes to testing, manufacturing, product performance, installation, or maintenance.
A Mechanical Engineer might also have to plan and manage projects to make sure that the work of the other mechanical engineers, technicians, designers, and contractors is going according to schedule, is accurate and follows the given budget.
NES Fircroft and the Solar Power industry
NES Fircroft is proud to be supporting the solar energy industry, and the Renewables sector more widely. NES has a depth of expertise in the solar industry, a global network, and the local market knowledge to provide you with cost-effective energy workforce solutions.
We know that the industry is changing, and that the new generation of solar engineers need to be mobile, flexible, and work across the organisation to ensure knowledge is shared and competitive advantage is gained. Our discipline-specific teams can support all stages of your solar project life cycle, from the funding, design and installation phases right through to project management, grid installations, and maintenance.
We work on some of the most exciting Renewable Energy projects globally, meaning we have plenty of renewable and solar job opportunities for engineers looking to enhance their careers in energy.