Under Pressure At Work? Here's How To Communicate Effectively
22 Dec, 2022
3:54
When working under pressure it can be easy to get caught up in the moment and pick up unhelp...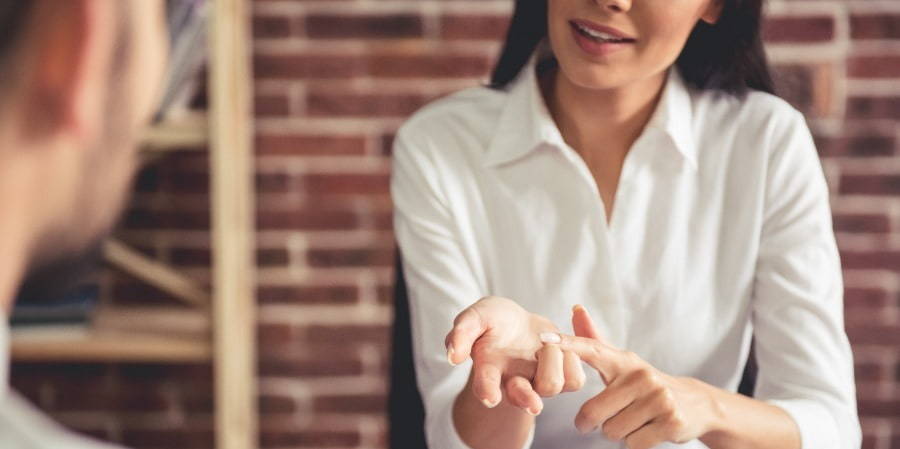 When working under pressure it can be easy to get caught up in the moment and pick up unhelpful and impulsive communication techniques.
This can quite quickly make things worse and lead to conflict between colleagues, management, or external stakeholders. Ultimately, bad communication can make everyone's work a lot harder.
Still, effective communication is by no means easy, and it takes a lot of time and effort to become good at it. However, it's essential for effective teamwork and leadership. So, here are our top tips on how to be a better communicator when working under pressure.
​
1.Take a step back to evaluate
When under pressure, it can be easy to lose sight of the bigger picture, making it a lot harder to make effective decisions for the long term.
Take a bit of time to evaluate where you are, as well as where you need to be, and how you will get there, alongside the people you're working with.
Taking a step back will allow you to build up a clear picture of your goals, and you'll find it a lot easier to clearly communicate these goals with others.
​
2.Make sure you are aware of all the facts
When engaging in a conversation about a specific issue or topic, it's crucial to gain a comprehensive understanding of the matter to make informed decisions.
Without the full understanding of a subject, you will find it hard to back yourself up and clearly explain your work and what you need from others. You will also risk coming across as unprepared, which might impact your credibility.
So, make sure that you're aware of what's going on around you, whether that be who's in charge of what in your team, any outstanding tasks, any key facts about a project you're working on, or anything else that could impact the progress of your work.
If there's something you don't understand or need clarification on, don't hesitate to ask the people around you. It's generally easier to pre-empt a problem by asking for help than to try and fix it later down the line.
​
3.Measure your words and be clear
When working under pressure, it can be very easy to become frustrated and impatient, and this can be reflected in the way we communicate with others.
However, it's important to remain professional, calm, and clear at all times. Taking a moment to think about how you will phrase things will go a long way in avoiding any misunderstandings or offending anyone.
It can be easy to start blaming other if something goes wrong or is taking too long. However, you should try to stay clear from accusing anyone, exaggerating, or over-reacting. This is unproductive and will only lead to resentment, in turn only making the situation worse.
Instead, use constructive and honest feedback, ensure your comments are descriptive rather than critical, and offer solutions.
Be clear about what you're working on as well as what you need from the people you're working with, so that you reduce the risk of there being any confusion. This will make your work, and that of the people around you, a lot easier.
​
4.Be a good listener and try to empathise
When one thinks about effective communication, it's easy to think that what matters the most is what you say. However, being a good listener is just as important, if not more.
If you're constantly thinking about what you want to say, then you will not be able to understand where the other person is coming from. Instead, pay attention to what they're saying as well as the emotions they're trying to convey.
An important factor in being a good communicator is being able to empathise with other parties, even if you don't agree with them. Try to put yourself in their shoes and understand their perspective. Everyone reacts to pressure differently, so the way you manage this will most likely be different to how your colleagues react.
Listening and understanding the other's point of view will make it a lot easier for you to work alongside them as opposed to against them.
​
5.Check your body language and tone of voice
Body language and tone of voice can say as much as a thousand words. When approaching a conversation with someone else, be aware of what your non-verbal cues could convey.
Sitting with your arms crossed, avoiding eye contact, and slouching, are all examples of negative body language that can put your listener on the defensive before you've even said a word.
Try to manage your facial expressions and body posture so that you come across as open to conversation and keen to discuss.
You should also be careful that your tone of voice doesn't convey any aggression, condescendence, impatience, or anything that else that could offend the other person.
​
6.Keep an open mind
Communication is a two-way street, and you might find that once you've listened to the other person's perspective, you end up changing your mind.
Try to approach every new conversation with an open mind and be ready to make compromises if you must. Whilst you might come into a conversation thinking you know the right way of doing something, you might find out through talking to others that there's a different or better way to do it.
When working as part of a team, the best work generally comes from trying new thing and gaining different perspectives on a matter.
​
7.Ensure everyone is on the same page
At the end of any conversation, it can be very helpful to recap what was said and what conclusions were drawn to ensure that everyone knows where they stand and what they need to do going forward.
If everyone is clear about their role and what necessary steps need to be made to achieve a common goal, this will go a long way to reducing the pressure off everyone's back.
​
Career support from NES Fircroft
NES Fircroft has been supporting engineers, candidates, and technical clients across many different industries throughout the past 50 years. If you're looking for your next role, check out all our latest opportunities.
If you're looking for more career tips and advice, check out our blog or sign up to our EngineeringPro newsletter, to receive the latest career advice, industry news, job opportunities and more, directly to your inbox.