Upcoming Carbon Capture and Storage Projects in the U.S. and Canada
09 May, 2023
13:52
In the last five years, Carbon Capture and Storage (CCS) projects have become increas...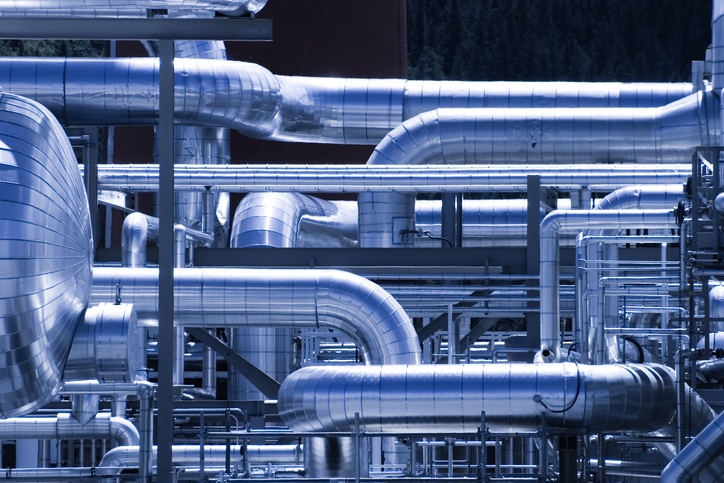 In the last five years, Carbon Capture and Storage (CCS) projects have become increasingly important worldwide in the fight against global warming.
The United States is no exception, with several upcoming CCS projects set to launch in the coming years. These initiatives aim to capture carbon dioxide (CO2) emissions produced by power plants and other industrial facilities, preventing them from entering the atmosphere and contributing to climate change.
These projects promise to revolutionise the energy industry by reducing large-scale operations' carbon footprint while creating new job opportunities and driving economic growth.
There are many U.S. policies and investments supporting decarbonisation as well. The 45Q Tax Credit through the Inflation Reduction Act offers between $35-$50 per ton of CO2 captured, depending on how the carbon is stored or reused. Various bills have been proposed and implemented to fund research and development, particularly for Direct Air Capture (DAC) facilities and sequestration well development.
In this article, we'll look at some of the most exciting upcoming CCS projects in the U.S. and explore their potential impact on the environment and the economy.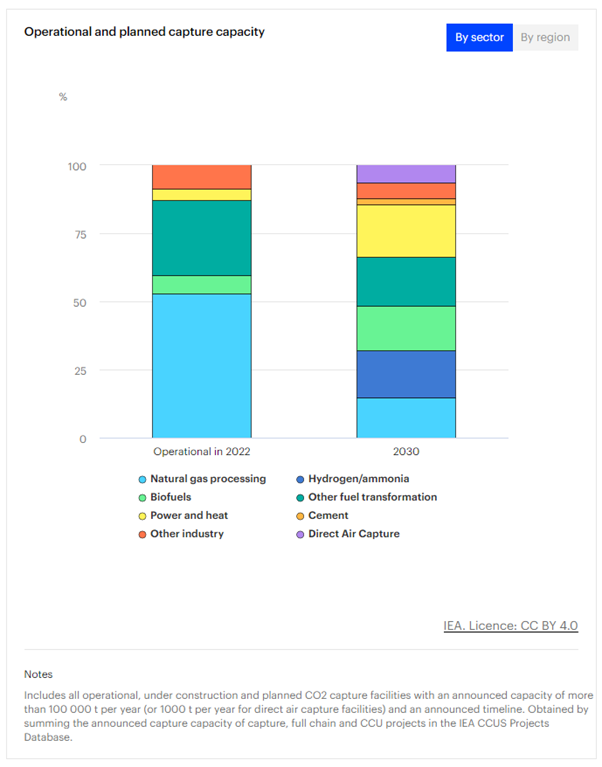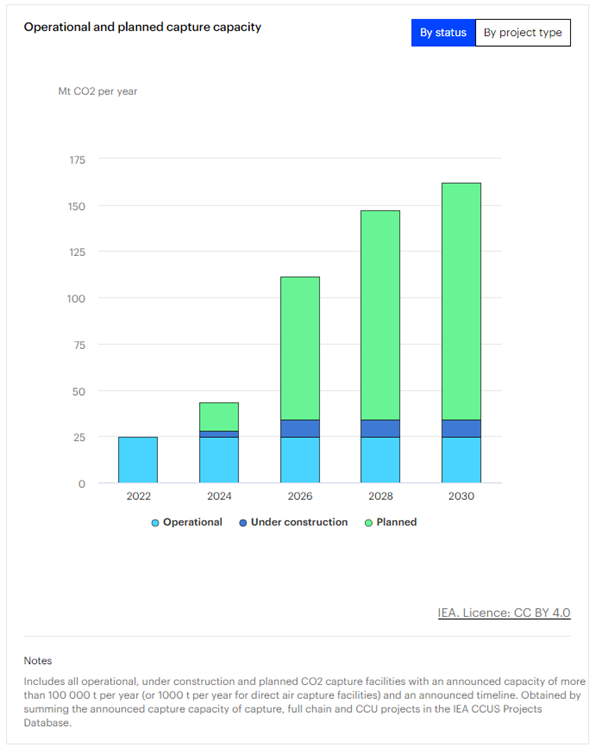 Source: IEA

1PointFive and Carbon Engineering are deploying a module Direct Air Capture (DAC) plant
1PointFive, a subsidiary of Occidental's (NYSE: OXY) Low Carbon Ventures business, and Carbon Engineering Ltd. (C.E.), a climate solutions company, announced a Direct Air Capture (DAC) plant deployment approach to deploy DAC projects globally.
By standardising the modular design of DAC plants, the companies can mass-produce components and transport them to the site to be built quickly and efficiently. C.E. and 1PointFive are optimising DAC technology to reduce the cost of carbon capture, streamline the deployment of the technology, and ensure future upgrades can be made quickly through a universal approach.
The partnership aims to deploy 70 DAC facilities by 2035, with an estimated 1m tonnes per year capacity. The first facility is being constructed in Texas, expected to be operational towards the end of 2024.
Michael Avery, President of 1PointFive, said: "We are committed to delivering large-scale DAC solutions to remove carbon dioxide from the atmosphere and help achieve the goals of the Paris Agreement. We believe this deployment approach and our partnership with C.E. will support the rapid, global deployment of DAC facilities to meet the urgency of the climate challenge and growing customer demand for DAC-enabled net-zero solutions."
Aemetis acquires 24 acres of decommissioned military base for zero-carbon projects
In July 2022, Aemetis, a renewable energy company focusing on zero-carbon products, purchased 24 acres on the Riverbank Industrial Complex site to develop a CCS injection well.
The purchase is the first part of a more extensive acquisition of California's 124-acre former U.S. military base.
The purpose of the well will be to obtain research data that will be used to design their production well, which will sequestrate approximately 1m metric tonnes of CO₂ per year from biofuel production and agricultural sources if approved.
The Riverbank facility is already home to over 30 existing businesses, powered by a local, low-carbon hydroelectric plant. The site has received over $72m in federal funding for facility upgrades since being decommissioned as a military base.
Air Products is planning a new blue hydrogen plant in Texas
Air Products will invest $4.5bn to produce blue hydrogen in Louisiana, providing the low-carbon fuel to oil refiners along its U.S. Gulf Coast pipeline.
The project in Ascension Parish is set to become the world's largest carbon capture and storage project, storing about 5m metric tonnes of CO₂ per year more than a mile underground. The project joins over 20 hydrogen and blue hydrogen plants in Port Arthur, Texas. The existing network currently supplies oil refineries across Texas using hydrogen as a fuel purifier.

Air Products is already set to be the world's largest hydrogen producer, with projects in Louisiana and Alberta, Canada. In addition, the company has announced a $5bn joint venture in NEOM, Saudi Arabia, to develop green hydrogen for the region.
B.P. and Linde partner to develop low-carbon CCS projects in Texas
B.P. and Linde have announced plans to further develop a CCS project at Linde's existing facilities in Texas, allowing low-carbon hydrogen production at their existing facilities. The project will support the storage of CO₂ captured from other facilities in Texas, supporting the country's decarbonisation goals. The project is critical in B.P.'s drive towards a low-carbon business model.
The project will capture CO₂ from existing hydrogen production facilities owned by Linde and produce low-carbon hydrogen for chemical and fuel production, to be sold on their pipeline network.
The partnership will see B.P. developing the storage sites for the CO₂ and providing low-carbon solutions for the project. At the same time, Linde will use its technology and expertise to capture CO₂ from its hydrogen production facilities. The partnership will deliver an end-to-end capture, storage and low-carbon hydrogen production chain.
Once completed in 2026, the final project is set to store as much as 15m metric tonnes of CO₂ per year.
Carbon America is developing two new CCS projects in Colorado
Carbon America has recently signed agreements with Sterling Ethanol, LLC and Yuma Ethanol, LLC to develop new CCS projects at two ethanol production facilities in Colorado.
These projects are the first of their kind in Colorado, which has set emissions reduction targets of 50% by 2030 and 90% by 2050, compared to 2005 levels. Carbon America's partnership is set to deliver on that objective by capturing and storing 95% of the CO₂ produced in the ethanol fermentation process at the two sites.

The carbon capture equipment at the plants will extract CO₂ from the production process and permanently transfer the gas into an underground storage site nearly a mile underground. The projects at both facilities are due to be completed in 2024.
Chevron is developing a CCS project in California
Chevron Energies division is developing a new CCS project in San Joaquin Valley, California, as part of its broader strategy to reduce carbon emissions.
The project is set to begin at Chevron's Kern River Eastridge plant initially while demonstrating the technology's effectiveness at facilities for future projects.
Chris Powers, vice president of Carbon Capture, Utilization, and Storage (CCUS) for Chevron New Energies, said, "At Chevron, we believe the future of energy is lower carbon. Reducing the carbon intensity of the energy people rely on day-in and day-out is well-aligned with the ambitions of the Paris Agreement…We are excited about the opportunity to collaborate and progress this CCS initiative in San Joaquin Valley, a region where we have lived and worked for over a century."
Cleveland Cliffs apply to the continuation of large-scale CCS research
Cleveland-Cliffs Inc. declared that they have applied to the Department of Energy (DOE) to continue research for the front-end engineering design for large-scale carbon capture at their Burns Harbor integrated iron and steel facility in Indiana.
This project is anticipated to collect 2.8m tonnes of CO₂ per year from blast furnace gas with a net carbon capture efficiency of 95%. The engineering design is expected to be accomplished within two years, and both Cleveland-Cliffs and the DOE will provide financing for the study.
Competitive Power Ventures is moving forward on a natural gas station and CCS combined project
Competitive Power Ventures has declared the construction of a $3 billion combined-cycle natural gas power station with a 1,800-megawatt capacity and CCS in West Virginia.
The project has been made possible through the tax relief provided by the Inflation Reduction Act. It provides key investment alongside Virginia's legislation to encourage CCS projects and technologies in the state to support their decarbonisation goals.

When completed, the plant's carbon capture system will be able to eliminate 90-95% of CO₂ from its emissions.
This technology is in high demand as companies are looking to outfit natural gas power plants with CCS to reduce emissions.
ExxonMobil and Mitsubishi Heavy Industries Join Forces to deploy CSS technology
ExxonMobil and Mitsubishi Heavy Industries (MHI) have recently announced their plans to leverage their combined engineering and operation experience to offer advanced CCS solutions.
These products are aimed at industrial customers with heavy current CO₂ emissions by providing an end-to-end capture, transportation, and storage solution. The companies will work together to provide specific design, construction and management of carbon reduction technologies, mirroring Exxon's own goals of global carbon reduction across their operations in the petrochemical industries across their plants.
ExxonMobil Low Carbon Solutions is working alongside a significant producer of nitrogen and hydrogen products in Louisiana on its decarbonisation strategy.
G.E. Gas Power awarded $57m to develop a CCS technology integration project
The U.S. Department of Energy gave $57 million to a GE-led Carbon Capture Technology project. This cutting-edge technology can reduce coal and natural gas power plant emissions.
Southern Company, Linde, BASF, Kiewit, and G.E. Gas Power are collaborating to create a front-end engineering design for combining carbon capture technologies with a natural gas combined cycle plant. This project aims to reduce CO₂ emissions by 95%.
The United States Department of Energy will award the group $5.8 million upon completion of the award negotiation stage. Equipment upgrades are also planned to improve the overall carbon capture process.
The study involves developing upgrades and enhancements to G.E.'s 7F gas turbine fleet, the largest fleet in the U.S. The objective is to improve the carbon capture process through these turbines and reduce the CCS process's effect on power output, equipment performance, and cost.
California-based startup using innovative limestone carbon capture technique
Heirloom, a startup based in California, has a unique way of capturing atmospheric carbon dioxide. They use limestone, which naturally contains CO₂, and extract it by heating it into powder. The CO₂ is then stored underground, while the remaining powder is spread out on trays to absorb more CO₂.
This process, which usually takes many years, only takes three days with Heirloom's approach. This cost-effective and scalable method makes it attractive to investors like Microsoft.

Heirloom plans to deploy its first site in the coming year and aims to remove 1 billion tons of CO₂ by 2035. The startup also sells carbon credits to companies like Microsoft, Stripe, Shopify, and Klarna, allowing them to offset their CO₂ emissions.
Navigator CO₂ ventures and OCI partner to decarbonise fertiliser production
Navigator CO₂ Ventures LLC has recently announced its agreement with OCI NV's wholly-owned Iowa fertiliser company facility for the transportation and storage of CO₂. The company plans to construct one of Illinois's largest carbon capture and storage pipelines as part of the Heartland Greenway project, which aims to provide a long-term CO₂ storage solution to biofuel producers and other industrial customers across five Midwest states.
The pipeline will span 1,300 miles across Illinois, Iowa, Minnesota, Nebraska, and South Dakota and is scheduled to commence operations in 2025. The initiative is expected to sequester 15 million metric tons of CO₂ annually when fully operational and expanded. The Iowa fertiliser plant is the largest in the state.
The Inflation Reduction Act supports the development of a new Wyoming DAC facility
CarbonCapture, a company based in Los Angeles, has begun a large-scale direct air capture (DAC) project called Project Bison in Wyoming. The company aims to capture and store 5 million tons of carbon dioxide annually by 2030 and will benefit from new incentives from the U.S. government.
This marks a significant milestone for DAC technology. It is the first major deployment of its kind and the first to permanently store CO₂ underground in wells approved by the federal government.
CarbonCapture CEO Adrian Corless stated that the recent passage of a new law by Congress gave the company and the DAC industry the financial support and long-term certainty necessary to scale up the technology. It has accelerated the launch of Project Bison by a few months.
Nonprofit Project Tundra awarded a $100 million loan to develop a CCS project in North Dakota
Minnkota Power Cooperative has been granted a loan of $100 million from the North Dakota Industrial Commission to support its Project Tundra carbon capture initiative at the Milton R. Young Station.
The loan, which the Bank of North Dakota will provide through the state's Clean Sustainable Energy Authority (CSEA), will play a vital role in the project's capital financing strategy.
After finishing the final design and engineering work for Project Tundra, Minnkota will focus on financing efforts in the coming months. The $1.45 billion project will be funded mainly by federal 45Q tax credits, providing $50 per ton of CO₂ stored.
As a not-for-profit organisation, Minnkota will need to collaborate with tax-equity investors to utilise the credits. The project aims to store about 4 million metric tons of CO₂ annually permanently.
Red Trail Energy LLC commences CCS in North Dakota
Red Trail Energy LLC has officially started carbon capture and storage (CCS) at its ethanol plant near Richardton, North Dakota. By implementing CCS technology, the ethanol produced by RTE now has a reduced carbon footprint compared to conventional ethanol sources, making it a more eco-friendly fuel option.

The ethanol plant emits an average of 180,000 metric tons of CO₂ per year, captured entirely by CCS technology, and approximately 500 metric tons of CO₂ are injected underground daily. The CO₂ is stored permanently more than a mile beneath the surface in the Broom Creek formation. This move makes RTE more environmentally responsible and enhances ethanol's value in the clean fuel market.
Summit Carbon Solutions progresses ethanol refinery CCS project
Summit Carbon Solutions has made significant headway in its carbon capture and storage initiative by submitting a pipeline permit application to the Iowa Utilities Board.
The project aims to link ethanol biorefineries in five northern states - Iowa, Minnesota, Nebraska, North Dakota, and South Dakota - with the largest part of the project, which includes 12 ethanol biorefineries and over 680 miles of carbon dioxide pipeline located in Iowa.
By capturing and storing carbon dioxide emissions from partner ethanol biorefineries, Summit Carbon Solutions expects to reduce their ethanol's carbon footprint by 50%, promoting these facilities' environmental and economic sustainability over the long term by creating new markets and boosting profitability.
Summit is currently procuring right-of-way easements for the pipeline element of the project across its five-state footprint, with the company having a strong agricultural heritage.
Tallgrass awarded a grant to develop a CCS hub in Wyoming
The Wyoming Energy Authority has awarded Tallgrass a grant to support the development of a CO₂ sequestration hub in eastern Wyoming's Denver-Julesburg Basin.
This grant is in addition to Tallgrass's proposed direct investment in the Eastern Wyoming Sequestration Hub, which aims to facilitate the capture, transport, and sequestration of CO₂ across multiple states cost-effectively.
Tallgrass anticipates using the grant to fund development activities and drill a characterisation well in preparation for its Class VI permit filing for the hub in 2022.


Brookfield Renewables pledges $500m initial investment to California CCS projects
California Resources Corporation has partnered with Brookfield Renewable to create a joint venture to develop CCS projects.
Brookfield Renewable has pledged an initial investment of $500 million to support CCS projects approved by the joint venture, which will be allocated through the Brookfield Global Transition Fund. The BGTF is the largest fund in the world dedicated to facilitating the transition to a net-zero carbon economy.

The Elk Hills Field's 26R reservoir has been chosen as the first CCS project for development and was added to the partnership by CRC at a value of $10 per metric ton. The J.V. aims to inject 5 million metric tons per annum and develop 200 million metric tons of carbon dioxide storage, in line with CRC's 2027 objectives. Achieving this goal will need an estimated $2.5 billion of total capital. Brookfield could invest more than $1 billion in the strategic partnership since it fully participates in these CCS projects.
How NES Fircroft is supporting the CCUS Industry
In this blog, we've looked at CCUS projects in just the US. Still, the need for decarbonisation is global, and businesses worldwide are developing carbon capture facilities and sequestration wells to meet increasingly stringent climate targets. This list is only likely to grow with facilities being in various stages of development across the US, Europe, the Middle East, China and Australia in particular. NES Fircroft will continue to report on these developments regularly in our blog and support clients and candidates to fill roles in new and existing projects across the globe.
NES Fircroft's expert recruitment teams recruit engineering and technical professionals for global roles with some of the biggest names in the energy sector. You can view all our open vacancies or register your CV with us today for free to ensure you're first in line for future jobs in this expanding industry.