Useful Career Tips To Advance In Your Job
13 Sep, 2021
5:01
If you've been in your current position for a while or are new to the world of work, it can ...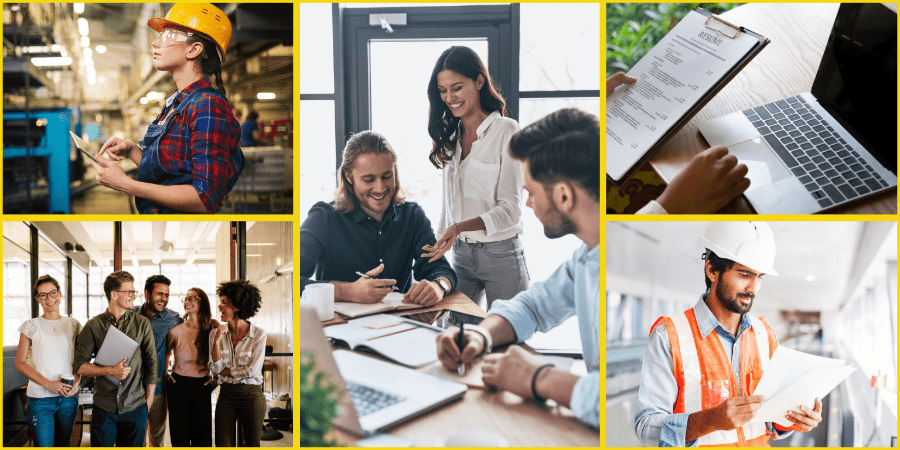 If you've been in your current position for a while or are new to the world of work, it can sometimes be hard to know what steps you should be following to advance your career.
Although no two career paths are the same, we've collated 6 top tips for whatever stage you're at to help you advance in your job.
​
Don't be afraid to try new things at work
Whilst you're hired to do a specific job, when trying to progress within your career, it can be really useful to volunteer your skills to a colleague and try new things. Doing so, will not only help you to learn other areas of the business but also shows you're willing to learn. Offering a helping hand is also likely to be appreciated by your colleagues, particularly if they're experiencing a busy period.
Although it's important to have a good work-life balance, setting a tiny bit of time aside to try out new things will enable you to learn, build a more well-rounded CV, and gain a better idea of how the wider company functions.
You may also find that you enjoy this new task which can give you a good insight into your future career and where you might want to focus your training or development. This in turn will put you in a stronger position when it comes to being considered for a promotion. Others around the company will be more aware of who you are, and you will be seen as hard-working, dependable, and a good team-player - something that companies value highly.
​
Be aware of any opportunities to upskill and gain qualifications
Coming out of education and entering the job market doesn't mean you should stop learning. Especially within the world of engineering and in industries such as Oil and Gas, Power and Renewables, Life Sciences, and Chemicals, which are constantly evolving and developing new technologies. Gaining new skills and acquiring qualifications is a great way to make yourself more attractive to employers. It will put you in good stead when it comes to promotions.
Not only that, but if you have a specific career path in mind, extra qualifications might be necessary to progress. For example, a mechanical engineer wanting to go into project management might need to gain a qualification in project management before being able to progress to that station. Or if you want to start working in a lab with specific kinds of machinery, you might have to first follow a course on how to use that machinery before you're able to start working there.
In the UK, most industry bodies such as the Institution of Chemical Engineers, the Institution of Mechanical Engineers, the Institution of Civil Engineers, and the Institution of Engineering and Technology, will offer a range of courses to boost your skills and CV.
Acquiring new skills and qualifications will make you more desirable to hiring managers and increase your chances of progressing in your job.
​
Stay up to date with the latest industry developments and discoveries
Especially in the field of engineering, new discoveries are constantly being made, making it important to keep up to date with the latest industry standards and developments.
Within the world of science and engineering, much of the work that is done is aimed at making processes more cost and time effective. A technology that used to work might have been replaced by a more efficient one, meaning if you are not up to date with the latest developments, this could become inefficient and costly for your company.
One tends to only progress in one's career by being good at one's current job. Employers greatly value drive and innovation. By staying up to date with the latest industry standards, you can make sure that your work is done as effectively as possible and that you're meeting or even outdoing your targets.
Make sure to network with people within and outside of your company
Networking with people is crucial when it comes to progressing in your career. By talking and making connections with as many people as possible, both within and outside of your company, you're making yourself known to a wider audience. It then becomes a lot easier for people to recommend you for new positions, give you a good reference, or point you in the right direction.
By networking with people within your industry, you can learn from their experiences and gain a better idea of how they got to where they are. There are plenty of platforms to network online too, meaning you don't have to do everything face to face. LinkedIn is the most popular professional platform and is a great resource to start chatting to people who have had a career like the one you're aiming for.
Talking to recruiters is another great way to get a better understanding of the job market and of what to expect going forward. Recruiters talk to industry professionals daily and have a deep understanding of industry and employment trends. They will be able to either refer you for relevant opportunities or give you an idea of what you should be looking for within your own position and company.
​
​
Think about what you want to achieve and set yourself some goals
If you want to progress within your job, it helps to reflect on what it is you want to achieve. Set yourself some goals and a timeframe within which you want to achieve this. This will give you a sense of control and a direction for which to aim. By having even a broad idea of where you want to be in the next few years, it'll be a lot easier to implement steps to progress within your job.
Think about what you enjoy doing in your current position, as well as things you've enjoyed doing in previous ones. You should also consider:
What you don't want to be doing

What kind of company do you want to work for?

What's your ideal working environment?
It can sometimes help to talk to family and friends about this. They will know you better than most and can help you gain a clearer picture of what you might want your career path to look like.
Once you have set some clear goals, you can start having a think about how you'll reach these, whether that is through acquiring new skills, going into a different department, or working towards extra qualifications.
​
Make sure to use your appraisal meetings effectively​
​Most companies have an appraisal system which might happen every few months or every year. This is a good opportunity to have an honest chat with your manager about what your goals are and what you want to achieve in the short to medium term. This makes it a lot easier for your manager to then work with you and accommodate your goals as best they can in line with company goals.
Make the most of these meetings. Make sure you come prepared, having thought of what you have already achieved, as well as what you need to improve on. Whilst it's important to remain realistic, you shouldn't be afraid to enquire about your next career steps within the company. If you feel like you're ready for more responsibility, this is the perfect time to discuss it with your manager.
However, remember that it isn't always possible to award someone a promotion or a pay rise, even if your manager believes you deserve it. There are other factors at play, such as the company's financial situation, its project pipeline and market conditions. Make sure to manage your expectations and try to be as open as possible.
​
How NES Fircroft can help you progress your career
​
NES Fircroft has been supporting engineers, candidates, and technical clients across many different industries throughout the past 50 years. If you're looking for your next career move, take a look at our latest job opportunities now.
If you're looking for more career tips and advice, check out our blog or sign up to our EngineeringPro newsletter, to receive the latest career advice, industry news, job opportunities and more, directly to your inbox.