What Happens To Wind Turbines That Reach The End Of Their Serviceable Lifetime?
17 Aug, 2022
3:35
Although wind power has been utilised through the ages, the first great wave of wi...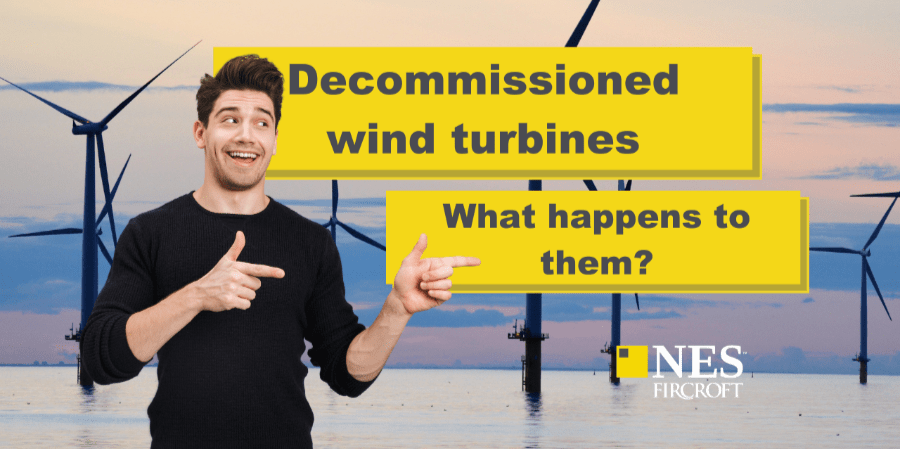 Although wind power has been utilised through the ages, the first great wave of wind energy in-masse occurred in the 1990s. This means many of the first generations of wind farms are nearing the end of their serviceable lifetime, which is typically around 20 to 25 years.
Consequently, thousands of wind turbines are now ready to be decommissioned – but what happens to these gigantic pieces of machinery once they are near the end of their operational lifetime?
Challenges posed by ageing wind turbines
In 2020, nearly 35,000 wind turbines in Europe were 15 years old or more, representing 36 GW of capacity. Of these 36 GW, 9 were for turbines between 20 and 24 years old, and 1 GW was 25 or older.
Nearly 4,000 turbines have been decommissioned in Europe annually over the last few years. In the United States, this number goes up to 8,000. This is set to increase as more of the wind turbines built in the 1990s reach the end of their lifetime.
This is creating new challenges for wind energy companies who need to dispose of the turbines in an environment-friendly way.
Some of the key hurdles include:
Recycling some of the materials that make up the turbines

Ever bigger turbines that involve the need for larger boats and lorries and more complex transportation methods, which are expensive

Changing an ecosystem that has developed during the operational period of the farm
However, renewable energy and wind power companies are tackling these challenges head-on, finding new and innovative ways to solve them.
Lifetime extensions and repowering wind farms
Wind Europe, a body that promotes wind energy across Europe, expects the repowering of ageing wind farms to be one of the most significant trends within the industry over the next 10 years. They expect more than 20 GW to be repowered within the decade.
Repowering wind farms involve dismantling the turbines and installing new ones in the same area. The benefit of repowering wind farms is that newer and more efficient models of turbines can be installed instead of the old ones, in an area that has already been proven to have the right environment for wind energy production.
As stated by Giles Dickson, CEO of Wind Europe:
"Repowering is happening and will increase. It's a great opportunity to get more energy from today's wind farms. Repowering reduces the number of turbines by a third while tripling the electricity output. And it preserves the existing wind farm sites which often have the best wind conditions. Governments need repowering strategies that set the right framework and ensure efficient permitting procedures for repowering."
Lifetime extensions are another option where repowering isn't a possibility. This involves upgrading existing turbines by replacing some of the components of the turbines, such as the generator, or installing new technology. This means that the overall layout of the farm remains the same.
In Europe, it's estimated that about half of all existing wind turbines will have 5 and even up to 10 years added to their existing 20-year operational lifespan. And this is a trend that applies to the global wind energy sector.
​
Recycling the turbines' raw materials
When it isn't possible to repower or extend the lifetime of wind turbines, then they need to be fully decommissioned.
In that case, recycling the materials that make up the turbine is another solution to ensure they do not end up in a landfill. Currently, about 85 to 90 per cent of a turbine can be recycled. This includes the foundations, gearboxes, generators, and towers, which are all made of materials such as cast iron, steel, and concrete, which are easily recyclable.
The biggest challenge when it comes to recycling turbines is that the blades are made of very light, durable, and strong composite materials made to withstand extreme weather and strong winds. These composite materials, however, are hard to recycle.
This is something that the company Global Fiberglass Solutions, headed by Don Lilly, are tackling. Lilly has developed a method to recycle fibreglass blades into small pellets which he calls EcoPoly.
These pellets can then be transformed into waterproof boards or injectable plastics that are useful within the construction industry.
​
Building playgrounds, bus stops, and bridges using old turbine blades
Another innovative way to use old blades has been to use them as raw materials for different construction projects. The Netherlands has been a champion in this area.
For example, in Rotterdam, they created a 1,200 square metre children's playground called Wikado, with slides, ramps, and tunnels made from five turbine blades. In Terneuzen, blades were used for outdoor seating, and in Almere, they were used to create bus stops.
Superuse Studios, an architectural firm in Rotterdam that focuses on circular and sustainable design, is also planning on using two 55-metre-long blades to create a bridge in Ålborg, Denmark. There are already a few other examples of bridges made of old wind turbine blades, including one in Ireland and one in Poland.
The more wind farms reach the end of their operational lifespan, the more we can expect to start seeing them used in unconventional and innovative ways such as these.
NES Fircroft and supporting the Wind Energy sector
We are proud to be a member of the Global Wind Energy Council. We deliver workforce solutions for a range of key wind projects worldwide, and we're excited to work amongst the thousands of GWEC members to continue communicating the benefits of wind power and to support clients and candidates operating within the industry.
If you have a Renewable Energy staffing requirement, get in touch, or search our renewable energy jobs to find your next position.
You can also download GWEC's full 2022 Global Wind Report for an in-depth insight into the wind energy sector.