What Is It Like To Be A Chemical Engineer?
20 Oct, 2021
3:41
Chemical Engineers can work across many different industries, from Oil, Gas and&nb...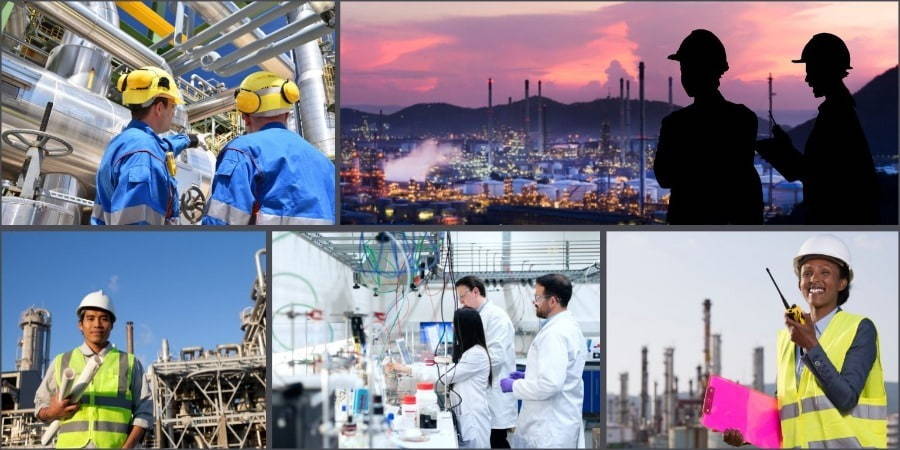 Chemical Engineers can work across many different industries, from Oil, Gas and Chemicals to food and drink, Life Sciences, fashion, and consumer goods. Their main purpose is to turn raw materials into a range of different products such as chemicals, plastics, petrochemicals, medicines, fizzy drinks, fabric, and more.
This work involves changing the chemical, physical, or biochemical states of a base product or substance into something new, all whilst bearing in mind health, safety, and costs.
As a chemical engineer, you could work for a private company, developing new products and processes or improving existing ones, or you could work with research institutions on furthering their field or advising governments on regulations and standards.
It's safe to say that Chemical Engineering is a very broad field with a whole range of applications, meaning there are plenty of avenues you can explore. With this in mind, here's an overview of what it's like to be a Chemical Engineer, as well as how to become one and what your career path could look like.
​
Responsibilities of a Chemical Engineer
Whilst responsibilities of a Chemical Engineer will vary depending on their level of experience, the company, and their field, there are some common responsibilities Chemical Engineers share.
Chemical Engineers will generally work in collaboration with process chemists, control engineers, other chemical engineers, and engineering departments to ensure that processes are working optimally. They will also be responsible for troubleshooting and will be in constant search of improvements to make processes more effective from a time, safety, and cost point of view.
They will design plant and equipment configurations to ensure that they're compatible with the company or the client's products and ensure that the configurations are adaptable to changes in the product or manufacturing processes.
Chemical Engineers will also be responsible for assessing different options for plant expansions, new plants, or reconfigurations of existing ones, leading different tests, running simulations, and analysing data to figure out what works best.
Chemical engineering involves a whole load of different skills and qualities. For instance, a Chemical Engineer will have to be a good problem solver, able to find innovative solutions to challenges and bottlenecks. They will also be great analytical thinkers, capable of analysing vast amounts of complex data, identifying patterns, and drawing conclusions out of this data.
Furthermore, good communication and teamwork skills are vital as most chemical engineering jobs involve collaborating with other departments as well as keeping upper management and external clients and stakeholders updated about any developments.
Day-to-day, a Chemical Engineer might be working in a lab, in an office or on the factory floor or processing facility. Safety and hygiene will be crucially important in most cases, meaning if working on-site, they will be wearing PPE and/or safety equipment and clothing.
​
How to become a Chemical Engineer
Depending on the country, industry and field, there will be different requirements for becoming a Chemical Engineer. Starting with school, you will want to study a range of subjects such as maths, chemistry, biology, and physics. You will then most likely need to go through higher-level education or an apprenticeship to become qualified.
When it comes to university courses, there are a few different options open to you. Some universities offer Chemical Engineering courses, whilst others will offer a more general engineering course where you can specialise within the chemical engineering field further down the line. Some Chemical Engineers also start by studying Chemistry, Biochemistry, or a related field - if you select this route, you will likely need to take a conversion course into engineering.
Whilst some companies might only require a bachelor's degree for their entry-level positions, others require their entrants to have a Master's degree or even a PhD.
However, university is not necessarily the only option. You could also apply for an apprenticeship in which studies and hands-on work are combined. Although it may take more time to become accredited, it gives you the opportunity to gain industry experience a lot sooner than you generally would by going to university.
​
Career paths within Chemical Engineering
Many Chemical Engineers often go on to gain extra qualifications as their careers develop, such as becoming a Chartered Chemical Engineer.
According to the Institution of Chemical Engineers (IChemE), a global professional engineering institution with over 35,000 members in more than 100 countries worldwide, a Chartered Chemical Engineer is 'a competent practitioner committed to the highest professional standards.'
To become chartered, you will need to have studied an accredited university course or have gained other accredited qualifications – for which you would have to provide a Technical Biography. You will also need a certain level of industry experience and knowledge. Once you're able to demonstrate this, you will be assessed by a professional panel through an interview and review of documentary evidence.
Aside from becoming accredited, you could also go into project management, sales, leadership, or further research, depending on what you enjoy doing.
Overall, there's no shortage of options for people interested in a career in chemical engineering. Whether you choose to go into Oil and Gas, Chemicals, Power, Life Sciences, or any other field, if you've got an interest in sciences and think chemical engineering is the right path for you, you will most likely enjoy an interesting and fulfilling career.
​
NES Fircroft and supporting Chemical Engineers
NES Fircroft has been helping Chemical Engineers find their next dream job for over 50 years across a whole range of different industries. If you're looking for your next role, check out all our latest opportunities.
If you're looking for personnel for your next project or to join your team, we offer a whole range of workforce solutions. Our discipline specific recruiters have an in-depth understanding of their discipline and local market. Take a look at our chemical engineering jobs today or if you are a company working within the chemical sector looking for workforce specialist support, find out here how we can help you with your hiring strategy.