Why AI Has So Much Potential Within The Renewable Energy Industry
19 Apr, 2021
3:50
The importance of renewable energies to our future is becoming ever clearer, as go...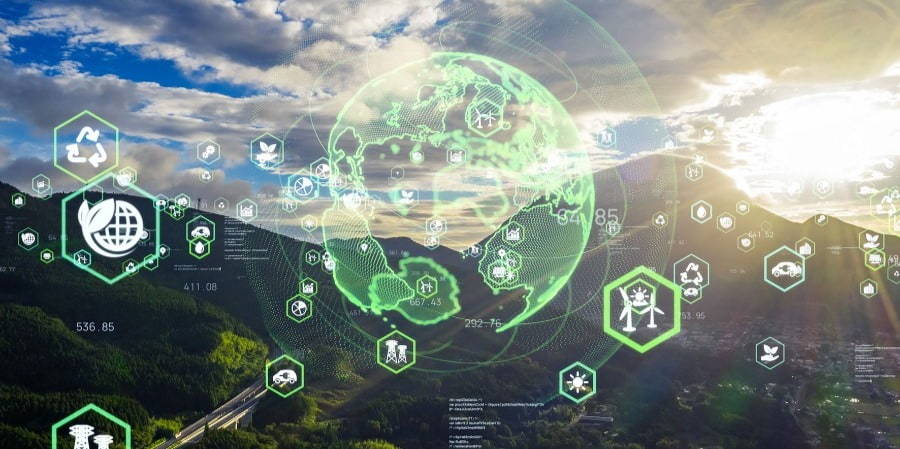 The importance of renewable energies to our future is becoming ever clearer, as governments around the world set new targets and rules to limit carbon emissions. For instance, the Global Wind Energy Council (GWEC)'s 16th edition of its annual Global Wind Report highlights that 2020 was a record year for the global wind power industry - 93GW of new capacity was installed, which is a 53% year-on-year increase. As companies seek to make their networks and processes more efficient, many are turning towards Artificial Intelligence (AI).
Renewable Energies are a growing part of the global energy sector and using new technologies such as AI is the key to building a lower-carbon future. Indeed, AI presents many opportunities for the Renewable Energy industry to build stronger, more sustainable, and more stable systems.
So, what are the benefits of integrating AI into the Renewables sector? What are the challenges facing this integration? And what opportunities can engineers and energy companies alike expect?

The benefits AI can bring to the Renewables Industry
As renewable energy sources become a larger part of our energy mix, predicting capacity levels is becoming increasingly important to ensure efficient and stable grids. As a growing proportion of our energy comes from renewables, there is a decreased baseload generation from energy sources such as coal, which are responsible for grid inertia through the presence of heavy rotating equipment such as gas and steam turbines. With little or no grid inertia, power grids could become less stable and more prone to power cuts.
However, AI and automation can help mitigate these risks. The real-time data collected by sensor technologies from wind and solar generation sources, as well as datasets of historical weather information derived from sky cameras and satellite imagery, can all be interpreted by AI, which can then predict capacity levels and downtime periods, and act accordingly. This in turn helps to maintain stable energy grids.
Using AI to interpret data can also enable grid operators to optimise the use of power grids by tailoring operations to weather conditions at any time. Accurate short-term predictions can lead to increased dispatched efficiency and better unit commitment, which improves reliability and reduces necessary operating reserves.
As James Kelloway, Energy Intelligence Manager at National Grid ESO, explains,
"Now, with AI, we can predict more accurately what renewables are likely to do, so we can control other power plants more accurately, like coal plants that take many hours to ramp up."
According to Hendrik Hamann, Chief Scientist for Geoinformatics and Distinguished Researcher at IBM, AI can also help to decrease operational costs:
"We found that improved solar forecasts decreased operational electricity generation costs, decreased start and shutdown costs of conventional generators, and reduced solar power curtailment."
AI is also able to predict when energy is most needed by consumers, meaning it can also play a big role in battery storage and providing demand flexibility. Storage batteries can be activated very quickly to manage high energy demand periods. AI can make energy management storage decisions based on its predictions of when energy will be most in-demand and the data it collects from real-time renewable energy sources and network conditions.
Artificial Intelligence also has a part to play when it comes to maintenance. It can almost instantly detect disturbances and system malfunctions. It can identify what kind of issues arise, as well as predict what kind of issues might arise in the future, making it a lot easier and more efficient to fix and maintain networks.

The challenges of integrating AI into the Renewable Energy Sector
Although it's clear how much AI can benefit the Renewable Energy industry, there are a few challenges that are slowing down its adoption. A major one is that AI and its applications to the Renewables Energy industry is still generally unexplored – many decision-makers don't yet have enough understanding of the technology behind it, meaning there is still a long way to go before AI becomes integrated with existing technologies. This, coupled with the high costs of an integration, has meant wide-ranging AI adoption has been slow.
Not only is there a lack of theoretical expertise on AI within the industry, but there's also a lack of practical expertise. AI is still a relatively new technology, and practical experts within the field, who can build AI-powered systems applicable to real life, are few and far between.
Another challenge is that a lot of the Renewable Energy infrastructures need updating. Outdated infrastructure has been a major barrier to modernisation and adoption of AI technology within the industry. Data collection and analysis is a challenging task that can easily become overwhelming. Many companies suffer losses when they are not able to process their data efficiently, due to outdated infrastructures.
However, these challenges also present opportunities, and there is plenty to look forward to within the Renewable Energy Industry. In its 'AI Insights: The Power Sector in a Post-Digital Age' report, Eurelectric has stated that
"AI offers enormous potential for the energy industry and is a fundamental building block of the clean energy transition. It will lead to greater automation, saving money and driving operating efficiencies, the development of new products and services and - perhaps most importantly - enable a reduction in carbon emissions. …"

"… By 2025, 81% of the energy companies will have adopted artificial intelligence, reaping the numerous benefits of accelerated developments in this field and fast tracking the clean energy transition."
This means there will be a need for manpower and expertise to build all the systems and infrastructures necessary to bring AI into the Renewables world.

NES Fircroft and supporting the Renewable Energy Industry
NES Fircroft has been supporting the Renewable Energies sector for over 20 years. We work in partnership with our clients offering a wealth of knowledge, a global network of talent and local market expertise that can deliver complete Renewables workforce solutions.
Our dedicated Renewable Energy Recruitment teams have an in-depth understanding of the challenges facing the industry and can mine our extensive global database to build you the talent pool you need for the future.
We work on some of the most exciting Renewable Energy projects globally, meaning we have plenty of Renewables job opportunities for engineers looking to enhance their energy careers.