6 Renewable Energy Projects Powering New Zealand's Energy Transition
07 Jul, 2019
6:30
From its mountainous peaks and rolling hills to its verdant pastures and lush forests New Ze...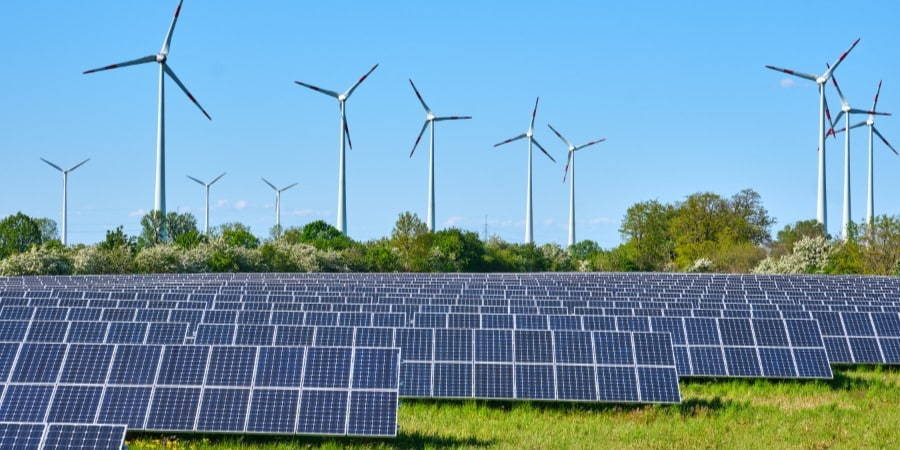 From its mountainous peaks and rolling hills to its verdant pastures and lush forests New Zealand is a country with a distinctly green hue. Now, its energy production is going green too as the country embraces the global energy transition as it pivots towards renewable sources of power generation.

Due to its geographically isolated location New Zealand has had a historically strong focus on maintaining energy security. It's largely achieved this by embracing an array of innovative and novel solutions including the early development of renewable generation sources. In fact, New Zealand represents one of the few global success stories when it comes to the development of hydro and geothermal without the use of extensive government subsidies.

However, in a trend which is reflected amongst other developed nations, New Zealand's overall electricity consumption has risen steadily over the past 30 years and whilst it has somewhat plateaued, there is a need to retire older fossil fuel generation capacity and replace it with cleaner, greener sources. If New Zealand is to continue to meet its domestic energy demand whilst adhering to its commitment to reduce carbon emissions it will need to sanction a series of ambitious, large-scale renewable energy projects over the next five years.

These are 6 forthcoming renewable energy projects driving New Zealand's clean energy transition.
Castle Hill Wind Farm
Cost: $1bn (approx.)
Location: Wellington Region
Start-Up: 2023 (approx.)
Perhaps the most ambitious project on this list, the Castle Hill Wind Farm will involve the construction of up to 286 wind turbines with a potential capacity of up to 860MW, which would provide enough electricity to supply over 370,000 households. Genesis Energy, the developer behind the project, has selected a 20,000-hectare location that straddles the boundary between the Greater Wellington and Manawatu-Wanganui regions which offers excellent wind energy generation potential.
Whilst the application for resource consent was granted in June of 2012, Genesis Energy has not made a huge amount of progress with the project. According to a statement on their website, they have chosen to 'maximise the efficiency of the company's existing generation assets and fuel supplies' for the short term.
Nevertheless, it is understood that Genesis has appointed Aurecon to conduct the initial detailed feasibility study of the project, including an assessment of wind resource and grid connection. At this stage, commissioning and start-up of the Castle Wind Hill Farm is estimated to take place in around 2023.
Kaiwera Downs Wind Farm
Cost: $300m (approx.)
Location: Southland Region
Start-Up: 2020 (approx.)
Situated on 2,568 hectares of privately-owned farmland at Kaiwera Downs near Gore, the Kaiwera Downs Wind Farm was granted resource consents in late 2008 and is being developed by Tilt Renewables - a spin-out company from Trustpower (one of New Zealand's largest electricity generators and retailers).
Permission has been granted for the installation of a maximum of 83 turbines, each with a maximum height of 145 metres. It's expected that once completed the Kaiwera Downs Wind Farm would generate sufficient electricity to power 113,000 homes. Of particular note regarding this project is the transmission challenge that it presents. Due to the proposed location a transmission line of either 3.6km or 4.1km (depending upon option chosen) will need to be built in order to connect the project to the nearest Transpower 220kv transmission lines.
Whilst construction activity for the Kaiwera Downs Wind Farm has yet to begin, Tilt Renewables has confirmed that the project remains part of their development pipeline positioned for delivery. Due to the recent plateau in New Zealand's energy demand it is understood that Tilt Renewables may be waiting for more favourable market conditions before finally sanctioning the project.
Mahinerangi Wind Farm - Phase 2
Cost: $300m (approx.)
Location: Otago Region
Start-Up: 2020
Phase 2 of the existing Mahinerangi Wind Farm will see the construction of up to 100 wind turbines with a combined capacity of 200MW at a location 50km west of Dunedin, Otago. This builds upon Phase 1 which saw the construction of 12 Vestas V90-3MW turbines. The site was first identified during construction of Trustpower's Deep Stream hydro asset in the same location. At the time of the hydro construction, it became clear that the wind which was hampering progress on the construction of Deep Stream could be useful.
Once Phase 2 has been completed it will have a generating capacity of 160MW which will potentially have an average annual output of over 600GWh. The Mahinerangi Wind Farm is an interesting example of the benefits of the co-location of generating assets. Electricity generated by Phase 1 (and Phase 2 once it is completed) is streamed into the existing 33kV transmission line to the Deep Stream hydro asset. This means that water can be stored when the wind is blowing, and water can be used for generation at a time of low wind - therefore creating a symbiotic relationship between the two forms of renewable generation and ensuring a stable, continuous supply of electricity.
It is understood that the developer of the Mahinerangi Wind Farm, Tilt Renewables, has received the resource consents for the project and is in the early planning stages of development.
Turitea Wind Farm
Cost: $270m (approx.)
Location: Manawatu-Wanganui Regions
Start-Up: 2020 (approx.)
Mercury NZ (formerly known as Mighty River Power) is the developer behind the forthcoming Turitea Wind Farm, a planned 60 turbine wind farm situated in the Turitea Reserve, 10km south east of Palmerston North. The generation potential of the site places Turitea in the top 5% of wind generation sites worldwide. The wind farm is expected to be delivered in two phases, the first of which will see commissioning and start-up of 33 of the 60 consented wind turbines. Once both phases have been completed Mercury NZ estimate that the Turitea Wind Farm will have an annual generation of 470GWh. Mercury NZ has selected Vestas New Zealand to construct and maintain the Turitea Wind Farm. Our research suggests that Vestas will install their V112-3.45MW model and will service the wind farm under a 25-year Active Output Management 5000 (AOM 5000) agreement.
Work is expected to begin at Turitea this month, with start-up and commissioning taking place in late-2020. Once in operation Turitea will be New Zealand's 3rd largest wind farm and will be producing enough energy to power 210,000 electric cars per year.
Puketoi Wind Farm
Cost: $200m (approx.)
Location: Taranaki Region
Start-Up: 2019 (approx.)
Another Mercury NZ-led renewable energy project, the proposed Puketoi Wind Farm will be situated along the Puketoi Range, East of Pahiatua within the Taranaki Region, benefiting from high average wind speeds and proximity to the national grid.
Research indicates that Mercury is planning for the Puketoi Wind Farm to have around 50 turbines generating an estimated 310MW. Although construction of the project has not yet begun, plans for transmission lines and grid connection for the wind farm are understood to be underway.
Kaimai Ranges Wind Farm
Cost: $123m (approx.)
Location: Waikato Region
Start-Up: 2021
Spread across the northern reaches of the Kaimai Ranges at Tirohia, the Kaimai Ranges Wind Farm will consist of 24 wind turbines of two different sizes (one will have a hub height of 110m whilst the other will have a hub height of 130m). The total installed capacity of the wind farm will be 100MW. Other assets on-site will include a substation, two lattice transmission towers, two overhead power lines, and 18.6km of on-site roading - plus two on-site quarries to supply material for the roads. The developer of the wind farm, Ventus Energy, intends to connect the Kaimai Ranges Wind Farm to the grid via existing 110kV power lines.
At present, Ventus has lodged an application for a resource consent to construct the wind farm with the Hauraki District and Waikato Regional Councils. A hearing to decide consent is expected to take place sometime in mid-2019. Should the application prove to be successful the estimated start-up and commissioning of the Kaimai Ranges Wind Farm could potentially take place in 2021.
As New Zealand's power generation changes, so does its engineering workforce
As New Zealand sanctions ever greater numbers of renewable energy projects, and decommissions legacy fossil fuel power generation assets, we at Fircroft are seeing related changes within the country's engineering and technical job markets.
Demand for professionals with previous experience working on renewable energy projects is increasing dramatically, leading to a 'tight' labour market. In fact, for certain engineering and technical disciplines New Zealand has an acute skills shortage and is proactively reaching out beyond its borders to secure the talent it needs.
The New Zealand Immigration Authority maintains a Long Term Skills Shortage List (LTSSL) which identifies those professions and skill sets that it would like to encourage into New Zealand. The disciplines and professions on this list include (but are not limited to):
Construction Project Manager.
Quantity Surveyor.
Civil Engineer.
Structural Engineer.
Electrical Engineer.
Mechanical Engineer.
Environmental Engineer.
Civil Engineering Technician.
Electrical Engineering Technician.
Procurement Manager.
The above are just a few of the disciplines that the government authorities are encouraging to move to New Zealand. According to the New Zealand Immigration Authority, 'if you get a job in an occupation on the LTSSL and meet the list requirements, you may be granted a Work to Residence visa under the Long Term Skill Shortage List work visa. This means that you may be eligible to apply for residence in two years, provided you meet standard requirements and that the job has a base salary of at least NZ$45,000.'
With the New Zealand government forecasting an average growth rate of 2.9% per year over the next five years, a wealth of new power, construction and natural resources projects being sanctioned, and a shortage of technical and engineering professionals to staff these projects, there's never been a better time to consider your next career move.
Make your career move with Fircroft
If you want to work on New Zealand's leading renewable energy, construction or natural resources projects then
register your CV / resume with Fircroft now
. By registering you'll receive free email job alerts as soon as the latest job or contract opportunities that match your skills and experience become available.
If you're a Hiring Manager or HR Business Partner that's struggling to find the right people for your projects, then
talk to Fircroft today
. Our range of
Recruitment, Mobility, and Workforce Consultancy services
can help you secure the professionals you need to make your business thrive.