7 Major Construction Projects Creating Jobs In The UK And Europe
13 May, 2020
11:37
Major construction projects transform the lives of thousands of people - whether they're cre...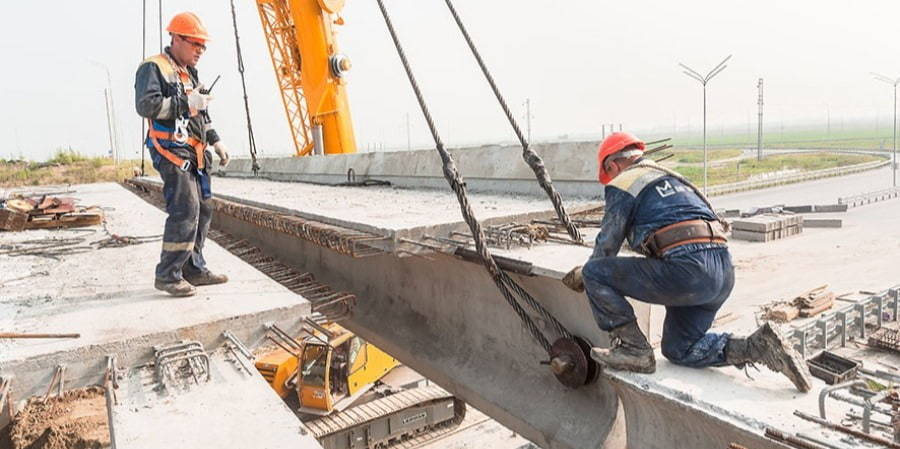 Major construction projects transform the lives of thousands of people - whether they're creating new homes, enabling better transport, or providing power to the surrounding area. As the construction industry begins to head back to work following the latest government advice, NES Fircroft is highlighting some of the biggest projects across the UK and Europe.
A well-thought out construction or infrastructure project will be a permanent benefit to the area. Aside from creating thousands of jobs during the construction phase, they'll bring in opportunities for the local economy that will continue to provide benefits for years to come.
Despite the challenges faced by the UK and Europe in many areas, there are still several megaprojects either being built or being planned that have the potential to bring huge volumes of job opportunities to towns, cities and even entire countries.
From innovative undersea tunnels to nuclear power plants to high speed railways, we're taking a look at the seven biggest construction projects that will continue to create jobs and change lives across the UK and Europe in the coming years.
Crossrail (London)
Europe's largest construction project, London's Crossrail is expected to cost over £17.6 billion when it is eventually completed.
The project - which will be known as the "Elizabeth Line" when it is up and running - is a 73 mile underground and overground railway line connecting 41 stations across the capital. It will expand from Reading and Heathrow Airport to Abbey Wood and Shenfield. Tunnels stretching 26 miles have been burrowed across the city, weaving a route through a complex network of existing railways and utilities.

Eight 1,000 tonne tunneling machines were used to bore the 6.2m diameter tunnels running under the city. Tunnel ventilation, power, signalling, communications and overhead line equipment is then being installed by a dedicated team of engineers. In addition, 75% of the 100km route will be above ground, with Network Rail working on upgrading existing lines.

10 new stations are being built - each designed by a different architect to reflect the environment of the local area. Each station has over 50km of communications cabling, 200 CCTV cameras, 66 information displays, 200 radio antennas, 750 loudspeakers and 50 help points.

It's estimated that 200 million passengers will use the new line annually, increasing central London rail capacity by 10%.

Since construction began in 2009, over 15,000 people have worked on the project and over 100 million working hours have been completed. At the time of writing, Crossrail Ltd have said that the fit-out of the tunnels is almost complete with minor works remaining, with 120 key milestones having been identified. The intention is to have a final fit-out and testing and commissioning in many of the stations by the end of the year, with the start of Elizabeth Line services running between Paddington and Reading due between October 2020 and March 2021. The full route is then hoped to open in the first half of 2022.

A second project, dubbed Crossrail 2, is also being planned by Transport for London, and supported by mayor Sadiq Khan. The proposed route will run from North to South - Hertfordshire to Surrey. It's estimated to be an even larger project, costing up to £30 billion.
Fehmarn Belt Fixed Link (Denmark)
Approved in March 2019 by the Danish parliament, the Fehmarn Belt Fixed Link project is an 18km tunnel between Denmark and Germany - the world's longest immersed road and rail tunnel.
Running under the Baltic Sea, the tunnel will connect the North German island of Fehmarn to the harbour town of Rødbyhavn, on the south coast of Lolland, Denmark. As such it will form a major connection between Central Europe and Scandinavia, and has been designated one of 30 prioritised transport infrastructure projects by the European Union.

Initially envisioned as a bridge, the consortium in charge of development announced in 2010 that a tunnel would be preferable, The tunnel will replace the current ferry link, allowing motorists freedom to make the journey when they like as opposed to waiting for a ferry, and reducing the travel time significantly - with the journey expected to take just 10 minutes by car and 7 minutes by train. For those travelling from Copenhagen to Hamburg, the developers claim it will eliminate over an hour from the current 5h40m road journey, and two hours from the 4h40m rail journey.

The link will be built as an immersed tunnel, as opposed to a bored tunnel. This involves the construction of hollow concrete elements on land, which will be assembled section by section in place. A trench for the tunnel will be dug into the seabed, up to 60 metres wide, 16 metres deep and 18km long, with 19 million cubic metres of stone and sand being excavated from the seabed. From there, tugboats will tow out the 89 tunnel elements - each of which will weigh 73,000 tonnes - to be lowered and assembled in the trench. Once the tunnel tube is in place, the technical installations will begin, including tracks for electric trains, communications systems, lighting, ventilation, transformers and pumps.

The project is expected to cost €7.4 billion (£6.6 billion), of which an estimated €590 million will come from the EU. It's initially being developed by a consortium of companies across multiple EU countries including Vinci Construction Grands Projets (France), Per Aarsleff (Denmark), Ways & Freytag Ingenieurbau (Germany), Max Bögl Stiftung (Germany), CFE (Belgium), Solétance-Bachy International (France), BAM Infra (Netherlands), BAM International (Netherlands).

The project will directly employ up to 3,000 people per year during construction, with 500 apprenticeships also being created. Around 300 people will be employed to run the tunnel upon completion. Construction has begun on the Danish side, with preparatory works having been approved by the German government in May. Construction is estimated to be completed in 2028.



Hinkley Point C (UK)
Based in Somerset, Hinkley Point C will be the UK's first new nuclear power station in over 20 years. The 3,200 MWe nuclear power station will have two EPR reactors and generate enough power for around 6 million UK homes - or roughly 7% of the national electricity demand. It's intended to continue generating power for 60 years.
The project is being built by French power company EDF energy, with construction investment coming from Chinese state-owned CGN. Initial costs were set at £16 billion when the proposal was put forward in 2012, but have since risen significantly. Most recently, "challenging ground conditions" were blamed for a rise in estimated costs to between £21.5 billion and £22.5 billion.
"The original earthworks at Hinkley Point C consisted of the excavation of approximately 2.3M m3 of mudstone, with limestone bands, to form the formation for the two units," explained an EDF spokesperson.

"This consisted of digging down as deep as 34 metres in places on a site area the equivalent size of 240 football pitches.

"Ground investigation completed prior to commencement showed weathered rock in places, together with a number of faults. A combination of sprayed concrete, strengthened by an estimated 112,000 metres of ground nails, was selected as the preferred retention option for the excavated slopes."

"As work progressed, it became apparent that the extent of the faulted zones was more extensive than originally envisaged. In addition, the areas of highly weathered rock degraded quickly, despite tight controls in terms of the maximum duration it could be exposed prior to blinding with concrete. These issues have led to additional excavation, additional ground nailing and additional substitution/replacement concrete.

"Notwithstanding the issues encountered, work has been completed in line with the exacting standards required for a nuclear project, with "right first-time" figures rising to an industry-leading 95%. J0 (completion of the common raft) on unit 1 was achieved in June 2019 and we are also able to confirm completion of the common raft for Unit 2 is expected in June 2020 – both right on schedule."
Construction is a mammoth task. Initial preparation, undertaken by a staff of 400 contractors, began in 2014, with construction beginning in 2017. The first stage was the building of the reactor base, which involved 9,000 tonnes of concrete - the largest quantity of concrete ever poured in Britain. The base is designed to prevent any radioactive material leaking out in a worst case scenario and was completed in June 2019. An equivalent base for the second reactor will be built next year. In total over 3 million tonnes of concrete will be used in the construction.
Much of the reactor building will be prefabricated in modular segments and lifted into place. The world's largest crane, the SGC-250 (or "Big Carl"), has already been installed on the site to lift more than 700 modules.
According to EDF, construction and operation of Hinkley Point C will create 25,000 employment opportunities and 1,000 apprenticeships. Currently there are 4,000 workers on site. Despite delays and budget issues, the firm still say that they hope to have the project finished in 2025.
Sognefjord floating tunnel (Norway)
Highway E39 is one of the world's most beautiful drives, a 1,100km (684) mile winding road along Norway's west coast that takes motorists on a winding trail around mountains, lakes and a series of spectacular fjords. The problem? Seven ferry crossings along the route mean that anyone travelling the length of the E39 from Trondheim to Kristiansand are facing a journey of around 21 hours.
The government of Norway aims to halve this travel time through a series of infrastructure projects including bridges and tunnels across the fjords that will create a "ferry-free" E39. This includes an ambitious plan to create the world's first "floating tunnel" over the "King of the fjords" - Sognefjord.

Sognefjord is Norway's longest and deepest fjord, running from the coast of Bergen to the Jostedalsbreen glacier, flanked by the mountains of the Jotunheimen National Park, with depths of 1,300 metres and a width of up to 6km at its widest point (it averages a width of around 5km in its main branch). Though a suspension bridge has been proposed in the past, such a project would be three times the length of the Golden Gate Bridge, with towers at each end standing 450m high - 150m taller than the Eiffel Tower.

The fjord is too deep for a traditional tunnel as well. But a submerged floating tunnel - as designed through a series of experiments by the Norwegian University of Science and Technology's (NTNU) Centre for Advanced Structural Analysis (CASA) has been proposed as the solution.

The project involves construction of two road tunnels that resemble a pair of long concrete tubes, suspended from floating pontoons spaced 800ft apart. Each tunnel will be suspended 100ft below the surface of the water, leaving enough space for ships to pass over the top, between the pontoons. The tubes would be further stabilised by cables tethered to the seabed.

Aside from being an option that best preserves the natural beauty of the fjord, a floating tunnel is thought to be more impervious to extreme weather than a suspension bridge or underground tunnel. Experiments in a shock tube at CASA's research laboratories have demonstrated that the tube bridge would be feasible, with the planned concrete able to withstand significant impact including internal crashes, earthquakes and tanker accidents. It would also be especially suited to the unique mountainous environment of the fjords.
"With bridges that span long distances, you need arches and suspensions at certain points, but for a submerged floating tunnel, if you do it absolutely correct and balance the weight of the structure with the buoyancy of the structure, it can go on forever," said Nils Erik Anders Rønnquist, a professor of structural engineering at NTNU.
The government have announced plans to spend $25 billion on the project, which will be the first of its kind in the world. Engineers in Italy and China have also expressed interest in pursuing similar concepts if it proves successful.
"Route E39 is a key route for Norway," said Kjersti Kvalheim Dunham, a project manager overseeing the revamping of the E39 route.

"Improved transport will improve welfare for the local population, open up to more exports and increase tourism."
The E39 project will also involve construction of more traditional bridges and tunnels at various sections along the route - though more floating tunnels may be considered. The entire project is expected to cost $40 billion and won't be completed until 2050.
Brenner Base Tunnel (The Alps)
The Brenner Pass is one of the most important European transport routes, running through the Alps to connect the north and south of the continent for both passengers and freight by road and rail. As the usage has increased, so have the traffic jams. In 2017 over a million heavy lorries were reported to have used the pass, accounting for 40% of all cargo transported across the alps, and causing tailbacks as long as 100km at times. The increase in traffic and pollution has led to a need for an alternative travel option, which has come in the form of the Brenner Base Tunnel.
This project is a 55km (34 mile) long railway running beneath the Brenner Pass at the base of the Eastern Alps - from Innsbruck, Austria to Fortezza, Italy. It will also form part of the Trans-European Transport Network, connecting to Line 1 from Berlin to Palermo.

It's hoped that the speed and advantage of the tunnel will make rail the most common form of freight transport across the alps. The plan is for 320 goods and 80 passenger trains to use the tunnel, with freight trains running at speeds of up to 160km/h and passenger trains up to 250km/h. It should cut the travel by rail time from Innsbruck to Fortezza from 80 minutes to just 25 minutes, and the total journey from Munich to Verona from seven hours to just four hours.

The line will be the longest underground railway connection in the world. It will consist of two tubes, each 8.1m wide, running 40-70m apart from each other. Each tube will have a single track, with trains running in opposite directions. Every 333m will be a connecting side tunnel which can be used as escape routes in emergencies.

Before the line is created, an exploratory tunnel is being drilling, between the two main tunnels and around 12m below them, with a diameter of 5m. The purpose of this tunnel is to provide information on rock mass and thereby reduce construction costs and times to a minimum. It will also be used for drainage when the Brenner Base Tunnel becomes operational.
"The knowledge we are gaining from driving this tunnel is contributing to the development of an optimal tunnelling and safety concept for the construction of the main tunnel," said Karin Baeppler, of Herrenknect - the project's TBM supplier.
Construction work on the exploratory tunnel began in 2008. In total 230km of tunnels will be drilled throughout the entire system, with 109km having been drilled so far. The project is operated by Galleria di Base del Brennero – Brenner Basistunnel (BBT SE), a publicly owned company formed by a consortium of Austrian and Italian shareholders. Projected costs are estimated to reach €8.7 billion, of which a subsidy of €4.7 billion will come from the European Union.
Construction is expected to continue until 2027, with the tunnel being fully operational in December 2028.
Heathrow expansion (London)
Heathrow is the world's second busiest airport based on numbers of international passengers, and a major UK hub for travel and trade. It accounts for nearly 75% of long-haul flights to and from the UK, and is the country's largest port by value for trade with countries outside the EU and Switzerland.
Its runways are now said to be operating at 99% capacity, which prevents any further growth in the area and increases delays when flights are disrupted. The government wants to expand the runway in order to increase Heathrow's connectivity and reduce the risk of competing European airports gaining destinations at Heathrow's expense.

The expansion plan involves the construction of a new full length runway - the first one at Heathrow since WWII, increasing the number of passengers from 80 million to 130 million and flight movements from 473,000 to 740,000 per year. The plan for a north-west runway and terminal was approved by the Government in October 2016. The airline Virgin Atlantic has already released details of its planned long haul and short haul route network, including 84 new destinations when the third runway is complete.

The current proposal involves a staged approach to the construction, with the new runway being built in the first phase, beginning in 2022 for completion in 2026. Airport infrastructure including new terminals and access facilities will then follow, with completion set for 2050.

The cost for the new runway is set at £14 billion, with the total expansion thought to reach a total of £30 billion. Construction will provide up to 60,000 new jobs.

The Airports Commission found that the expansion could deliver up to £187 billion in economic benefits, and create up to 180,000 jobs across the country. It will also create 5,000 additional apprenticeships by 2030.
HS2 (UK)
Like the Heathrow Expansion, plans for a high speed railway in the UK, named HS2, have been ongoing for many years with delays and overspending threatening the project entirely. Currently HS2 is facing a government review, with a "go or no-go" decision to be made by the end of the year.
The plan for HS2 comes in two stages, with the first being a high-speed railway line between London and Birmingham, and the second seeing a V-shaped extension leading to Leeds and Manchester. Each train on the line will be 400m long, with up to 1,100 seats and travelling at speeds of up to 250mph. It's thought they could run as often as 14 times an hour in each direction.

The Department for Transport says that the project will cut journeys from Birmingham to London from 1h21m to just 52m. Manchester to London would be cut from 2h7m to 1h7m, and Birmingham to leeds from 2h to just 49m. It also says that the project will triple the capacity of trains along the entire route, freeing up space for overcrowded commutes.

Initial costs have increased following several re-evaluations in the plans, to now reach up to £88 billion. However, according to the department for transport "for every £1 invested in HS2, the UK will receive £2.30 in benefits". Many believe that easier cross-country transport could be a catalyst for economic growth in the North, and could help rebalance the economy across the country.

In addition, it's expected that during peak construction the project will create over 30,000 jobs and 2,000 apprenticeships, with contracts already delivered by 2,000 businesses.
Find a job on an upcoming major construction or infrastructure project
NES Fircroft has a network of offices spanning the UK and Europe, and recruits engineering and technical specialists for major construction and infrastructure projects across the continent. Take a look at all our current construction job vacancies, or register with us to find out about the latest job opportunities as they arise.