Biomass: What Is It And Who Are The Main Players?
24 Nov, 2021
3:45
Biomass, in ecological terms, refers to renewable organic matter that comes either from plan...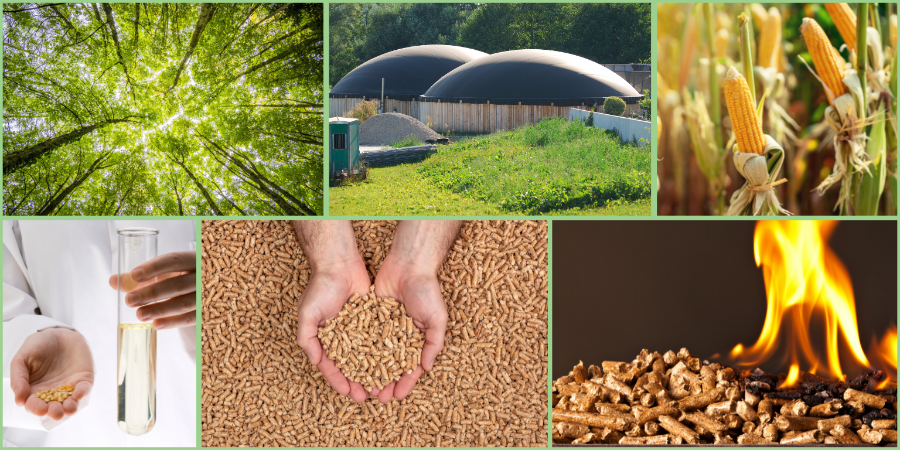 Biomass, in ecological terms, refers to renewable organic matter that comes either from plants or animals. In the context of energy, it refers to any organic matter that can be used to produce energy.
Up until the early 1900s, traditional biomass was the main source of energy throughout the world. However, from the start of the 20th century onwards, coal, oil, and gas grew exponentially as the primary source of energy worldwide.
Nonetheless, traditional biomass energy consumption has remained relatively similar over the past 200 years and today, bioenergy (energy made from biomass) is the most important source of Renewable Energy globally. According to the International Energy Association, 'its contribution to final energy demand across all sectors is five times higher than wind and solar PV combined.'
So, what is biomass? How is it used? And who are the main players within the industry?
​
What you need to know about biomass
Because biomass can technically be used as a direct source of fuel, some people use the terms biomass and biofuel interchangeably.
However, most often, the term is used simply to refer to the biological material that is used to make the fuel. Biofuel generally denotes a liquid or gaseous fuel, mainly used for transportation. Biofuels include cellulosic ethanol, biodiesel, and renewable hydrocarbon "drop-in" fuels.
Biomass is a renewable energy resource that encompasses:
Animal manure and human sewage

Biogenic materials found in municipal solid waste such as cotton, paper, and wool products and yard, wool, and food wastes

Waste materials and agricultural crops such as sugar cane, woody plants, switchgrass, soybeans, corn, algae, and crop and food processing residues

Wood and wood processing wastes such as wood pellets, firewood, wood chips, sawdust, lumber and black liquor from pulp and paper mills
Biomass can be converted into usable fuel/energy in a few different ways, either through:
Biological conversion to produce liquid and gaseous fuels

Chemical conversion to produce liquid fuels

Direct combustion (burning) to produce heat

Thermochemical conversion (includes pyrolysis and gasification) to produce solid, gaseous, and liquid fuels
One of the main benefits of biomass is that it's an incredibly versatile renewable energy source that has a far lower carbon footprint than traditional carbon-intensive sources of energy. It can be transformed into liquid transportation fuels capable of replacing fossil-based fuels. It can also be used to produce electricity, heat, and bioproducts.
​Top biomass companies
Renewable Energy Group
Renewable Energy Group (REG) is a global producer and supplier of renewable fuels such as renewable diesel, biodiesel, renewable chemicals, and other products. The company made its first batch of biodiesel back in 1996 when the industry was still in its infancy, and it was still operating under the umbrella of West Central Cooperative in Iowa.
In 2002, West Central opened one of the world's biggest continuous flow processing plants for processing soybean oil into biodiesel fuel. Then in 2006, Renewable Energy Group, Inc. became its own independent corporation.
They managed to raise 100 million USD in private equity, which at the time was the largest ever investment in the biodiesel industry. Since then, REG has become the biggest biodiesel producer by volume in the US.
​POET
POET grew from a single bioprocessing plant in South Dakota to one of the largest bioproducts producers in the world. They develop renewable bioproducts as well as alternatives to petrochemicals and fossil fuels.
The company currently encompasses 33 bioprocessing plants with a combined annual production capacity of 3 billion gallons of bioethanol.
Their sustainability goals are based on two pillars:
Invest in technology focused on achieving carbon neutrality & increasing the use of plant-based products

Advocate for a sustainable society
For their continuous innovation within biotechnology, they have been included in FORTUNE's 2019 'Change the World' list and recognized as one of Fast Company's 'Most Innovative Companies of 2019.'
​Drax Group
Drax Group is a UK-based renewable energy company involved in renewable power generation, sustainable biomass production and renewable electricity sales. They are the UK's biggest source of renewable electricity.
They have four sites across England and Scotland that involve biomass, hydroelectricity, and pumped hydro storage. They also operate a global bioenergy supply business with manufacturing plants across 13 locations in the US and Canada, producing compressed wood pellets for their own use and clients across Asia and Europe. They currently employ around 3,400 people worldwide.
In 2019, they announced their ambition to be carbon-negative by 2030, using Bioenergy with Carbon Capture and Storage (BECCS) technology to remove CO2 from the air whilst still delivering reliable renewable energy.
​Green Plains
Green Plains are a leading agri-tech company that processes renewable crops into high-value, more sustainable ingredients such as feed ingredients, speciality alcohols, and low carbon fuels.
They currently have 11 biorefineries across the US, 17 ethanol production facilities, they process 10 million tons of corn a year and have an annual production capacity of 1 billion gallons of low-carbon biofuels. The company distilled its first gallon of biofuel back in 2007 and have since then become a global leader in their field.
From 2007 until 2019, Green Plain's biofuels were responsible for the reduction of 34.3 million metric tons of CO2, equivalent to removing 7.4 million cars off the road.
According to the United States Department of Agriculture (USDA), every gallon of their biofuel diminished greenhouse gas emissions by 46% compared to the same measure of traditional gasoline, whilst avoiding harmful additives found in petroleum-based fuels including benzene, ethylbenzene, toluene, and xylene.
​NES Fircroft and supporting the Renewable Energies Industry
NES Fircroft has been supporting the Renewable Energy sector for more than 20 years. We actively partner with our clients, offering a wealth of knowledge, a global network of talent, and in-depth local market understanding. We can deliver complete renewable energy workforce solutions.
Because we are present on some of the most exciting Renewable Energy projects globally, we have plenty of renewable job opportunities for engineers looking to enhance their careers in energy.
Our dedicated renewable energy recruitment teams keenly understand the challenges facing the industry and can mine our extensive global database to build you the talent pool you need for the future.